Chris Christie Presidential Poll: Trump Beats NJ Gov In Home State, But Voters Say Debate Chances Are Good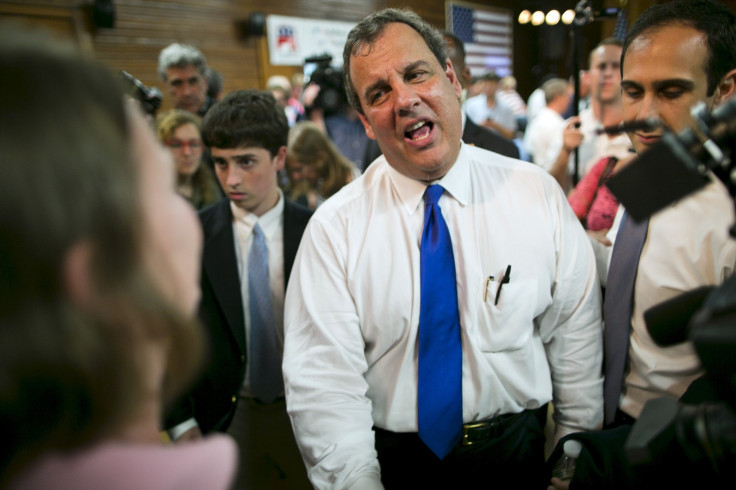 There's good and bad news for New Jersey Gov. Chris Christie from the electorate that knows him the best. Voters in Jersey think he has a good chance of making it onto the prime-time debate stage Thursday, and they think he'd do pretty good if he does, according to a new poll released Monday by the Eagleton Institute of Politics at Rutgers University in New Brunswick, New Jersey. They don't, however, think he's necessarily the best choice for president.
Because of the large number of declared Republican presidential candidates this year, there is a 10-person cap on the first GOP debate to be held Thursday. Fox News, the host of the debate, announced that the cutoff will be based on an average of recent polls; however, exact details are unknown. Christie appears to be toward the back of the 10-person pack, hovering at ninth with 3 percent in estimated national averages. First place with Republicans in national -- and New Jersey -- polls? Donald Trump.
"About the only thing New Jersey voters and Gov. Christie agree on is their belief that he will make the top 10 Thursday night," said Ashley Koning, assistant director of the Eagleton Center for Public Interest Polling at Rutgers University, which conducted Monday's poll, in a press release. "New Jerseyans also respect the governor's ability to hold his own if he does join the debate. But they remain sour about the thought of a 'President' Christie and don't expect him to snag the nomination. Most share the growing belief that Christie missed his chance to run for president at the height of his popularity."
Holding his own in debates and in town hall campaign events is generally considered to be one of Christie's biggest assets as a politician. He is known for his brash, tell-it-how-it-is approach and has made being frank a tenet of his public image. His campaign announcement speech was notably unscripted, and he has leaned heavily on the town hall events that were the backbone of two New Hampshire primary wins for Arizona Sen. John McCain's presidential runs. One of those runs landed McCain with his party's nomination.
While 7-in-10 voters in New Jersey think that Christie wouldn't make a good president -- and 55 percent think his best chance for snagging the GOP nomination has passed -- a strong debate showing could begin a change in the calculus.
That Trump is polling so well in New Jersey is perhaps more of a reflection on the real estate mogul than on Christie. He has surged in national polls to first place around the country, and New Jersey seems just as susceptible to Trump fever as anywhere else. He's in first in the state, raking in 21 percent of Republican voter support compared to Christie's No. 2 showing of 12 percent. Still, Trump isn't well-liked in the state, with 59 percent of voters holding an unfavorable opinion of him. Twenty-seven percent have a positive view of him and 15 percent aren't sure.
In addition, how Trump will hold up on the debate stage Thursday is anyone's guess at this point, and the more traditional candidates are figuring out how to keep Trump from turning the nationally televised event into a spectacle. He laughed when asked how he was preparing for the debate, saying that his years of experience on the TV show "The Apprentice" has prepared him for the stage. Over the weekend he made a trip to a Scottish golf resort he owns instead of working the campaign trail.
Since accusations that Christie's office had been involved in a scheme to clog up traffic on one of the nation's busiest bridges between New Jersey and New York for political retribution were leveled, Christie's polling nationally has plummeted. That is a dramatic fall for Christie, who was seen as one of the most promising potential Republican candidates in 2012 and was courted to pursue the nomination. Following Hurricane Sandy in late October 2012, Christie's polling jumped and he rode the wave of goodwill into an easy re-election bid as governor the next year.
The Rutgers-Eagleton poll interviewed 867 adults contacted by phone from July 25 to Aug. 1. That includes 757 registered voters, and that group has a margin of error of plus-or-minus 4 percentage points.
© Copyright IBTimes 2023. All rights reserved.