Chris Christie Vetoes Anti-Corruption Law To Limit Wall Street Campaign Cash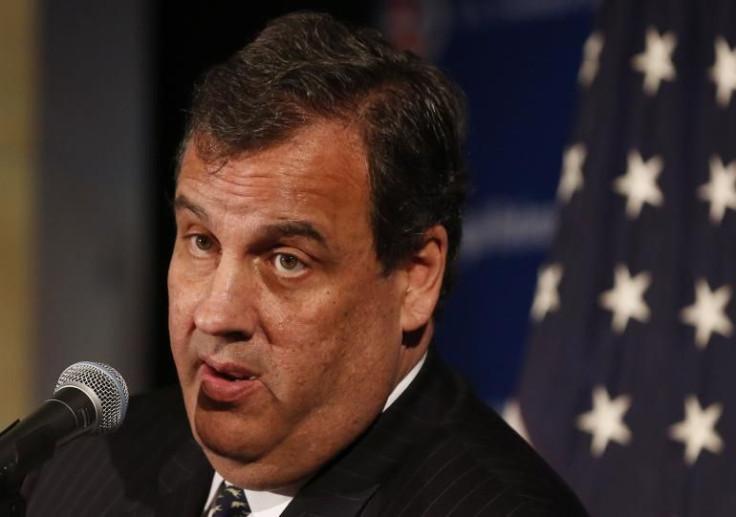 The bipartisan legislation on Chris Christie's desk on Monday was designed to stop New Jersey public officials from delivering lucrative pension deals to their campaign contributors. Gov. Christie vetoed the bill -- at the same time his administration faces a new investigation into New Jersey pension fees paid to financial firms, some of whose executives made contributions to Republican groups backing Christie. The legislation also would have required the pension system to fully disclose all Wall Street fees, a provision Christie said would be "disadvantageous."
The bill in question could have complicated Christie's ability to raise presidential campaign money from Wall Street firms currently managing -- and earning fees from -- billions of dollars in New Jersey's public pension system.
Already, a Securities and Exchange Commission rule effectively bars financial firms managing state pension money from donating to governors who oversee pension investment decisions. The legislation Christie vetoed would have strengthened New Jersey's state version of those federal rules at a time when his officials have placed more public workers' retirement savings under the management of private financial firms.
"The fund managers and investment advisers already must abide by federal campaign contribution laws," Christie wrote in a memo explaining his decision. "Because the federal campaign contribution laws pre-empt state law in this area, I cannot approve of such a provision."
State Sen. Sheila Turner, the Democat who sponsored the bill, criticized Christie's veto.
"He completely removed the provisions that would prevent pay to play between state investors and national political organizations connected to state political figures, including the governor himself and the changes he made to the disclosure requirements are far too weak," she said in a statement. "There has been a documented overlap between political contributions and investment contracts and the common denominator has been Governor Christie. This legislation is needed because we need to take pay to play out of investments."
New Jersey's current investment rules prohibit financial firms whose executives make state campaign contributions from receiving contracts to manage pension money. That rule was most recently the subject of a "pay-to-play" investigation of Massachusetts Gov. Charlie Baker, whose financial firm received a New Jersey pension deal from Christie officials after Baker made a $10,000 donation to the New Jersey Republican State Committee. Christie officials cleared Baker.
In 2014, while Christie was running the Republican Governors Association, his administration slipped a provision into the state administrative code to prevent the rules from applying to contributions to federal political committees like the RGA and Christie's presidential PAC.
International Business Times reported that pension management deals flowed to firms whose executives donated to GOP groups backing Christie's election. That investigative series also showed that Christie's top pension official, Robert Grady, was on regular conference calls with Christie campaign officials as they were raising money for his election. Grady subsequently resigned his post.
Following those reports, New Jersey lawmakers passed a bill through both houses of the Democratic-controlled Legislature to reverse Christie's change, and apply the "pay-to-play" prohibitions to contributions flowing to national groups like the RGA and RNC.
The bill also aimed to force the Christie administration to more thoroughly disclose the pension management fees the state has been paying to private financial firms. Under Christie, those fees have increased fourfold, to more than $600 million a year. Since the Republican governor took office, the state has spent more than $1.5 billion on disclosed pension fees to private financial firms.
Christie asserted that publicly disclosing the amounts taxpayers and retirees are currently paying to Wall Street firms would create a "chilling effect." He said the public should not be able to see such information.
"I agree that it is important to disclose the fees that the state pays for the services of its fund managers so that we can identify where our success in private investments is greatest and maximize our returns," said Christie. "However, individually identifying each fund manager and the fees they have negotiated with New Jersey will put the state in a disadvantageous position relative to other institutional investors who require no such disclosure."
In March, state officials admitted they have not been disclosing all fees paid to financial firms. That revelation prompted trustees of the New Jersey pension system to announce they are launching a formal investigation of the fees.
© Copyright IBTimes 2023. All rights reserved.
FOLLOW MORE IBT NEWS ON THE BELOW CHANNELS