Chris Christie Wins Lawsuit to Exempt Himself From New Jersey's Open Records Laws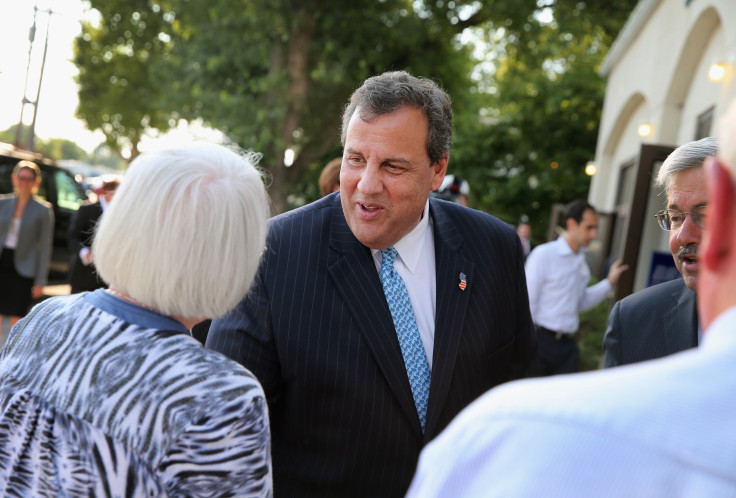 Chris Christie is traveling around the country in advance of a possible 2016 presidential run. Who's picking up the tab for all these trips? He doesn't have to tell. The New Jersey governor's office this week won a court ruling allowing it to exempt itself from disclosure rules, and it's permitted to conceal state records documenting which private interests are financing his nationwide political tour.
The case against Christie revolved around New Jersey Watchdog's request for records about more than "60 unofficial out-of-state trips Christie has taken since 2012." New Jersey Watchdog is a journalism project of the conservative Franklin Center for Government and Public Integrity.
According to New Jersey rules, private third parties "may agree to pay for participation at an event by state employees," but documentation of those payments must be "retained with the department's or agency's records."
When he took office in 2010, Christie pledged to usher in "a new era of accountability and transparency," and he signed an executive order declaring that "the Governor shall not solicit, receive, or agree to receive, directly or indirectly, any ... meals, lodging, travel expenses or anything of monetary value intended to influence him in the conduct of his public duties."
This week in court, however, Christie's officials cited a 1979 letter from then-Gov. Brendan Byrne to argue that they can waive these rules for the governor.
In ruling for the Christie administration, Judge Mary C. Jacobson said the the open records request was "overbroad and lacking in specifics and clarity."
In response, the plaintiff in the case, New Jersey Watchdog's Mark Lagerkvist, wrote that "the public remains in the dark on who picked up the tabs" for Christie's travel. The state's largest newspaper, the Newark Star-Ledger, weighed in with an editorial criticizing the administration for working "aggressively to shield its internal communications by denying requests for public records, often with little or no explanation."
According to the New Jersey Law Journal, there remain at least 22 pending open-records lawsuits against the Christie administration. Meanwhile, Philadelphia Inquirer business columnist Joseph DiStefano reported this week that the Christie administration rejected a request for records of state payments to firms managing New Jersey pension money. DiStefano's request came after evidence surfaced showing employees of firms managing state pension funds have made New Jersey campaign contributions, despite state and federal anti-"pay-to-play" rules.
DiStefano said he has filed a new open records request for the information. Jacobson's ruling in the travel case holds out the possibility of the court supporting more narrow and targeted records requests.
© Copyright IBTimes 2023. All rights reserved.