Chris Cornell Murder Conspiracy Theories Investigated By Police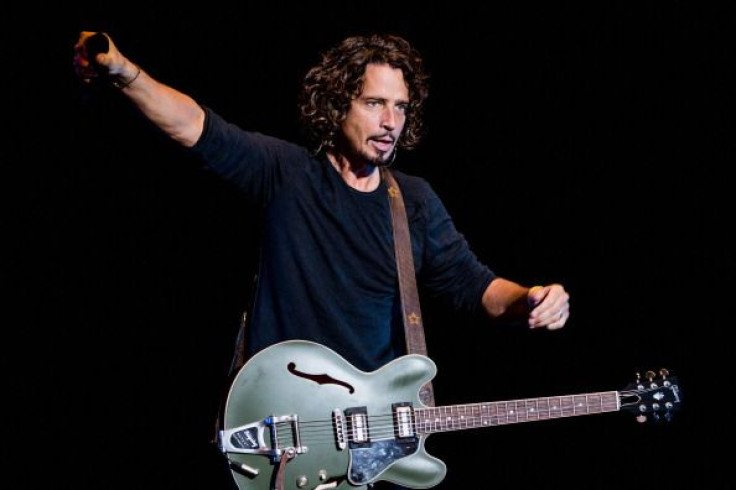 Soundgarden frontman Chris Cornell's cause of death was suicide by hanging, but not everyone is willing to accept the autopsy report from Michigan's Wayne County Medical Examiner. An article written by Detroit News Monday sparked conspiracy theorists after it cited a blogger who claimed there were gaps in the timeline of Cornell's death and questions about forensic evidence.
While there are some fans who are convinced, police were not — but they did look into all angles. "We investigated all possible angles, and there were no signs this was anything but a suicide," Detroit police media relations director Michael Woody told Alternative Nation Tuesday. "But we've been getting inundated with different theories."
READ: Chris Cornell's Wife Vicky Karayiannis Knew Something Was Wrong Before Suicide: Report
Randy Cody, the blogger with the murder theory, claimed he heard a Detroit police scanner audio. On it, a medic spoke about trauma to the back of the head, which was never mentioned in the autopsy report.
"Patient did have an exercise rubber band around his neck, suggestions of possible strangulation, trauma to the back of the head, history of depression," the medic supposedly said in the audio. "Patient is cool to the touch in all areas at this time."
Cody maintained Cornell had a head wound, citing a video that showed the back of his head was injured. "There's a YouTube video of (Cornell's) last concert that clearly shows a wound on his head, but that's never mentioned in the autopsy report," Cody told the publication Monday, not saying how he heard the scanner feed to begin with.
When the Detroit News tried to find recording of the audio from midnight to 2 a.m. on May 18 when Cornell died, it was missing from the website broadcastify.com, which archives scanner traffic.
"It's probably because the feed was down and offline at the time," Brodcastify CEO Lindsey Blanton said to Detroit News in an email. "We never remove archives from the system, so that is the only explanation."
So why would someone kill him? There's an ongoing theory that Cornell was allegedly murdered because he was going to expose a child sex ring. Some of the pedophiles included top entertainment top and political heavyweights, Cody claimed.
Credulous Twitter users hoped on the social media site to discuss Cornell allegedly being murdered.
Wayne County Medical Examiner's spokeswoman Lisa Croff also stood by Cornell's suicide by hanging. "We stand by our cause of death," Wayne County Medical Examiner's spokeswoman Lisa Croff told Alternative Nation.
READ: Chris Cornell Wife Vicky Karayiannis Opens Up On Singer's Final Hours, 'He Didn't Want To Die'
Cornell's wife, Vicky, wasn't convinced when his cause of death was revealed. "He didn't want to die," she told People Magazine June 28. "If he was of sound mind, I know he wouldn't have done this."
She maintained it was substance abuse that took his life. "My Chris was happy, loving, caring and warm," Vicky explained. "This was not a depressed man — it wasn't like I missed that. What I missed were the signs of addiction."
Follow me on Twitter @mariamzzarella
© Copyright IBTimes 2023. All rights reserved.