Christi Lukasiak On Daughter Chloe Lukasiak's Teen Choice Awards Win: 'This Is Her Fight Song'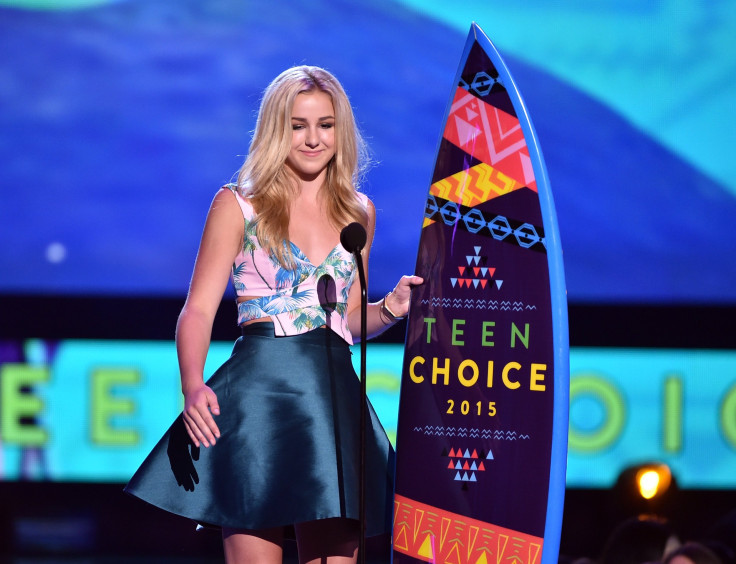 Former "Dance Moms" star Chloe Lukasiak walked away with the Choice Dancer award at Fox's 2015 Teen Choice Awards Sunday night and she has one fan who couldn't be prouder: her mom. On Monday, Christi Lukasiak took to Instagram to gush about her daughter's big win.
"This is her fight song. Couldn't be prouder of this grace under pressure, always a striving girl," Lukasiak wrote. Her post was accompanied by a shot of Chloe, 14, posing with her Teen Choice surfboard trophy. "She is fantastic and an inspiration. When I grow up, I hope that I am half the person she is."
Lukasiak also thanked her daughter's fans on Twitter after the show.
Christi and Chloe starred on four seasons of Lifetime's hit reality series "Dance Moms" before quitting in October. Despite not starring in the dance competition series' most recent installment, Chloe won the Choice Dancer win, a new category in the fan-voted competition. She was up against several dance community stars for the award, including her former "Dance Moms" co-star Maddie Ziegler.
"This is such an honor," Chloe said in her acceptance speech. After thanking her fans for their support and her dance teachers for their help throughout the years, she shared an inspirational message with viewers. "To anyone who has ever been told that they can't do it, they shouldn't do it, or they aren't good enough -- ignore it," she said. "Do it anyways and prove them wrong."
Chloe has also thanked her fans via Twitter.
Watch Chloe's Teen Choice Awards acceptance speech here:
What did you think of Chloe's Teen Choice Awards win, "Dance Moms" fans? Sound off in the comments section below!
© Copyright IBTimes 2023. All rights reserved.