'The Christmas House 2: Deck Those Halls' Hallmark Movie Premiere: Cast, Trailer, Synopsis
Hallmark Channel's very merry holiday season is preparing to already come to a close with the penultimate "Countdown to Christmas" holiday premiere, "The Christmas House 2: Deck Those Halls." The film, which stars Robert Buckley, Jonathan Bennett and more, premieres Saturday night.
Fans will certainly be delighted by the film, as it reunites the cast from 2020's hit premiere "The Christmas House," which includes Buckley ("Love in Store"), Bennett ("Christmas Made To Order"), Treat Williams ("Chesapeake Shores"), Sharon Lawrence ("Merry & Bright"), Ana Ayora ("Captain Marvel") and Brad Harder ("Aurora Teagarden Mysteries").
Teryl Rothery ("Sweet Carolina") also joins the cast in this installment.
So what can fans expect when the Mitchell family reunites on screen? Let's find out.
"For the last two years, Mike (Buckley) and Andi (Ayora) have been settling into their home. Phyllis (Lawrence) and Bill (Williams) have eased into retirement and rediscovered joy in their marriage. And Mike's brother Brandon (Bennett) and his husband Jake (Harder) are on the wild adventure that is being parents to two young children," a synopsis reads. "The entire Mitchell family agrees to meet again for Christmas in the quaint town of Rhinebeck, NY."
However, what initially is supposed to be a quiet and cozy Christmas with the family quickly turns into something else after an opportunity arises.
"All is going according to plan for a relaxing holiday until Mike is asked to participate in a celebrity home decorating reality TV show," the synopsis continues. "After some convincing from everyone else, Mike is excited to share the famed Christmas House with the world."
However, a problem emerges that then threatens the family's happy holiday season.
"When Mike's opponent in the competition drops out at the last minute, Brandon is tasked with rivaling to make for an epic, brother versus brother Christmas decorating showdown!" the synopsis says. "Will this competition brings lots of love and joy for the Mitchell family or will it only bring mayhem?"
"The Christmas House 2: Deck Those Halls" airs Saturday at 8 p.m. EST on Hallmark Channel.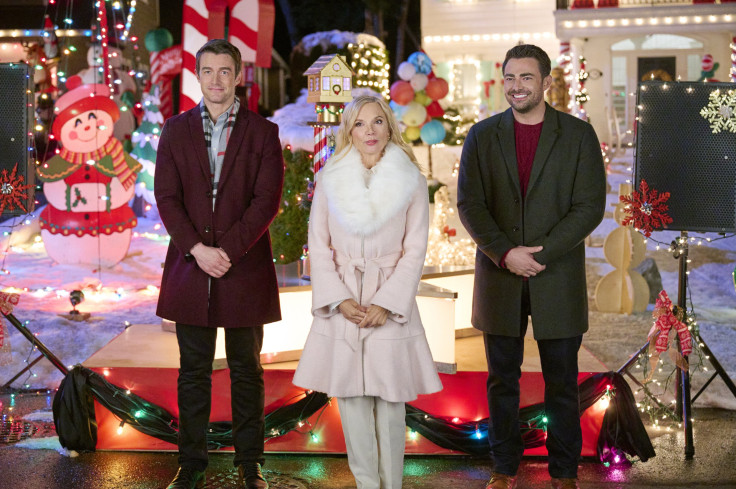 © Copyright IBTimes 2023. All rights reserved.