Church Of Almighty God: Two Chinese Cult Members Sentenced To Death After Murder Of Woman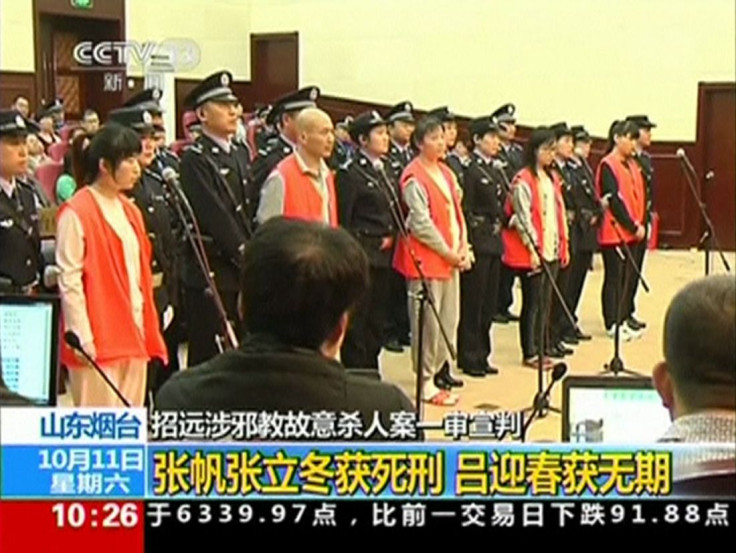 A father and daughter, members of the Church of Almighty God, were sentenced to death in China Saturday after being convicted of murdering a woman who refused to give her phone number to the religious cult, Reuters reported. Zhang Lidong and Zhang Fang were sentenced to death, while a third member of the sect, Lu Yingchun, was sentenced to life in prison. Two other church members were sentenced to prison sentences of 10 and seven years.
In May, Church of Almighty God members were attempting to recruit people, and they solicited phone numbers at a McDonald's fast-food restaurant in the eastern coastal province of Shandong, the New York Times reported. The members approached Wu Shuoyan, 37, and her son, but the woman refused to provide her phone number. Zhang Lidong (the father) and Zhang Fang (the daughter) claimed Wu was an "evil spirit," and the latter attacked the woman with a chair. Wu fell to the ground, and both her assailants began kicking and stomping on her.
The attack killed Wu. The five individuals involved in it were arrested, with both Zhangs being charged with intentional homicide, Reuters said. In addition to being convicted on the murder counts, the two were convicted of "breaching the law through cult activities," the state-run Xinhua news agency reported.
Quannengshen, or the Church of Almighty God, is banned in China. It was founded by Zhao Weishan in the central province of Henan in the 1990s. The cult believes Jesus was reincarnated as Yang Xiangbin, the founder's wife. The sect claimed the world was going to end in 2012 and pledged to destroy China's Communist Party, the so-called Red Dragon. The party has pushed to destroy cults, including a renewed effort targeting the Church of Almighty God and other religious sects in June that led to the arrest of 1,000 suspected members in August.
Zhao Weishan and his wife are believed to have fled to the U.S. in 2000.
© Copyright IBTimes 2023. All rights reserved.