Church Associates AR-15 Rifles With 'Rod Of Iron,' Encourages To Carry Weapon
A Wayne County, Pennsylvania-based offshoot of the Unification Church has encouraged couples to bring their AR-15 semiautomatic rifles along with them to a blessing ceremony in the Pocono Mountains, which is located a half-mile from an elementary school, reports said Tuesday.
World Peace and Unification Sanctuary in Newfoundland, also called the Sanctuary Church, said it planned the Feb. 28 ceremony months ago, well before the Feb. 14 massacre at Marjory Stoneman High School in Parkland, Florida. Authorities said the alleged gunman at the school used an AR-15 to kill 17 people.
The church said couples who were unable to purchase an AR-15 rifle or a similar weapon before Feb. 28, must buy a $700 gift certificate from a gun store in order to show they intend to buy one later.
"All of the weapons in the ceremony will be checked to make sure they are unloaded, with a zip tie so that no bullets can be inserted," Richard A. Panzer, Sanctuary Church president, said, according to standardspeaker.com. "We are inviting local and state police to be on the premises, so that everything goes safely."
Tim Elder, the Unification Sanctuary's director of world missions, added Tuesday the church believes the AR-15 rifle symbolizes the "rod of iron," which is mentioned in the Bible's apocalyptic book of Revelation.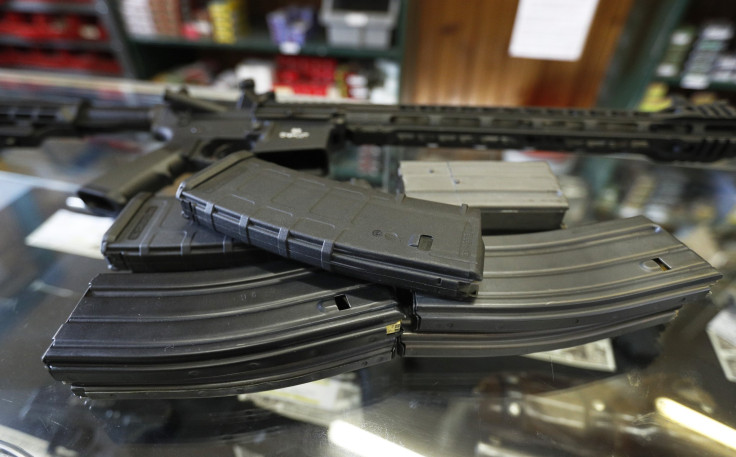 The church website stated couples should show up to the ceremony with an AR-15 "or equivalents such as an AK semiautomatic rifle, representing both the intent and the ability to defend one's family, community."
The church is located down the road from Wallenpaupack South Elementary School, thus leaving parents concerned about the upcoming ceremony at the church next week.
"It's something I would consider keeping my child home. It's scary," parent Liz Zoccola told ABC affiliate WNEP-TV.
"I wish they wouldn't have it at all. I don't think there's a good time to have it, especially this close," Kendra Hanor, another parent, told the station.
Elder said the weapons will all be unloaded, then secured with zip ties and checked at the door before the participants enter the premises. He mentioned the church did not consider canceling or moving the ceremony.
"Now more than ever, good people need to stand up and claim for themselves the tools that can be used to stop that kind of evil," he said. "This will be a big thing for us. It's a new stage for us because it incorporates the rod of iron, as it is in Revelations. Revelations talks about the returning Christ ruling with the rod of iron."
State police, who have been made aware of the event, does not plan to send any troopers to it, since the church is breaking no law, Trooper Mark Keyes said Tuesday.
The Pennsylvania church is known to be a staunch supporter of the Second Amendment. Unification Sanctuary also operates a group named Rod of Iron Ministries, which is also expected to host a "President Trump Thank You Dinner" on Saturday — a fundraiser meant for Gun Owners of America.
© Copyright IBTimes 2022. All rights reserved.
FOLLOW MORE IBT NEWS ON THE BELOW CHANNELS