Civil War Photo Showing CSS Georgia Warship Was Fake: Report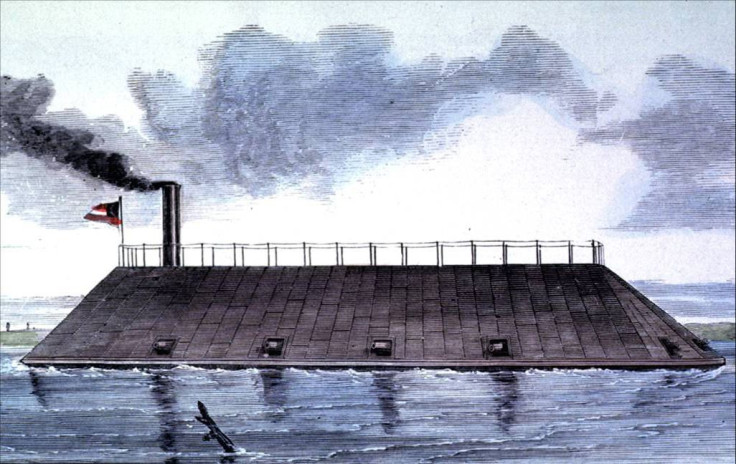 A photograph that has been re-circulated for three decades as a picture of a warship taken during the Civil War, was a hoax, the Associated Press reported Monday. The photograph portrayed the ironclad Confederate warship, the CSS Georgia, in the center, and a man in the foreground wearing an overcoat and a hat.
The photograph was provided by John Potter, who had initially said he found it in a yard sale, but because he could not afford it, he took a picture of the alleged photo of the warship and sent it to historians. But Potter has now told the Associated Press (AP) that the photograph was a hoax, which he made as a teenager with his brother Jeffrey and a friend. The trio had reportedly made an 8 mm movie about the CSS Georgia. They built a two-foot model, which later posed as the warship for their fake photograph.
The photograph came to limelight after the Army Corps of Engineers began a project this year worth $14 million to raise the ship's wreckage from the river, and media organizations carried the images online hoping to track down the original photo.
Potter reportedly said he wanted to test whether he had the ability to become a special effects artist in Hollywood. For this, his brother put on a hat and Potter clicked a picture of him standing in a marsh, with a cane fishing pole. Then, Potter took another photo of the model and glued the image onto Jeffrey's photo. He then used the dirt and glue to "age" the photo, before sending it to historians, who then began the search for the real photograph.
Historians had been trying to authenticate the photograph of the warship, of which no blueprint existed. The frame that reportedly held the hoax photograph now has a picture of his deceased dog Puggy Van Dug.
After Potter's father died in 2011, the brothers moved to North Carolina. Last month, Jeffrey, the only other person who knew the secret, killed himself at the age of 48, and Potter decided to reveal the truth about the photograph.
"I'm not in good health. I didn't want to drop dead and carry that to my grave," Potter, 50, said, according to the AP, adding that he never made any profits from the fake photo. "I didn't intend to hurt or embarrass anybody, because I really love history," he reportedly said, adding: "But there's still a lesson there: Do your dang homework."
The CSS Georgia weighed 1,200 tons and was built to defend the Georgia coast during the Civil War. However, it never fired a shot and confederate sailors sank the ship in December 1864, after William T. Sherman's Union troops captured Savannah.
© Copyright IBTimes 2023. All rights reserved.