Civilian Opponents of Peru's Conga Mine 'Detain' Non-Profit's Workers
Townspeople deny the detention is a kidnapping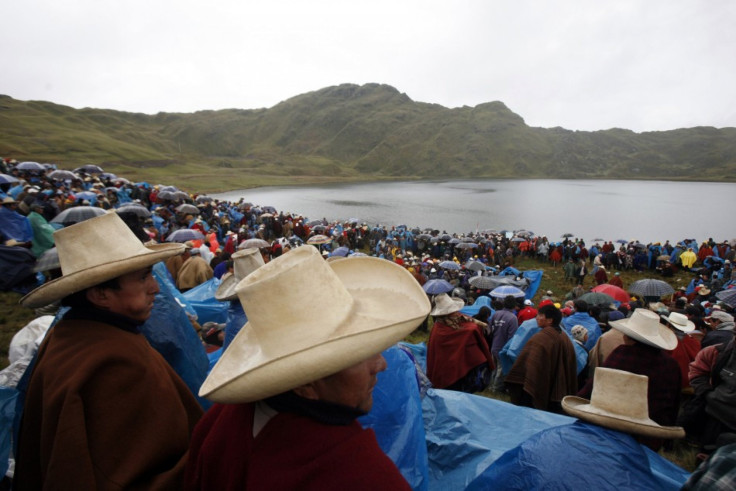 (REUTERS) -- Seven employees from a non-profit organization created by Newmont Mining's Peruvian subsidiary have been detained by townspeople near the company's stalled $4.8 billion Conga mine, the group said on Friday.
A leader of the townspeople opposing the mine in northern Cajamarca, the most expensive ever attempted in Peru, said the workers were being investigated for trying to generate support for the giant gold and copper project but that all seven would be released soon.
The seven were intercepted around 6 p.m. on Thursday after giving a presentation on emergency planning in the town of Chugar de Huasmin and are now guarded by some 70 townspeople, according to the Credit Fund for Forestry Development (FONCREAGRO).
FONCREAGRO was formed by Newmont's Peruvian affiliate Yanacocha in 1999 to manage anti-poverty initiatives
We know that our employees are OK, but this community is being influenced by radical sectors that want to impose their ideas through violence, FONCREAGRO Managing Director Carlos Mercado told Reuters.
Townspeople and local government officials in Cajamarca want work on Conga canceled for fear that the artificial reservoirs the project plans to build would threaten scarce water supplies and cause pollution.
The stand-off has tested President Ollanta Humala, a one-time radical who abandoned his leftist discourse before taking office in July, who says he is committed to seeing the project through.
He has pledged to resolve more than 200 social conflicts over natural resources that threaten some $50 billion in mining investment destined for Peru, the world's No. 2 copper producer and No. 6 gold producer.
The head of the Environmental Defense Front of Cajamarca, Wilfredo Saavedra, who has led protests in the region, said the workers would be liberated at any moment.
This isn't a kidnapping it's a normal investigation by the farmers in the region, said Saavedra, who spent a decade in jail for belonging to the Marxist insurgency group Tupac Amaru.
Newmont and its Peruvian partner Buenaventura are waiting for authorities to approve the restart of construction after a team of international experts weighs in on the project's environmental impact study, which was approved by the previous government.
The companies say the reservoirs will provide additional water for farmers in times of drought and that its environmental impact study complies with the highest international standards.
© Copyright Thomson Reuters 2023. All rights reserved.
FOLLOW MORE IBT NEWS ON THE BELOW CHANNELS