'Claws' Season 2, Episode 3 Spoilers: Desna Meets Ruval's Mother [VIDEOS]
Desna meets the other woman in Dr. Ruval's life in tonight's episode of "Claws."
According to the synopsis for Season 2, episode 3 of the TNT series, Desna's (Niecy Nash) relationship with Ruval (Jimmy Jean-Louis) deepens when he introduces her to his mother, Matilde (Sheryl Lee Ralph).
In the promo for the episode, Desna, along with her brother Dean (Harold Perrineau), goes on a lunch date with Ruval on a yacht, where she meets his mom, Matilde, for the first time. While Matilde doesn't seem to have a problem with Desna, the unusual closeness between the mother and son makes the nail salon owner a little uncomfortable.
As reported by Deadline last February, Matilde is a recurring character this season. Though Matilde appears to be a typical benevolent and caring mother to her son, there's more going on with her than meets the eye.
In an interview with TV Insider, Nash said that Matilde is a "frenemy" to Desna and her crew. "[She's] nice-nasty [like] when somebody is nice but they've got a little twang on the end of them," she said.
Also in this week's episode, Jenn (Jenn Lyon), who is still depressed by Bryce's (Kevin Rankin) recent indiscretion, falls off the wagon. As seen in the promo, the mother of two turns to alcohol after she caught her husband having a sexual encounter with her own mom last episode.
In a sneak peek from the hour, Polly (Carrie Preston), Quiet Ann (Judy Reyes), and Virginia (Karrauche Tran) put up a "relationship debate" where Jenn and Bryce voice out their grievances about their relationship.
"Bryce, I know that I messed up," Jenn says. "But my mama? You know she's got a track record for doing that. You know she's done that to me before, and you know how that would make me feel."
"[But] I still feel vomiting from what I saw," Bryce says, referring to Jenn and Hank's (Hunter Burke) sex video that Zlata (Franka Potente) made him watch.
Elsewhere in the episode, Polly grows concerned when Marnie (Morgan Lily) continues to pull away from her. And Uncle Daddy (Dean Norris) finds himself on the receiving end of Zlata's twisted wrath after he disrespects her.
"Claws" Season 2, episode 3, titled "Russian Navy," airs on Sunday, June 24 at 9 p.m. EDT on TNT.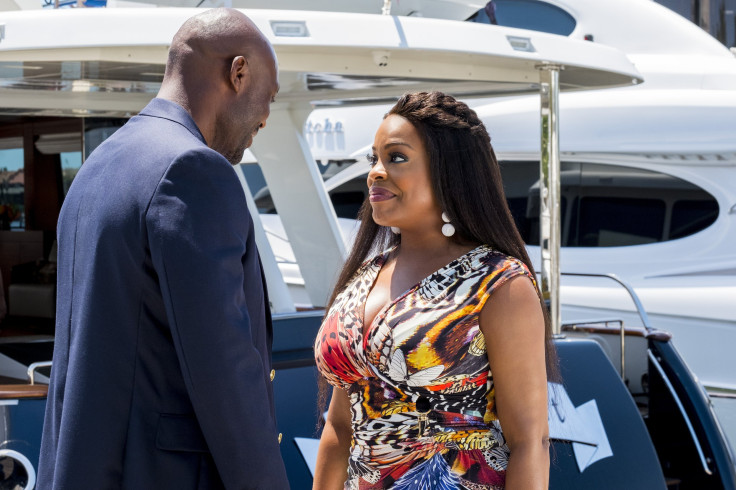 © Copyright IBTimes 2022. All rights reserved.
FOLLOW MORE IBT NEWS ON THE BELOW CHANNELS