'Claws' Season 2 Premiere Spoilers: Episode 1 Synopsis, Sneak Peeks Released
Desna and her crew maybe getting a new boss in the Season 2 premiere of "Claws."
According to the synopsis for episode 1 of the show's sophomore run, Desna (Niecy Nash), Jennifer (Jenn Lyon), Polly (Carrie Preston), Quiet Ann (Judy Reyes), and Virginia (Karrueche Tran) struggle to keep their hope alive while still working under the thumb of the new Russian regime, headed by Riva (Andrea Sooch).
Meanwhile, a depressed Uncle Daddy (Dean Norris), still reeling from the loss of his beloved Juanda (Dale Dickey), has been stripped of his Dixie Mafia kingdom and is forced to do menial jobs for the Russians.
In a sneak peek from the season opener, Kenneth (Jason Antoon) reports to Desna that Uncle Daddy and his nephews Roller (Jack Kesy) and Bryce (Kevin Rankin) are not doing their jobs very well. "The Hussers are sleeping on the job," Kenneth reveals. "Some weeks, they don't even come in."
Worried that Uncle Daddy, Roller, and Bryce's incompetence may put her in a difficult position with Riva, Desna reminds the three why they need to get their stuff together. "The Russians got you by the short hairs. You all pull up or Riva's gonna take you out," Desna tells the Hussers. "So you all will be at the clinic first thing in the morning to turn this thing around. Are we clear?"
But it seems that Riva will soon become the least of Desna's concerns, as another sneak peek from the premiere suggests that Riva is murdered by her own sister Zlata (Franka Potente). In the video, Desna and Polly appear to tell their crew that Zlata shot Riva to death.
"In the face?" Jennifer asks.
"Point blank in the face," Desna answers.
"What kind of monster could do that to their own sister?" an anxious Polly says. "I was up until 3 a.m. trying to get Riva's brain matter out of my hair. I used every bit of my conditioner."
With Riva dead, is Zlata Desna's new boss?
Elsewhere in the episode, Desna remains in the dark about her gangster/gyno boyfriend, Ruval (Jimmy Jean-Louis). Virginia tells Dean (Harold Perrineau) that she's pregnant with his baby, and Polly is jubilant when tasked with being a madam for an all-male dance troupe.
"Claws" Season 2 premiere, titled "Shook," airs Sunday, June 10 at 9 p.m. EDT on TNT.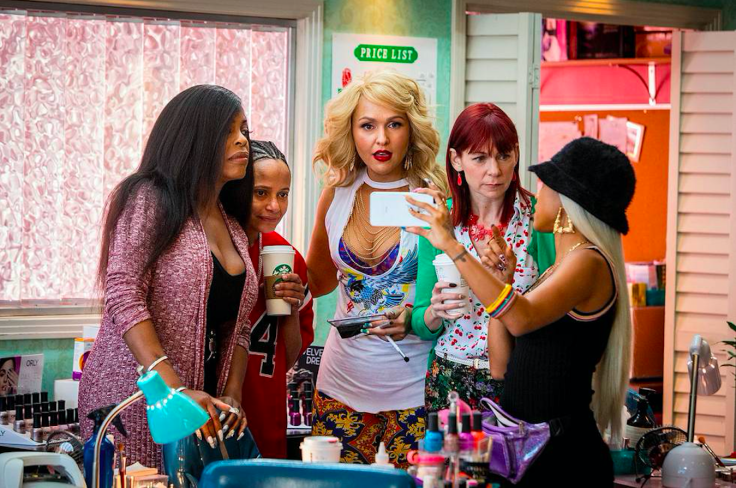 © Copyright IBTimes 2023. All rights reserved.