Climate Change Threatens 18 East And Gulf Coast US Military Installations, Study Finds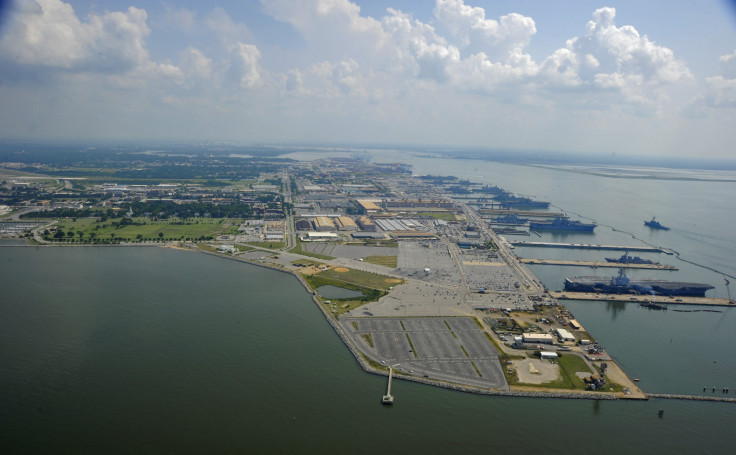 Over a dozen military bases along the U.S. East Coast and Gulf of Mexico are at risk of losing land because of rising sea levels due to hurricanes and tidal flooding intensified by climate change, a new study has revealed.
Researchers at the Union of Concerned Scientists (UCS) analyzed 18 East and Gulf Coast military installations — home to vital training and testing grounds — for their changing exposure to flooding through the end of the century. The analysis, titled "The US Military on the Front Lines of Rising Seas," found that coastal military sites will face more extensive tidal flooding in decades to come, and conditions will worsen when hurricanes strike.
"We're now at the front end of the changes that will occur, with some installations already dealing with flooding during extreme high tides," Erika Spanger-Siegfried, lead author of the study and senior analyst in the Climate and Energy program at UCS, said in a statement. "Depending on how fast sea level rises in the second half of this century, tidal flooding will become a daily occurrence in some areas; that is, those places become part of the tidal zone as opposed to useable land. This also depends on how installations respond and whether they have the resources to adapt."
By 2050, half of these military sites will be hit by 270 or more flood events per year, up from just 10 events per year today, the study said, adding that at least half of them will experience daily floods in the worst case scenario.
According to the study, four of the installations, including the Naval Air Station in Key West, Florida, and the Marine Corps Recruit Depot in Parris Island, South Carolina, could lose one-fifth or more of their land in this century.
"By 2050, most of these sites will see more than 10 times the number of floods they experience today," Kristy Dahl, UCS consulting scientist and the study's co-author, said in the statement. "In 2070, all but a few are projected to see flooding once or twice every day. Shockingly, these aren't even the worst-case scenarios."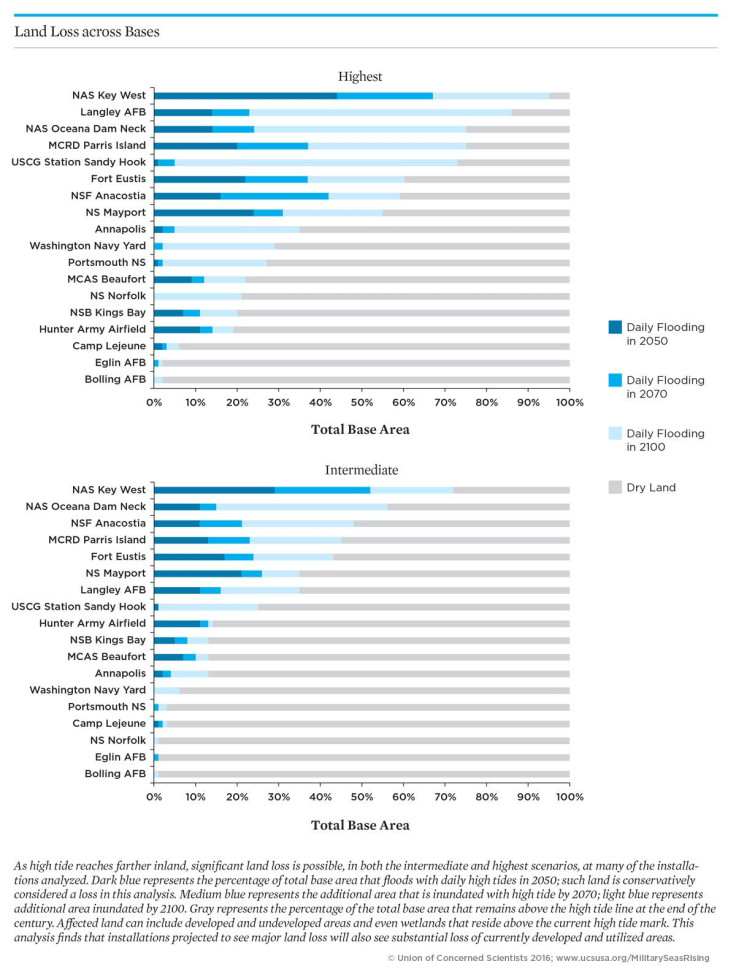 Spanger-Siegfried said the Pentagon is aware of the problem while some of the military bases are already making efforts to boost preparedness. However, she expressed concerns over an amendment passed last month by the U.S. House Committee on Appropriations to block the Defense Department from funding the Pentagon's "climate change preparedness plan."
"Our defense leadership has a special responsibility to protect the sites that hundreds of thousands of Americans depend on for their livelihoods and millions depend on for national security," the study said.
© Copyright IBTimes 2023. All rights reserved.
FOLLOW MORE IBT NEWS ON THE BELOW CHANNELS