Clintons' Ties To Russia, Not Trump's, Should Be Investigated More, Latest Voter Poll Shows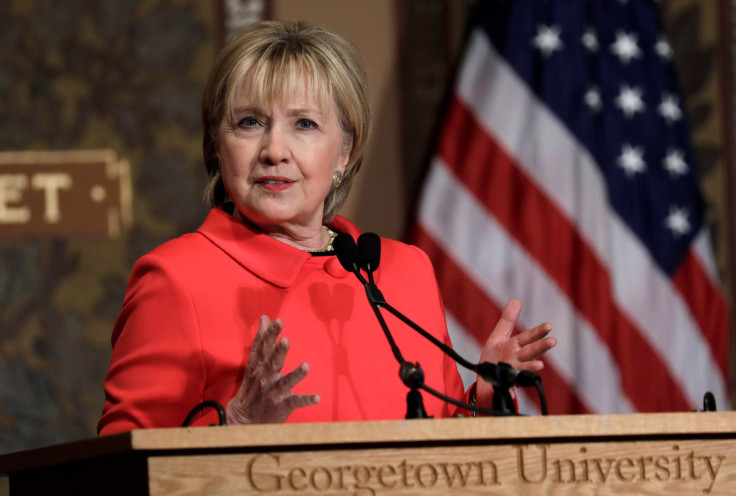 President Donald Trump, former Democratic nominee Hillary Clinton and her husband, former President Bill Clinton, should all be investigated for their alleged links to Russia, poll results released Wednesday showed. However, most respondents were slightly more in favor of the Clintons facing more scrutiny from the FBI and the House and Senate Intelligence Committees.
A Rasmussen Reports poll showed that while 50 percent of likely voters believed the investigation into the Trump campaign's alleged links to Russia last year should be expanded, 52 percent said the Clintons should also be included.
Read: Will Fox News Fire Bill O'Reilly?
While reflecting deep political entrenchment over the ever evolving scandals, the poll also showed that 45 percent of respondents thought Congress should be more focused on the economy and other policies.
Still, 35 percent disagreed that the Clintons, who have faced accusations over their global charity organization and its links to Russia, should be included in the probe while 13 percent were unsure.
The results greatly depended on party affiliation. A vast majority of Republicans, 69 percent, wanted the Clintons added to the investigation while only 37 percent of Democrats agreed. Similarly, 70 percent of Democrats wanted Congress to further its investigation into Trump and Russia and only 28 percent of Republicans were for the idea.
Independents were relatively split but mostly wanted the Clintons tacked on, with 50 percent in favor of widening the probe while 44 percent weren't. But 51 percent of independents wanted the Clintons included while 33 percent were against it.
The poll was conducted between March 30 and April 2 and was taken over the telephone and online with 1,000 likely voters responding.
Read: Russia, Germany, France To Share Terror Intel
Prior to and ever since he took the Oath of Office, Trump's administration had repeatedly faced more accusations of links to Russia's purported efforts to hack or influence last year's election. Former national security adviser Michael Flynn was reportedly ready to offer testimony to Congress in exchange for immunity, which Trump's critics used as a means to blast his previous statements about Clinton's staff also asking for immunity.
Nevertheless, the Clintons did face serious accusations over donations to their foundation that coincided with a Russian-controlled company slowly taking over one-fifth of the uranium production in the United States, according to The New York Times report in April 2015.
© Copyright IBTimes 2023. All rights reserved.