'Cloudy With A Chance Of Meatballs 2' Outperforms Fellow Newcomers 'Rush' And 'Don Jon' At Weekend Box Office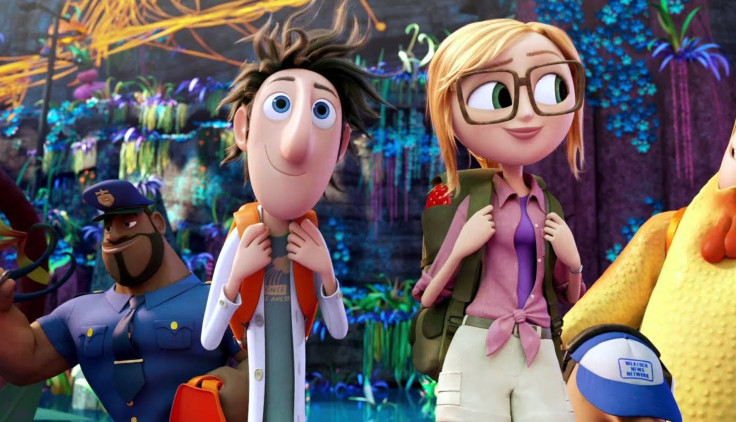 The family-friendly sequel "Cloudy with a Chance of Meatballs 2" dominated the box office at movie theaters in its opening weekend, bringing in an impressive $35 million. Meanwhile, "Prisoners" managed to take the No. 2 spot despite several new releases -- "Rush," "Baggage Claim" and "Don Jon" -- all of which had relatively small grosses.
"Cloudy 2" may not set any box-office records, but it certainly captured family audiences over the weekend. It also outperformed the original "Cloudy with a Chance of Meatballs," which took home $30.3 million in 2009. According to Box Office Mojo, the film can reasonably expect to earn somewhere in the area of $120 million by the end of its run, an impressive sum overall.
Three movies made their debuts this weekend with takes in the vicinity of $10 million, an unimpressive but untroubling amount for smaller films. Although Ron Howard's "Rush" premiered at a handful of U.S. theaters last weekend, the period racing drama went wide on Friday, bringing in $10.3 million. "Rush" may not have immediately captured audiences (worrying, given the movie's $38 million budget), but it won over most critics, earning an 88 percent fresh rating at Rotten Tomatoes. In fact, "Rush" has already been hailed as one of Howard's best films.
Written, directed and starring Joseph Gordon-Levitt, "Don Jon" premiered in fifth place with a $9 million haul. It may not be an outstanding figure, but -- considering the movie was produced for only $6 million -- it's safe to say that Gordon-Levitt's deeply personal take on flawed expectations and romantic relationships will be considered a relative success.
Check out the top 10 movies of the weekend, according to Box Office Mojo:
1) "Cloudy with a Chance of Meatballs 2" -- $35.0 million
2) "Prisoners" -- $11.3 million
3) "Rush" -- $10.3 million
4) "Baggage Claim" -- $9.3 million
5) "Don Jon" -- $9.0 million
6) "Insidious Chapter 2" -- $6.7 million
7) "The Family" -- $3.7 million
8) "Instructions Not Included" -- $3.4 million
9) "We're the Millers" -- $2.9 million
10) "Lee Daniels' The Butler" -- $2.4 million
© Copyright IBTimes 2023. All rights reserved.