Clown Sightings 2016: Florida Residents Spot Bozo In Woods Of Palm Bay, Marion County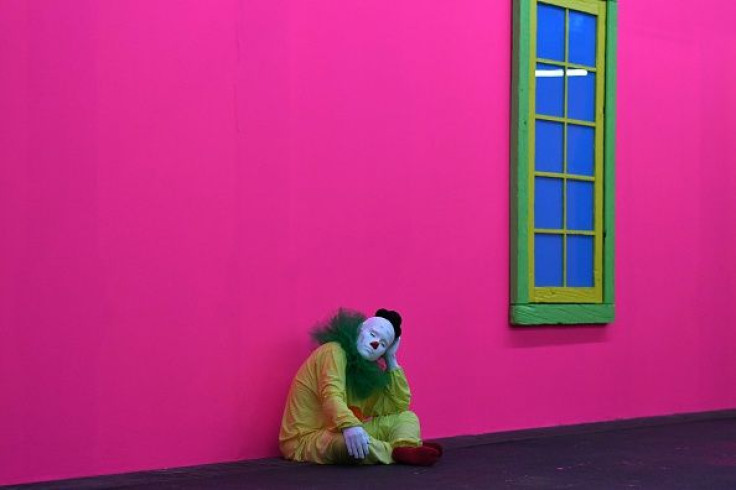 A creepy clown sighting has been reported in the South once again, this time in Florida. While two of the clowns were recently spotted in the Palm Bay area, one was spotted in Marion County, Fox News reported Wednesday.
A Palm Bay resident said she spotted two "killer clowns" while walking her dog over the weekend. The clowns were staring at her Sunday and frightened her to the point she called after returning home, Florida Today reported Monday. "I never run but I turned and ran back to my home as fast as I can," Kelly Reynolds said. "These clowns have to go away."
The Marion County encounter has gone viral on Facebook with more than one million views. In the video, posted last Thursday, a man recorded the clown staring at him alongside a dirt road covered in typical clown makeup and orange stringy hair. Attached to the video was a caption from Facebook user Caden Parmelee: "We stopped to record and then he started to move so we took off wrote in a video post that has now gone. Not trying to die today."
The most recent clown sightings are just a few among a string of incidents in which people across the South have reported seeing individuals in traditional clown garb and heavy makeup in the woods. Authorities have warned individuals against dressing up as clowns, cautioning that they could end up shot if they approach the wrong person.
"A person could think that they're about to get robbed," said Palm Bay Police Department Lt. Mike Bandish.
Residents in Alabama, Kentucky, North Carolina and Virginia have previously reported spotting clowns. While some reported the clowns simply standing there, making the individuals feel uncomfortable, there have also been reports of other clowns hurling insults, harassing teenagers and attempting to lure young children into vehicles.
© Copyright IBTimes 2023. All rights reserved.