Clowns In The Woods: Girl, 11, Arrested In Georgia School For Bringing Knife For Protection After Reported Sightings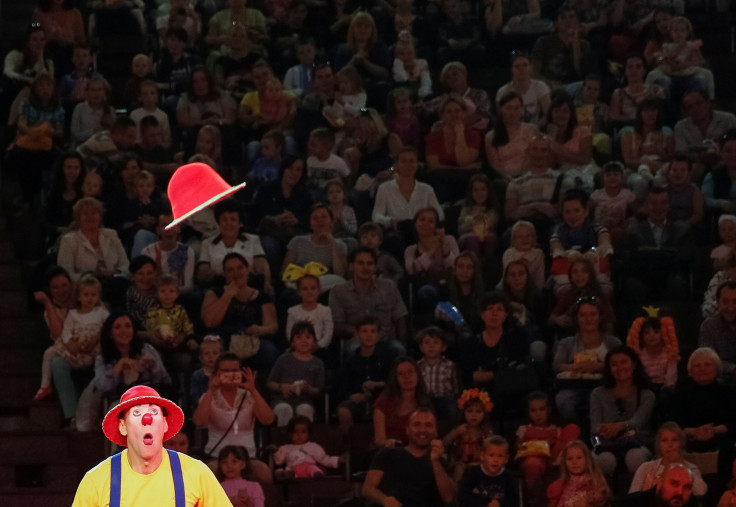 There have now been several arrests surrounding the recent phenomenon of clown sightings in the U.S., which have mostly been reported in the South. However, the most recent instance of police taking a person into custody over people dressed as makeup-wearing circus jesters ended with an 11-year-old girl headed to her local police station last Friday.
Her offense? Bringing a knife to her middle school In Athens, Georgia, for protection in the event that the clowns she said she had been hearing about tried to hurt her, local news outlet Athens Banner-Herald reported Tuesday.
"She said that the reason she had the knife was for protection for her and her family because she had heard the stories about clowns jumping out of the woods and attacking children," the official Athens-Clarke County Police Department report said.
The girl, whose name has not been released because she's a minor, was ultimately released by the Georgia Department of Juvenile Justice and charged for having a weapon in school.
The defense-minded girl may have just cause for her concern after a 911 call last week in Hogansville, Georgia, alerted authorities to people dressed as clowns trying to lure children into a van, the Washington Post reported. There were no immediate arrests in that instance, but it clearly left at least one young state resident scared.
Aside from the instances in Georgia, clowns have been reportedly targeting children in Alabama, North Carolina and South Carolina, the first of which resulted in two schools being placed on lockdown. A 22-year-old woman was arrested last week in Alabama for calling in threats of clowns at the schools.
Despite the surge in reported menacing clown sightings, a good majority of the reports investigated by law enforcement have been found to be unsubstantiated claims, as was the case with the Alabama schools.
The reports of clown sightings are not only restricted to the Deep South. But police in Annapolis, Maryland, were able to determine Tuesday that reports from children one day earlier turned out to be fabricated after they confessed to making them up.
© Copyright IBTimes 2023. All rights reserved.
FOLLOW MORE IBT NEWS ON THE BELOW CHANNELS