CNN Gary Johnson Live Stream: Watch Libertarian Candidates Talk Donald Trump, Hillary Clinton And Policy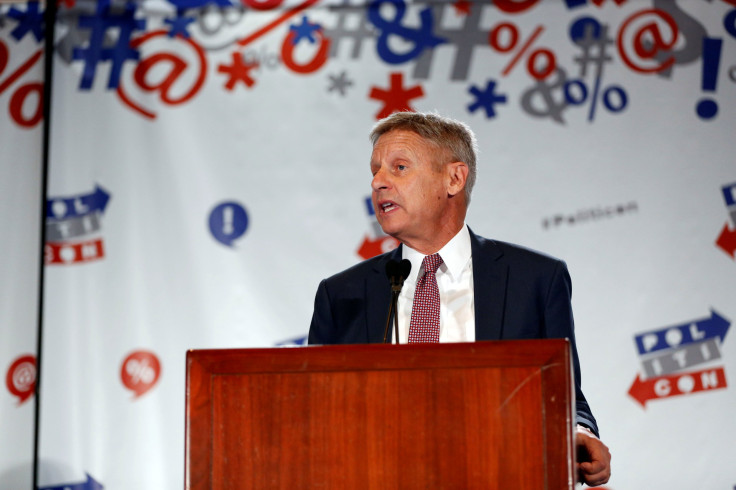 Sick of Republican nominee Donald Trump and this tweets? Tired of hearing about former Secretary of State Hillary Clinton's emails? As many voters look to third party alternatives, Libertarian Party presidential nominee Gary Johnson is hoping he can persuade traditional Democratic and Republican voters to cast their ballots for him.
Johnson and his running mate former Massachusetts Gov. William Weld will participate in a one-hour CNN town hall Wednesday at 9 p.m. EDT. A live stream of the event is available online here for free through CNNGo. CNN anchor Anderson Cooper will moderate the event.
The town hall is expected to focus on the state of the 2016 race as well as the Libertarian platform. Johnson and Weld will take questions from audience members, according to a CNN press release.
Johnson, the former governor of New Mexico, has caught the attention of voters in recent months. In an average of general election polls conducted by Real Clear Politics, Johnson is polling at 7.4 percent support. Clinton leads the average at 42.2 percent followed by Trump at 37.8 percent. Green Party candidate Jill Stein rounds out the poll with 3.2 percent support.
Johnson and Weld are looking to impress Republicans and Democrats who are not happy with their respective party's nominees. Johnson told CNN he had spoken to 2012 Republican presidential candidate Mitt Romney, who has not endorsed a candidate and has expressed his displeasure with Trump's nomination. Both Johnson and Weld have also attacked Trump as a candidate.
"I think he's considering the possibility of doing this, of actually endorsing the two of us," Johnson said referencing Romney.
Johnson is no stranger to presidential politics. He ran as a Republican and then as a Libertarian during the 2012 election when he received 1.3 million votes.
Johnson sat down with International Business Times in June to discuss his views and party platform. He rejected the idea that Libertarians have an isolationist foreign policy outlook, explained his view on getting rid of the Department of Education and discussed his reason for calling for the legalization of marijuana.
"I think most people are Libertarians," Johnson told IBT. "It's just that they just don't know it."
© Copyright IBTimes 2023. All rights reserved.