CNN GOP Town Hall: Start Time For Donald Trump, Ted Cruz Showdown In Wisconsin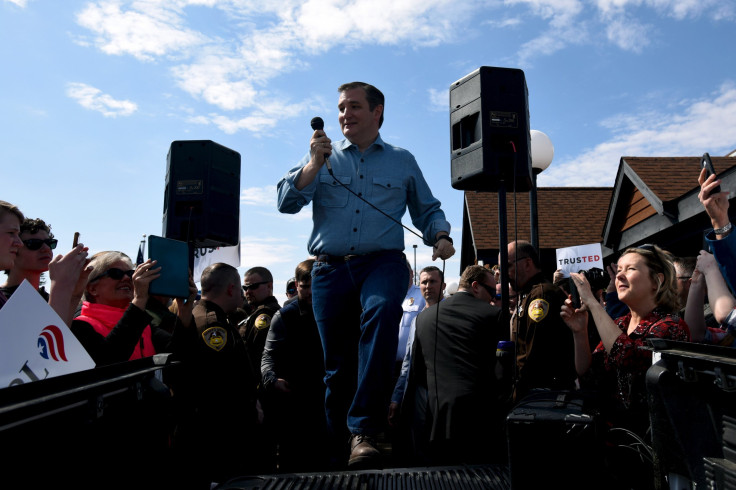 A week before the Republican primary in Wisconsin, the three remaining GOP presidential candidates will face off at a town hall event in Milwaukee Tuesday evening. Businessman Donald Trump, Texas Sen. Ted Cruz and Ohio Gov. John Kasich will hear questions from voters during the CNN event, which kicks off at 8 p.m. EDT and runs until 11 p.m. CNN anchor Anderson Cooper will moderate at Milwaukee's Riverside Theater.
With 42 delegates, Wisconsin is an important battleground state for the remaining candidates. Trump leads the Republican delegate count with 739, followed by Cruz with 465 and Kasich with only 143. To gain the Republican nomination, 1,237 delegates are needed.
"The results in Wisconsin will impact significantly the primaries to come," Cruz told the Associated Press. "Wisconsin, I believe, will play a critical role continuing to unify Republicans behind our campaign. The only way to beat Donald Trump is with unity."
Cruz has been campaigning across the Badger State in the hopes of securing another primary win before the remaining winner-take-all contests in Delaware, Montana, Nebraska, New Jersey and North Dakota.
The average of several polls shows a tight race with a slight edge going to Trump, followed by Cruz and Kasich. The latest poll conducted by the Emerson College Polling Society March 20-22 with 439 likely voters had Cruz in the lead with 36 percent support followed by Trump with 35 percent support. Kasich only had 19 percent support. The poll had a 4.6 percent margin of error.
Trump took part in a heated radio interview Monday with Milwaukee radio host and #NeverTrump supporter Charlie Sykes. Sykes, who is supporting Cruz, asked if Trump was willing to apologize about recent controversial remarks about Cruz's wife, Heidi, and Wisconsin Gov. Scott Walker. However, the radio host didn't get far.
"Obviously, I failed in my effort to introduce you to Wisconsin and our tradition of civility and decency by getting an apology from you for Heidi Cruz or for what you've said about Scott Walker," Sykes said, Politico reported.
The town hall set-up gives voters the opportunity to ask state-specific questions. The event is available through CNN and will be live-streamed online through CNNGo.
© Copyright IBTimes 2023. All rights reserved.
FOLLOW MORE IBT NEWS ON THE BELOW CHANNELS