CNN Republican Debate 2016 Live Updates: Best Twitter Reactions, Memes And Analysis Of Trump, Rubio, Cruz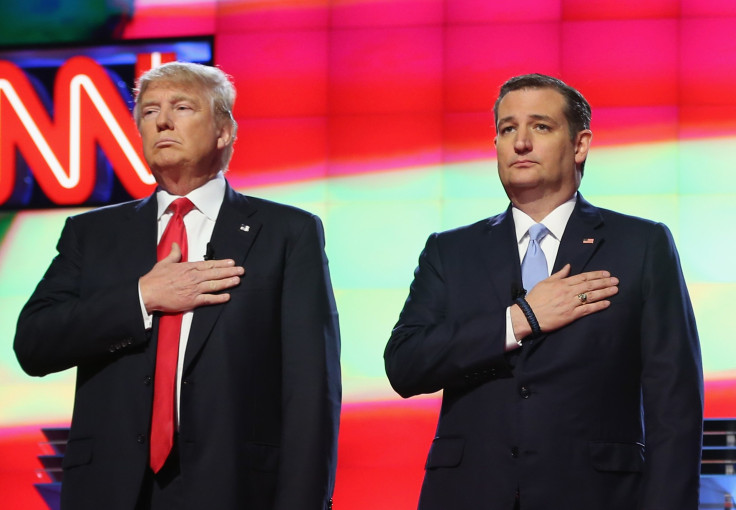 UPDATE: 11:21 p.m. EST — In his closing remarks, U.S. Sen. Ted Cruz of Texas poked fun at rival Donald Trump while listing the occupations of the candidates' fathers. Unlike in previous debates, Trump did not strike back at Cruz but instead urged the Republican Party to embrace new supporters whom he has ushered in.
Florida Sen. Marco Rubio, meanwhile, made a final plea to Florida voters to support him next week on Super Tuesday 3, while Ohio Gov. John Kasich vowed to continue running a positive campaign.
"I have run an unwavering positive campaign for president of the United States … so my kids can look at the way you can run for president. I will continue to run a positive campaign," Kasich said at the end of the surprisingly tame debate.
UPDATE: 11:09 p.m. EST — When asked about a man who was arrested for assault after allegedly punching a black protester at a North Carolina campaign rally, Donald Trump said he does not condone violence at rallies but some of his supporters have "anger that's unbelievable."
"They love this country," the Republican presidential front-runner said toward the end of Thursday night's debate. "They don't like seeing bad trade deals, higher taxes, they don't like seeing a loss of their jobs where our jobs have just been devastated. And I know — I mean, I see it. There is some anger. There's also great love for the country. It's a beautiful thing in many respects. But I certainly do not condone that at all."
When pressed further by CNN debate moderator Jake Tapper, who read several quotes from Trump that seemed to encourage violence, the billionaire businessman appeared to blame the protesters.
"We have some protesters who are bad dudes, they have done bad things, they are swinging, they are really dangerous," Trump said. "We had a couple big, strong, powerful guys doing damage to people."
Donald Trump: "We have some protesters who are some bad dudes" https://t.co/kZ4m149S4c #GOPDebate https://t.co/nfkSgjdSfM

— CNN Politics (@CNNPolitics) March 11, 2016
UPDATE: 10:56 p.m. EST — Billionaire businessman Donald Trump boasted how he has self-funded his presidential campaign thus far, but said he has not yet decided whether he will accept outside contributions in the future. Trump, who is leading the delegate race, said he has turned down "probably $275 million" in donations.
"I feel sort of foolish, to be honest with you. I don't know if I get any credit for it, but I'm self-funding my campaign," he said.
However, a look into the candidate's campaign finances says otherwise. Trump lent his presidential campaign $10.8 million on Dec. 31 and entered 2016 with $7 million in the bank. The real estate mogul accepted $2.6 million in outside donations from Oct. 1 to Dec. 31, according to NJ.com.
UPDATE: 10:43 p.m. EST — Ohio Gov. John Kasich made clear the delegate race is far from over, even though Donald Trump has maintained a commanding lead. The conservative governor faces a winner-takes-all contest in his home state next week.
"What's true today is not necessarily true tomorrow," Kasich said. "So let's not get ahead of ourselves."
UPDATE: 10:31 p.m. EST — Ohio Gov. John Kasich once again showed that he is the more moderate choice when he defended the scientific consensus that humans play a role in climate change during the CNN Republican debate near Miami on Thursday night.
"You can have strong environmental policy at the same time as you have strong economic growth," Kasich said.
UPDATE: 10:20 p.m. EST — Donald Trump said reopening relations with Cuba would be fine if the U.S. can get a good deal, while Ted Cruz and Marco Rubio, the children of Cuban immigrants, called the Obama administration's new relationship with the Castro regime a mistake.
"I do agree that something should take place. After 50 years it's enough time, folks. But we have to make a good deal here," Trump said.
Rubio said a new position on Cuba would allow money to flow to the Castro regime "and nothing will change for the Cuban people. ... In fact things are worse, than they were before this opening."
Cruz said he would break diplomatic relations with Havana.
UPDATE: 10:03 p.m. EST — Donald Trump defended his comments that "Islam hates us" and that the U.S. military should go after the families of terrorists. Trump said the military must expand federal torture laws in order to defeat the Islamic State group, also known as ISIS or ISIL.
"They (ISIS) have no laws, they have no rules, they have no regulations. They chop off heads," he said. "Now, we have to obey laws but we have to expand those laws. We have to be able to fight on at least somewhat of an equal footing or we will never, ever knock out ISIS and all of the others that are so bad."
UPDATE: 9:40 p.m. EST — U.S. Sen. Ted Cruz of Texas took the first jab at Donald Trump by comparing his answer on tackling "waste, fraud, abuse" in Washington to Democratic hopeful Hillary Clinton's policies. But when CNN debate moderator asked if he was comparing Trump to the former secretary of state, Cruz backed off.
"I will let Donald speak for himself," Cruz said.
Crying Cruz #GOPDebate #snapchat #FeelTheBern pic.twitter.com/aBAj6rsptx

— Meghan Kathleen (@meghankathleen) March 11, 2016
UPDATE: 9:23 p.m. EST — Donald Trump confirmed during Thursday's debate that former Republican presidential candidate Ben Carson will endorse him Friday morning. Trump added that he wanted to get Carson involved in education, "something which is an expertise of his," the billionaire businessman said.
UPDATE: 9:16 p.m. EST — When asked about whether the U.S. should put a pause on making green cards available to immigrants, Ohio Gov. John Kasich said the government must "finish the wall" as part of its efforts to stem illegal immigration. The comment strayed from Kasich's portrayal of himself as the moderate in the GOP race.
"I believe in immigration, but it has to be controlled," Kasich said. "I have a comprehensive plan to deal with this problem. ... We absolutely have to finish the wall and guard the border."
UPDATE: 9:07 p.m. EST — In his opening statement, GOP front-runner Donald Trump portrayed himself as a more professional candidate and called on the Republican Party to "embrace" the fact that millions of Americans are voting for him in the state nominating contests.
"Some of these people, frankly, have never voted before. ... The whole world is talking about it," Trump said. "I think, frankly, the Republican establishment, or whatever you want to call it, should embrace what's happening."
"We're going to beat the Democratics, we're going to beat Hillary, or whoever it may be, and we are going to beat them soundly," he added.
Trump: "Frankly, the Republican establishment, or whatever you want to call it, should embrace what's happening." pic.twitter.com/SJvsDDsTUg

— POLITICO (@politico) March 11, 2016
UPDATE: 8:50 p.m. EST — Republican National Committee Chairman Reince Priebus said his party will stand behind the selected nominee with its full support, no matter who it is.
"Any of these candidates would be a world better than Hillary Clinton or a socialist, Bernie Sanders," Priebus said Thursday, just minutes before the GOP candidates took the debate stage.
UPDATE: 8:44 p.m. EST — Chris Brown became the latest celebrity to take a stand against Republican presidential front-runner Donald Trump. The 26-year-old rapper spoke out on social media Thursday, following reports that a white Trump supporter punched a black man at a rally this week.
"Man this s--- is getting crazy. Black people getting assaulted at f------ rallies where you're supposed to talk at, Trump and all that bull----," Brown said angrily in a video posted on Instagram. "What you need to start doing, all these black people, go together 40, 50 deep, see what they do then. Keep touching us mother------"
UPDATE: 8:19 p.m. EST — Democratic U.S. presidential candidates Hillary Clinton and Bernie Sanders both released statements Thursday condemning the violence that has become standard at Donald Trump rallies. Their comments follow reports that a white Trump supporter was charged with assault after he was caught on video punching a black man being escorted by authorities from a rally in Fayetteville, North Carolina, Wednesday.
"This kind of behavior is repugnant," Clinton posted on Twitter. "We set the tone for our campaigns — we should encourage respect, not violence."
"No one in America should ever fear for their safety at a political rally. This ugly incident confirms that the politics of division has no place in our country. Mr. Trump should take responsibility for addressing his supporters' violent actions," Sanders reportedly said in a statement posted on Twitter.
During the rally Wednesday, Trump commented on an altercation that occurred at a previous rally between the audience and a protester, calling it a "beautiful thing."
"He was a rough guy and he was punching. And we had some people — some rough guys like we have right in here — and they started punching back. It was a beautiful thing. I mean, they started punching," the GOP front-runner said, according to the Associated Press.
Video capturess man throw punch at Trump rally in NC --> https://t.co/0ui2VKMMZvhttps://t.co/K5mJX7pRf2

— NBC10 Philadelphia (@NBCPhiladelphia) March 10, 2016
UPDATE: 7:19 p.m. EST — Former Republican U.S. presidential candidate Ben Carson plans to endorse front-runner Donald Trump, according to two people familiar with his thinking who spoke on condition of anonymity with the Washington Post. Carson, who dropped out of the GOP nomination race last week, will apparently announce the surprise endorsement with Trump by his side Friday morning at Mar-a-Lago Club, a luxury property owned by the billionaire businessman in Palm Beach, Florida.
The endorsement was decided Thursday morning when the retired neurosurgeon met with Trump at the club, the sources said. Carson's business manager, Armstrong Williams, confirmed the two met Thursday, but declined to elaborate. A Trump campaign representative declined to comment about either the meeting or Carson's potential endorsement, according to the Post.
It wasn't that long ago, when the former rivals were fighting each other for the Republican presidential nomination, that Trump compared Carson to a child molester, criticized his "super low energy" and questioned his religion. But in an interview with John Gibson on Fox News Radio Thursday, Carson said he realized Trump represents the GOP's best chance of winning the presidential election.
"There's the Donald Trump that you see on television and who gets out in front of big audiences, and there's the Donald Trump behind the scenes," Carson told Gibson. "They're not the same person."
When pressed if he was ready to get behind the party's front-runner, Carson said, "Let's put it this way, I'm certainly leaning."
Original story:
The final four Republican U.S. presidential candidates are set to take the debate stage outside Miami Thursday night, and the audience members are probably all hoping for the same thing: that businessman Donald Trump won't discuss the size of his hands or any other part of his anatomy. For Trump, a good debate performance could clinch a victory in Florida's winner-take-all primary election next week, which would make the front-runner virtually unstoppable. For U.S. Sen. Marco Rubio, it's his final chance ahead of Super Tuesday 3 to woo voters to avoid an embarrassing loss in his home state, which would likely spell doom for his campaign.
U.S. Sen. Ted Cruz of Texas and Ohio Gov. John Kasich will also take the stage in the 12th GOP showdown, to be held at the University of Miami in Coral Gables. Like Rubio, Kasich is facing a must-win contest next week in his home state, another delegate-rich territory. Fox News polls released Wednesday showed Kasich, who has still not won a single state primary, ahead of Trump in Ohio, and Trump dominating in Florida. Kasich has said if he doesn't win his home state, he will leave the presidential race. The debate Thursday could be the time when Kasich ditches his so-called Mr. Nice Guy strategy and finally takes on Trump.
Still, Cruz remains the Republican candidate with the best shot at taking down Trump at the party's convention this summer. The conservative senator grew his delegate count with a commanding victory in Idaho's primary this week and picked up a surprise endorsement from former presidential candidate Carly Fiorina. Cruz is arguing he and Trump are the only two GOP candidates with realistic paths to the 1,237 delegates needed to clinch the nomination. He needs 62 percent of outstanding delegates, while Trump needs 54 percent, according to the New York Times. Cruz could use the debate stage Thursday to urge Kasich and Rubio to abandon their White House bids.
"If you don't want to see Donald Trump as the nominee, if you don't want to hand the general election on a silver platter to Hillary Clinton and the Democrats, then I ask you to join us," CNN quoted Cruz as saying in Florida Wednesday. "If you were a Jeb [Bush] supporter, if you are a Marco supporter now, if you're a Kasich supporter, we welcome you to our team."
With just days to go until the Republican nominating contests in Florida, Illinois, Missouri, North Carolina and Ohio next week, all four candidates will certainly vie for face time on the debate stage. Co-sponsored by Salem Media Group and the Washington Times, the event on CNN will begin at 8:30 p.m. EST. Check back here for live updates during the debate for the best Twitter reactions, memes and analysis.
© Copyright IBTimes 2022. All rights reserved.
FOLLOW MORE IBT NEWS ON THE BELOW CHANNELS