Cognixion ONE Brain-Computer Interface Headset Assists People With Severe Motor Impairments
Assistive technology company Cognixion® has created the Cognixion ONE, a headset that blends artificial intelligence, brain-computer interface, and augmented reality technologies, providing a non-invasive solution to assist individuals who have limited mobility and communication capabilities. These may be due to neurodegenerative conditions, such as Amyotrophic Lateral Sclerosis (ALS), Multiple Sclerosis, and Spinal Muscular Atrophy, or acquired conditions, such as stroke and traumatic injuries.
Caption: Cognixion ONE assisted reality headset displaying the word "hello" outward. The system is designed to assist people with neurodegenerative conditions to interact with people and things in their environment more easily. The system includes Adaptive AI technology, an Augmented Reality lens and integrated Brain Computer Interface. Product
The Cognixion ONE system supports a variety of input mechanisms, such as head motion, eye gaze, and brain interface, allowing it to be used by individuals with varied capabilities due to the type and progression of their conditions. It is a wireless and wearable system that does not require the user to undergo surgery, and its Bluetooth connection allows it to connect via application program interface (API) with various accessories, including smart home systems.
According to Andreas Forsland, Founder and CEO of Cognixion, the Cognixion ONE headset incorporates three promising technologies in the emerging Assisted Reality market, which can help people with disabilities harness technology to regain some measure of communication ability and movement, as these are two major drivers for independent living.
Cognixion's Adaptive AI (Artificial Intelligence) technology, which is different than traditional AI, is being designed to assist people with disabilities to make interacting with the people and things in their environment easier, more natural and situationally relevant; augmented reality (AR), which creates a visual overlay to enable the headset to communicate with the user and smart devices in the environment; and brain-computer interface (BCI), which uses electroencephalogram (EEG) brainwaves to allow patients with advanced disease progression unable to reliably control their eyes, voice or body to interact with the headset by mentally paying attention to holographic buttons in their field of view.
Cognixion's Adaptive AI combines its propriety ConText™ engine with personalized language models that become unique to each individual over time, and can run both on the device and in a private cloud. This allows users to interact with the people and things around them more quickly and easily, hands free and voice free. This technology represents the foundation on which leaps can be made in the human agency of those living with neurodegenerative conditions, as well as setting a direction for how AI can be individualized and adapted for assisting anyone.
Forsland adds that having all these capabilities in a single device is important because the ALS journey is a progression, with a gradual decline in physical abilities. In early-stage ALS, patients usually first lose the ability to move their legs and trunk, followed by the arms and upper body and their ability to speak, removing the ability to operate technology with their hands or voice. By the mid-stage, patients have little to no ability to be understood orally by anyone other than their closest friends and family and can only use head-pointing or eye-tracking technology to interact with devices. For the late stage, patients have lost the ability to move their eyes, and this is where BCI comes into play, allowing patients to answer yes-no questions and extremely limited interactions, effectively locked-in to one's own body, fully aware of what's happening around them.
In May, Cognixion received a breakthrough device designation from the US Food and Drug Administration (FDA). According to Cognixion, the designation will allow it to streamline its development and validation process, with the help of prioritized interactive feedback from the FDA's review staff, in preparation for regulatory submission. The breakthrough designation is awarded to devices that demonstrate the potential to provide more effective treatment of life-threatening or irreversibly debilitating diseases or conditions for which no clear alternatives exist.
Cognixion has also received accreditation from the US' Center for Medicare Services (CMS), which recognizes that the company is authorized to sell and be reimbursed for durable medical equipment. This means that once the Cognixion ONE is cleared by the FDA, which is expected to be in a year's time, Cognixion will be ready to mass produce and sell the device. This release is estimated to be 4 years in advance of invasive BCI offerings, giving it the ultimate commercial edge.
While there is significant attention and investment of hundreds of millions of dollars towards invasive BCI technology, such as neural implants, Forsland believes that it is also very important to have a non-invasive solution on the market. Watch Cognixion's vision of the future.
Caption: As viewed through the wearer's perspectrive, Cognixion ONE holographic computer interface floats virtually in front of the user in the real world environment, enabling them to interact with various AR applications. This image displays an Adaptive AI-powered smart keyboard for composing utterances that can be spoken aloud or sent to ambient computing services such as Amazon Alexa. Users can control the system with head movement, eye gaze and mental attention on particular holographic buttons.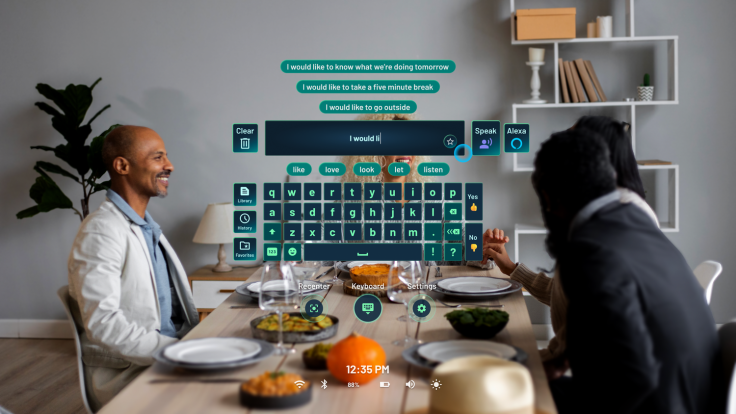 "While invasive solutions that are currently being developed are an amazing advancement of technology, the healthcare cost and risk factor are also high, and there are also cultural barriers towards total mainstream acceptance. On the other hand non-invasive devices, such as the Cognixion ONE, are able to provide assistive technology to patients at a fraction of the cost and with significantly reduced risk. We envision a world where both invasive and non-invasive solutions exist, and can even interface with each other," Forsland says.