Colorado Springs Wildfire Claims Six Homes As Two More Fires Blaze Across The State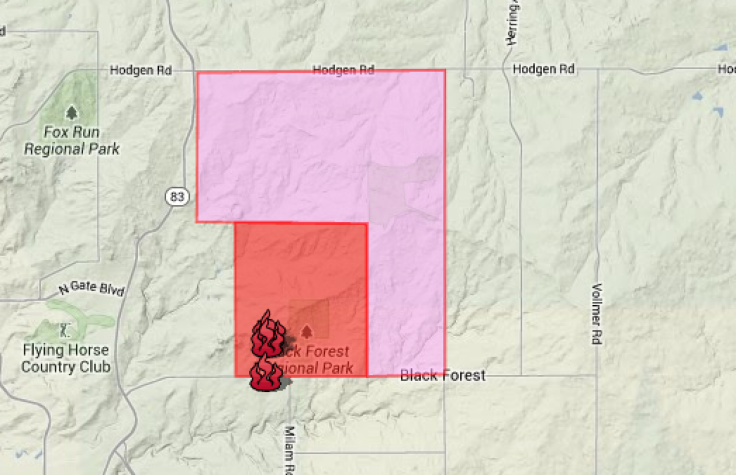 Six homes have already been destroyed by a fast-growing wildfire that blazed through the Colorado Springs, Colo., area on Tuesday. Dozens more houses in the town of Black Forest have already been evacuated, including several million-dollar homes in the wealthy Cathedral Pines neighborhood.
The Colorado Springs Gazette reports that the Black Forest Fire has claimed as many as six homes in the area over the past several hours. Police are going door to door warning residents of the fires and the evacuation order. Currently, as many as seven fire engines from the Colorado Springs Dire Department are on the scene working to extinguish the 15-acre wildfire, the paper says.
Several local charities have already set up aid areas for residents whose homes have been evacuated or destroyed. Both the local Red Cross and Colorado Springs' New Life Church have set up evacuation shelters.
"With the memory of the Waldo Canyon Fire still fresh in our minds, today's fires are especially troubling," U.S. Rep. Springs Doug Lamborn, R-Colo., told the Gazette, referring to a huge wildfire last summer. "We are sad for the loss of homes and property due to these wildfires and pray for the safety of our firefighters and others in harm's way. I will do all I can to ensure that all available federal assets are deployed if needed by local authorities."
The Black Forest Fire isn't the only wildfire to blaze across the state of Colorado this week. Two other forest fires have also hit the state, exacerbated by the windy, dry summer.
A separate wildfire has caused evacuations across the Royal Gorge Bridge and Park near Canon City. The Gazette reports that the 300-acre fire has flames as high as 30 feet and is fast encroaching on the local Highway 50. All business along the highway have been evacuated, though no damage has been reported yet.
In northern Colorado's Rocky Mountain National Park, another wildfire has sparked and sent up large, ominous plumes of smoke, though park rangers do not currently have an estimate on the fire's size.
According to the Associated Press, it is common protocol to let many natural forest fires burn, as wooded areas usually require a fire every few years to encourage new growth. However, due to extended drought conditions, park officials have decided to quell the fire out of fear that it may grow out of control.
© Copyright IBTimes 2023. All rights reserved.