Colorado Tourism Officials Mum On Marijuana, Paving Way For Pot Tour 'Ganjapreneurs'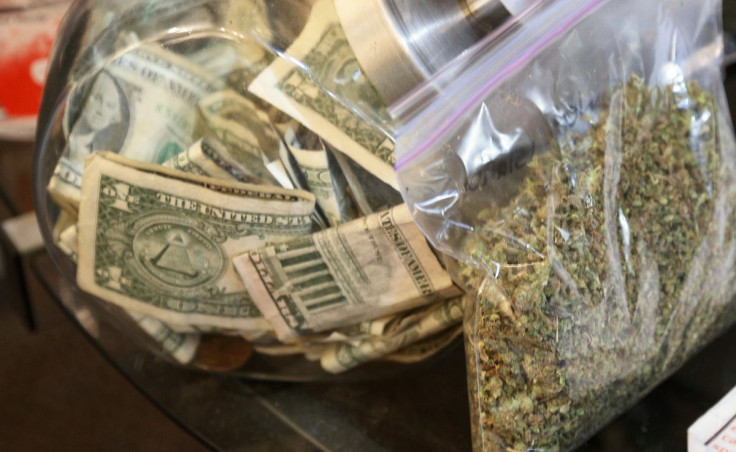 Addison Morris, the 63-year-old CEO of Colorado Rocky Mountain High Tours, describes her guests as, "people whose marijuana use could jeopardize their careers, businesses, and credibility in their communities back home."
"Colorado has some of the best marijuana in the world -- it is not what we smoked in college," she notes. Sales of recreational marijuana became legal in the state on Jan. 1, and Morris' new company helps professionals find a safe, discrete and comfortable environment to smoke it in.
"We are grandma's new pot connection and we are doing it with style," she jokes.
Both Colorado and Washington legalized recreational use of cannabis in referendums in November 2012, but lawful sales to the public in designated pot shops was delayed while various groups hashed out the details of how to oversee the growing, distribution and marketing of the controversial drug. Everyday use of marijuana, after all, remains illegal under federal law.
The Colorado Tourism Office has reiterated time and again that it "has no plans to use the legalization [of marijuana] to promote the state." Colorado Ski Country USA, an industry group that represents most of the state's 26 ski resorts, has similarly remained wary of the new laws, reminding visitors that it is illegal to ski or board under the influence.
While the big players fret over whether marijuana tourism will become a legitimate and worthy investment (or whether it will irrevocably cloud the state's image), a coterie of small tour companies like Colorado Rocky Mountain High Tours have stepped in to fill the void, catering to the inevitable rush of out-of-state visitors.
The National Cannabis Industry Association believes that an estimated $1 million in pot sales took place in Colorado on New Year's Day. Marijuana industry officials, meanwhile, predict that out-of-state visitors could make up 30 percent of the recreational sales.
If these figures are any indication of the market potential, then these "ganjapreneurs" may be paving the way for an extremely lucrative niche within the state's $16.7 billion tourism industry. One thing's for sure: they certainly have high hopes.
"After the delays work themselves out in opening all the stores that have applied for licenses, buying pot will be as trivial as buying beer on your way from the airport up to the mountains," said Matt Brown, co-founder of My 420 Tours.
Like liquor laws, all sales at the retail marijuana stores require a government-issued ID proving that you are 21 or older. If you have a Colorado ID, you're able to purchase up to 1 ounce (28g) of marijuana and/or infused products. If you have an ID from anywhere but Colorado, you're allowed to purchase 1/4 ounce (7g) per transaction. Customers can make multiple purchases from multiple stores in a day, and everyone in the state over 21 years of age is allowed to possess up to an ounce of marijuana at any one time.
Never before has it been so easy for anyone to purchase weed in the U.S. While many companies expected a rush of young adults to take advantage of the new opportunity, tour operators say the majority of their clients are much older.
"Baby boomers -- the 50-plus crowd -- are the prime market for our kind of tours," Brown explained. "Some with families and other responsibilities stopped smoking pot in college and then lost access to it. Others have exhausted their options and use it for medicinal reasons. Either way, they are the fastest growing market in the United States."
For baby boomers and the younger set alike, IBTimes has compiled a quick breakdown of four companies -- all of which did not exist a year ago -- that offer visitors a taste of a different kind of Rocky Mountain "high."
My 420 Tours
Website: www.My420Tours.com
Motto: "America's first legal marijuana tourism company."
Specialty: Informational tours, couples getaways, cooking classes
Tours Offered: In 2014, My 420 Tours is expanding its offerings to include couples' getaways and science-based explorations into the marijuana industry, in addition to its standard tours, which entail cooking classes, growing lessons and private happy-hour parties. My 420 Tours also organizes events like World Cannabis Week in Denver, which sold out in its inaugural year last April.
What You Need To Know: There is currently a waitlist of some 4,000 people hoping to take a trip with My 420 Tours. Until the company is able to scale its operation accordingly, you'll have to sign up and wait for an invitation code to hear about upcoming availabilities.
Colorado Highlife Tours
Website: coloradohighlifetours.com
Motto: "Come and get 'high' on a mountain!"
Specialty: Budget travel
Tours Offered: Colorado Highlife Tours claims to have the most affordable itineraries in the industry. Case in point: For just $99, the company offers a retail marijuana tour that it has likened to "a Napa Valley wine tour, but with marijuana." Its other excursions run the gamut from party buses to private trips through the entire Front Range.
What You Need To Know: Colorado Highlife Tours is based out of Colorado Springs and has been providing tours since April 2013, making it one of the longest running companies of the bunch.
Colorado Green Tours
Website: www.coloradogreentours.com
Motto: "Your full-service cannabis-friendly Colorado expert travel and tour agency."
Specialty: Ski trips, Denver Cannabis Cup, bespoke luxury trips
Tours Offered: Need a friendly guide to cart you around Colorado to the newly opened pot stores -- one that can take you behind the scenes at a marijuana cultivation center? That's where Colorado Green Tours can help. The new company (whose garish website will soon be upgraded to a full-service booking engine) claims it can help travelers plan everything from luxurious ski vacations to Denver city tours and cannabis-friendly social events.
What You Need To Know: Colorado Green Tours is based in the Denver/Boulder area, but has personal tour guides available in the ski areas along I-70 as well. All guides are MMJ cardholders and cannabis enthusiasts "who are very generous with guests, which is perfectly legal."
Colorado Rocky Mountain High Tours
Website: coloradorockymountainhightours.com
Motto: "A new way to see and experience Colorado as a cannabis tourist!"
Specialty: Discrete upmarket tours
Tours Offered: Colorado Rocky Mountain High Tours caters to the "discrete, discriminating cannabis connoisseur" -- a.k.a. mature professionals visiting Colorado. A so-called "cannabis concierge" who is well versed in marijuana strains and the variety of ways to consume the plant accompanies guests on limonene tours to select retail marijuana shops and grow facilities to help them make informed buying and smoking decisions. Once the shopping is complete, guests receive paraphernalia, gourmet munchies and lunch.
What You Need To Know: Colorado Rocky Mountain High Tours currently has a promotion for $25 off all outings. Refer to the website for details and tour descriptions.
© Copyright IBTimes 2023. All rights reserved.