Comcast, Dish, DirecTV, Cox Cable Prices To Rise In 2018
Cable and satellite television companies appear to be in agreement as to what their New Year's Resolution for 2018 will be: charge their subscribers more money. Cox Communications, DirecTV, Comcast and Dish are all expected to raise the cost of service next year.
The increase in prices comes as more and more subscribers are cutting the cord and opting to plunge into the increasingly diverse streaming marketplace. Options like Sling, Hulu Live TV and YouTube TV are expected to continue to siphon off customers from traditional TV subscribers and those that stay will have to bare the financial burden for the defectors.
According to the TV Answer Man , Dish subscribers will see price increases of around 10 percent in 2018. While the exact price change will vary depending on the package the subscriber chooses, all Dish customers will be paying more next year.
The price increases are broken down below:
Welcome Pack: $19.99 to $22.99

Smart Pack: $41.99 to $44.99

Dish America: $54.99 to $59.99

America's Top 120: $69.99 to $74.99

America's Top 120 Plus: $74.99 to $79.99

America's Top 200: $84.99 to $89.99

America's Top 250: $94.99 to $99.99

America's Everything Pack: $144.99 to $149.99
Subscribers to Cox Communications, which offers cable, internet and phone services to more than 6 million people in the United States, is also set to increase its prices starting January 7, 2018. Word of the increase was passed along by a Cox subscriber posting in the DSLR Reports Forum.
The price changes are as follows:
Flex Watch: $40.00 to $41.00

TV Economy: $34.99 to $38.00

TV Essential: $75.99 to $79.99

Contour TV: $79.99 to $84.99

Contour TV Ultimate: $161.99 to 166.99

Contour TV Preferred: $91.99 to $96.99

Contour TV Premier: $105.99 to $108.99

Advanced TV Ultimate: $158.99 to $161.99

Advanced TV Ultimate with 4 Premiums: $167.99 to $170.99

Advanced TV Ultimate with 4 Premiums and Record 6 DVR: $165.99 to $168.99

Paquete Latino: $35.00 to $36.00

El Mix: $52.49 to $53.49

Super Mix: $89.99 to $94.99

Flex Watch Latino: $13.51 to $14.51

TV Economy Latino: $44.99 to $48.00

Contour TV Latino: $89.99 to $94.99

Contour TV Latino Preferred: $101.99 to $106.99

Contour TV Latino Ultimate: $175.99 to $178.99

Entertainment Package with 3 Premiums: $138.24 to $143.24

Entertainment Package with 4 Premiums: $149.74 to $154.74
Cox will also increase its broadcast surcharge, which is not included in the advertised price for the service but is charged to, according to the company, cover "costs associated with the delivery of broadcast TV stations." That charge will increase from $4.00 to $7.50 for all subscribers.
Broadband and phone subscribers getting service from Cox will also see their prices increased starting January 7, though customers who are receiving promotional prices will continue to pay that price until the promotional period ends.
DirecTV will also be getting in on the price increase parade in 2018. The satellite television service provider that was acquired by AT&T in 2015 will up its prices across the board for its more than 20 million subscribers, including upping its broadcast fees.
In a support page post made earlier this month, DirecTV alerted customers to price increases, which will affect every channel package offered by the company. The price increases are listed below:
Select — $2 per month increase

Entertainment — $3 per month increase

Choice — $4 per month increase

Total Choice Limited — $4.50 per month increase

Total Choice Mobile: $5 per month increase

Choice Xtra Classic — $5 per month increase

Preferred Xtra — $7 per month increase

Ultimate Premier— $8 per month increase
The Spanish language service DirecTV Español will see similar price increases for the equivalent packages.
DirecTV subscribers will also see the Regional Sports Network fee, which DirecTV charges outside of the advertised billing price for providing local sports broadcasts, increase. The charge will increase by as little as $.20 and as much as $1.00 depending on the region.
Comcast is also getting in on the action of increasing costs for subscribers. According to users posting in the DSLR Reports forum, the telecommunications company that serves more than 22 million Americans will up its prices across the board.
An image of the full price increases provided to Comcast customers can be viewed below: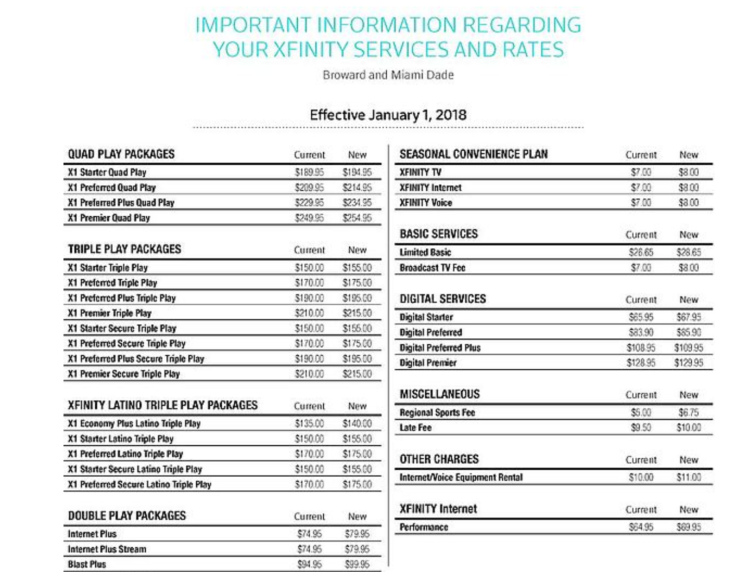 The price hikes likely don't come as much of a surprise for cable subscribers. Cable providers have been steadily increasing the cost of cable for the last two decades, even as subscriber numbers were growing. Now those subscriber figures are dropping and the prices continue to go up as cable companies try to maintain their profits.
2018 is shaping up to be a good year to ditch cable.
© Copyright IBTimes 2023. All rights reserved.