Commander In Chief Donald Trump? Military Leaders Disagree On Candidate's Views As He Becomes Presumptive GOP Nominee
With U.S. Sen. Ted Cruz of Texas ending his presidential campaign Tuesday night, a November showdown between New York businessman Donald Trump and former Secretary of State Hillary Clinton seems all but certain. While exit polls show voters are mostly worried about the economy, the presumptive Republican nominee's controversial campaign statements about torture, the Geneva Conventions and NATO have put American diplomatic and military issues at the center of the presidential election — at a critical moment for civil-military relations.
From the Islamic State group in Iraq and Syria (also known as ISIS) to Russian aggression in Europe to China's territorial claims in the South China Sea, the next U.S. president will face a sweeping range of geopolitical and military threats. Many Americans' appetite for broad global engagement remains at low levels after the lengthy wars in Iraq and Afghanistan. Military leaders have so far been reticent about naming Trump directly, but concerns about his foreign policy views are increasingly evident ahead of the July 18-21 Republican convention in Cleveland.
"I'll stay out of any election politics. I have no idea what strategies will be in the future. But we think we can execute what's asked of us today," U.S. Army Chief of Staff Gen. Mark A. Milley said Tuesday at the Council on Foreign Relations in New York. "The real challenge will be for all of us, if something beyond what is currently happening in the world, and then we'll get into some really hard choices."
The Department of Defense's proposed budget for 2017 calls for $582.7 billion to deal with wide-ranging threats and ensure combat readiness as the military looks to prepare for future wars. The election presents an opportunity for military officials to discuss international goals and resource allocation, said Kathleen Hicks, director of the international security program at the Center for Strategic and International Studies, a Washington think tank, and a former senior civilian official in the Department of Defense. Military officials have offered different opinions on the greatest threat facing the U.S. (both Russia and ISIS have been named), illuminating the complexity of the current global environment and uncertainty over the length of conflicts and commitments, she noted.
"It's a very taxing period from the view of the leadership of the armed forces, and it doesn't seem to have any clear end state," Hicks said. "It's not just a period of high stress — which it is — it's the prospect that that's not going to change anytime soon."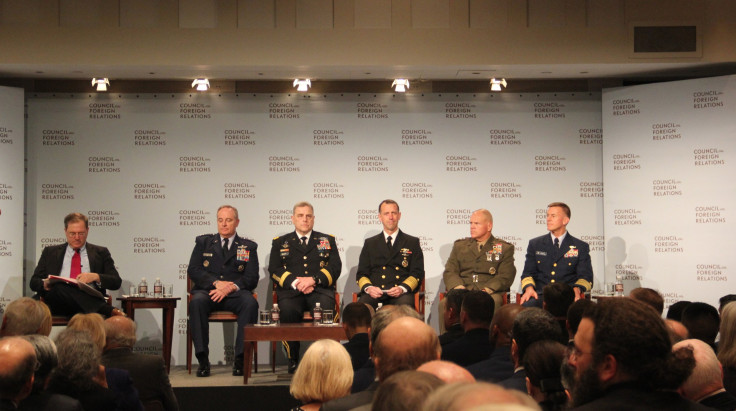 The 2016 presidential election has been a driving force in discussions about the role of the military, with Trump calling the NATO military and political alliance "obsolete," saying soldiers are "afraid to fight" because of the Geneva Conventions, which govern conduct in war, and arguing for the use of torture to "beat the savages," in a reference to ISIS.
"They won't refuse [to torture suspected terrorists]," Trump said of U.S. service members during a March debate. "They're not going to refuse me, believe me. If I say do it, they're going to do it. That's what leadership is all about."
While a majority of Americans — 69 percent — said they consider waterboarding to be torture after the Senate Intelligence Committee released a report on the CIA's detention and interrogation program in 2014, 57 percent of people think such techniques provide reliable information some of the time.
Trump's views on military affairs differ markedly from the commanders leading American forces, with top military leaders from the Army, Marine Corps, Navy, Air Force and Coast Guard arguing Tuesday evening that the 28-member NATO alliance remains necessary for security. Trump has argued that NATO member states do not pay "their fair share," leaving the U.S. to shoulder an unfair financial burden. Trump said he wouldn't mind if the alliance were to dissolve.
"It's a political alliance that has kept the peace in Europe since the end of World War II. If you look at the overall amount of money it is, it's really nothing," said Gen. Robert B. Neller, commandant of the U.S. Marine Corps. "So if not NATO, then what? I think the only people questioning NATO are Americans."
Trump's statements have raised questions over legality and whether service members would heed orders from a Trump White House. In a rare and unusual move, members of the armed services and security community have weighed in on the 2016 presidential election, pushing back on controversial comments usually without naming the candidate.
"Military leaders are extremely reticent to weigh in on anything political, especially during an election cycle," said Michael Breen, president of the Truman National Security Project and a former Army officer who served in Iraq and Afghanistan. "So the fact that they are doing it and these are not isolated examples. … It's very striking."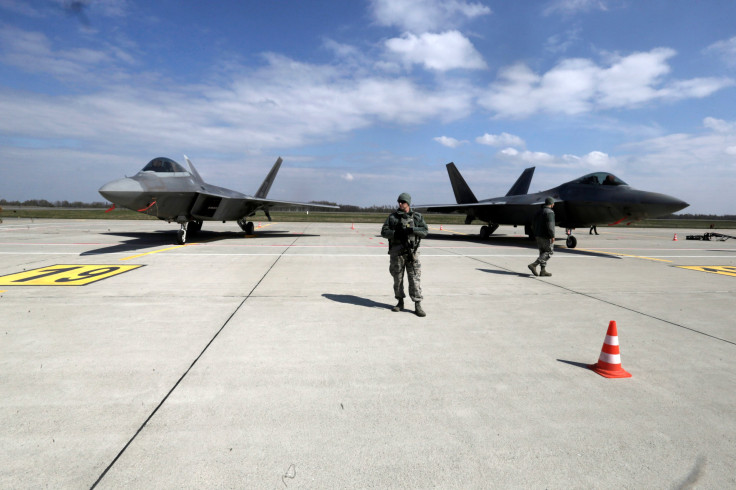 When asked by U.S. Sen. Lindsey Graham, a former presidential candidate, about waterboarding, Chairman of the Joint Chiefs of Staff Joseph Dunford, without naming Trump, told the Senate in March that forcing troops to carry out waterboarding or the targeting of civilians would hurt morale.
"Those kinds of activities that you described are inconsistent with the values of our nation. And quite frankly I think it would have an adverse effect," Dunford said. "And frankly what you are suggesting are things that actually aren't legal for them to do anyway."
Trump, who never served in the armed services or in any elected office, said early on in his presidential bid that he would "bomb the s---" out of ISIS. He has argued he would take a "neutral" stance toward Israel and the Palestinians, a departure from decades of strong U.S. support for Israel. And he has espoused a desire to try to work with Russian President Vladimir Putin while at the same time arguing Sunday that the U.S. should shoot at Russian aircraft if they continue buzzing U.S. Navy vessels in European waters.
"Russia is an enduring concern," Gen. Mark A. Welsh III, chief of staff of the U.S. Air Force, said Tuesday night in New York. "Whatever they are doing now, they are still a very capable military, and they clearly have the intent to be disruptive at least in the region. So it's something we have to be concerned about in the future."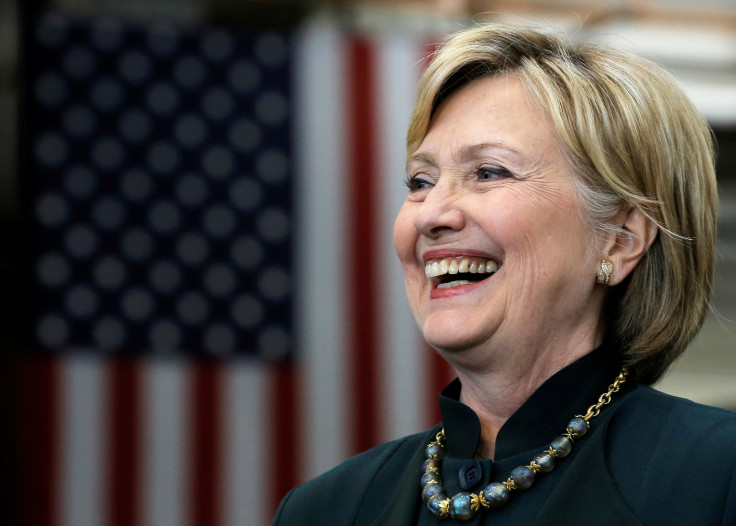 Democrat Clinton has pounced on Trump's statements, describing him as an unqualified candidate who "has no business being our president." She argued during an April presidential debate that she would keep the U.S. in NATO even if member countries did not up their financial contributions.
"Remember, NATO was with us in Afghanistan. Most of the member countries also lost soldiers and civilians in Afghanistan," Clinton said. "They came to our rallying defense after 9/11. That meant a lot."
Voters have so far largely ignored the national security debate, which could help explain Trump's high support among Republicans. Exit polls show the economy is the top concern, while only 10 percent of Republican and Democratic voters are worried about terrorism.
Trump, who has announced some campaign advisers, including defense adviser Joe Schmitz and retired Army Lt. Gen. Keith Kellogg, has yet to reveal a big-name adviser on military affairs.
"If you take the man at his word, he has committed himself to setting off the largest civil-military crisis probably since the American Civil War," Breen said. "Of course there's a possibility he doesn't mean these things and is speaking off the cuff, but I don't think that's defensible in a presidential candidate."
© Copyright IBTimes 2023. All rights reserved.