Concussions In Football: How A New Blood Test Could Change The NFL, CTE Fight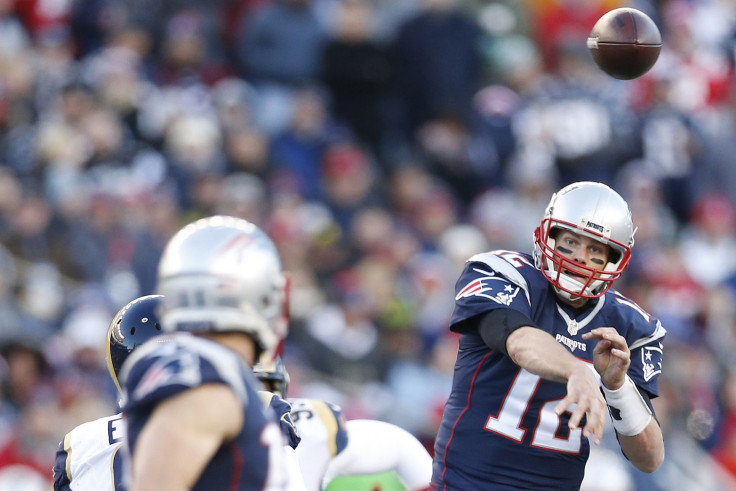 Patriots wide receiver Julian Edelman's legs wobbled from the rattle of the hit, and as he made his way downfield his stumbles looked as if he were dodging ghost tacklers. It was a nightmare scenario for the NFL as 114 million Americans seemingly watched as a stunning concussion played out live during Super Bowl 49.
Edelman didn't leave the game after a neurological consultant and the team doctor cleared the wide receiver away from cameras. But two years later doubts still remain about Edelman's health as the nation has increasingly become aware that football players' lives have been hobbled, ruined and possibly even ended as the result of the debilitating effects of traumatic brain injuries. The problem is, critics argue, too many NFL athletes would risk most anything for a championship ring, while concussion testing is entirely subjective, relying on spotting symptoms like general looks of disorientation or problems with balance.
But as Edelman and the Patriots return Sunday to the Super Bowl, concussion testing and treatment is perhaps on the verge of changing forever. A company has developed a new technology for analyzing blood tests that could shift how brain injuries are diagnosed and treated, giving the NFL and others a way of objectively determining if a player has suffered a concussion, how severe it is and when it's safe to return to the field.
The new test could also be a tool toward helping football survive its crisis over the concussions and brain injuries that help cause the degenerative brain disease chronic traumatic encephalopathy (CTE). As the horror stories of football's connection to CTE have emerged, parents have increasingly pulled their kids out of football leagues and fans have grappled with the morality of even watching the oft-barbaric sport.
"I think our technology actually has a shot of saving the game," Quanterix CEO Kevin Hrusovsky told International Business Times.
Athletes who suffer a concussion show elevated levels of the protein tau in their blood, according to a new study published in Neurology last month ahead of Sunday's Super Bowl. Quanterix's Simoa technology is able to digitally parse through a wide range of substances, which allows it to find and measure proteins like tau that had previously been undetectable.
As things stand, concussions are typically diagnosed through subjective tests — "how many fingers am I holding up, who's the president, follow my finger with your eyes" — and it's hard to know exactly when an athlete has recovered and able to return to playing. Without any real objective testing, players are often tempted to hide a suspected brain injury to stay on the field and earn massive paychecks.
Quanterix's technology, which has earned grants from the NFL, could not only give doctors an objective way to determine if someone has a concussion, it could also help determine how long an athlete should stay off the field and even, perhaps, one day warn when someone is developing CTE.
Even in a down year for ratings the NFL remains incredibly popular, with about 30 million viewers watching the Pittsburgh Steelers steamroll the Miami Dolphins in a first-round playoff game. For context, some 30.6 million watched the historic NBA Finals Game 7 last year, which was the highest-rated NBA game in nearly two decades.
But the future for football looks a bit more dim. Through myriad reports and a even feature film, the world has seen what can happen to a athlete's life post-football. Amid concerns over CTE, participation in tackle football among kids aged 6-12 has fallen 20 percent since 2009.
It's a frightening disease. There's memory loss, difficulty with impulse control, depression and dementia. People suddenly develop a raging temper or find solace in drugs and alcohol. There's been a rash of former NFL players who've committed suicide — Andre Waters, Dave Duerson, Ray Easterling, Terry Long, Jovan Belcher, Paul Oliver — and were posthumously diagnosed with CTE, which can currently only be detected after death. Perhaps most memorably, in May of 2012 beloved former San Diego Charger Junior Seau killed himself with a shot to his heart from a .357 Magnum revolver, sending shockwaves throughout the country. He had CTE.
Hrusovsky described a need for further trials — perhaps in the NFL — to build out a bigger database and sample size for measuring concussions. If players' tau levels were measured throughout the season, then there's a good baseline for what a person's levels typically look like, and what they look like after suffering a traumatic brain injury, he said.
"Any opportunity to better identify this injury in a objective way is going to better ensure players get the treatment they need," Jeff Miller, the NFL's senior vice president for health and safety initiatives, told IBT.
The NFL, as a part of a partnership with GE, has twice awarded grants to Quanterix. "We made an investment in them like we did many others, we'll root for them like we do everyone else," Miller told IBT.
Hrusovsky expected tests to be offered to athletes by the year's end. The eventual goal is to have a small instrument that could detect concussions just about anywhere.
"I think it'll be three years before the point of care device will be on the sidelines," Hrusovsky said.
Over time, these tests could change the culture of the game as players are saved from risking their lives.
"I think there's a lot of culture that … athletes don't want to be on the sidelines," Hrusovsky said. "Maybe if there's an objective test, somebody that in the past was unwilling to leave the game voluntarily — or were unwilling to say, 'Hey, I think I just got concussed'— maybe there could be a way that they aren't considered not being tough enough."
FOR FREE to continue reading
✔️ Unlock the full content of International Business Times UK for free
offer available for a limited time only
✔️ Easily manage your Newsletters subscriptions and save your favourite articles
✔️ No payment method required
Already have an account?
Log in
© Copyright IBTimes 2023. All rights reserved.