Coney Island Hot Dog-Eating Contest Preview: History, Records & Where To Watch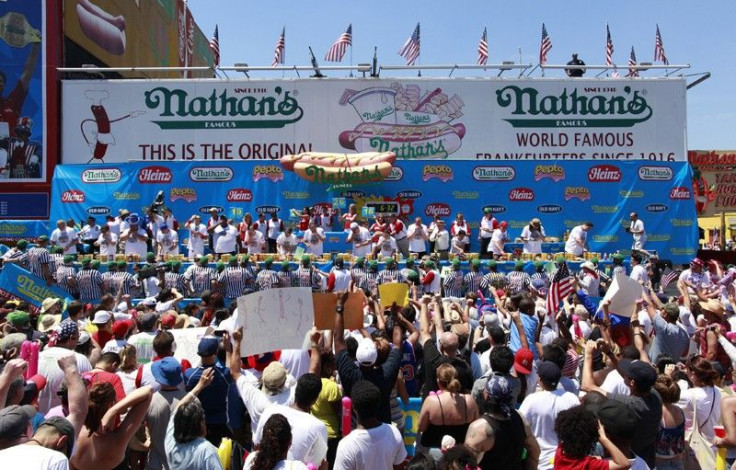 What's more American than hot dogs and Fourth of July? On Wednesday, nearly 30 gluttonous competitors from across North America will compete in the 97th annual Nathan's Famous Fourth of July International Hot Dog-Eating Contest in Coney Island, Brooklyn.
Five-time winner Joey Chestnut, of San Jose, Calif., stands to win his sixth straight title this year. Chestnut already holds the record for downing 68 dogs and buns in 10 minutes during the 2009 event.
The only way you can be a winner is by eating a lot. I just have to make sure I'm absolutely empty the day of the contest, the 220-pound competitive eater said Tuesday at New York City Hall. So right now I'm in the middle of a three-day fast, no solid food, just a lot of liquid amino acids, water, fluids, keep my stomach loose and stretched.
Chestnut eats more than just hot dogs. His records include pork ribs (9.8 pounds in 12 minutes), steak (4.5 pounds in just under 9 minutes), and chili (2 gallons in six minutes), according to Major League Eating records.
In the second-ever all-female event, 100-pound Sonya The Black Widow Thomas, of Alexandria, Va., hopes to defend her title after eating 40 dogs and buns last year. Thomas will duke it out against 13 other competitors for the women's title.
Both Thomas and Chestnut stand to win $20,000 cash prizes.
The National Hot Dog & Sausage Council, a Washington-based industry group, estimates that Americans eat roughly 20 billion hot dogs each year, including about 20.5 million in Major League Baseball stadiums, according to 2011 MLB figures.
Organizers of the American staple's most notorious eating competition will lay out 2,000 dogs and buns this year and believe some 40,000 spectators will attend the Coney Island event, while an estimated 2 million more watch online and at home.
The 10-minute, all-you-can-eat hot dog contest was originally scheduled to start at 3:00 p.m. EST to accommodate ESPN's Wimbledon coverage. Plans, however, were reversed due to crowd management needs and organizers pushed the event back to its original 12:00 p.m. start time. The women's event will start 30 minutes earlier at 11:30 a.m.
ESPN will air live coverage on ESPN3 beginning at 11:30 a.m. and tape-delay it on ESPN at 3:00 p.m.
With the amount of interest in this year's event, we thought a second helping of the championship was in order, said Jason Bernstein, ESPN Senior Director of Programming & Acquisitions. We're happy to add the ESPN3 and ESPN combo platter to the championship menu this year.
The Nathan's Famous Fourth of July International Hot Dot-Eating Contest has been a New York City tradition for almost 100 years.
According to legend, the first Nathan's hot dog-eating contest was held in 1916 at the Nathan's Famous hot dog stand at the corner of Surf and Stillwell Avenues in Coney Island by four European immigrants to determine who was the most patriotic. The title went to Irish immigrant James Mullen who ate 13 hot dogs in 12 minutes -- a paltry figure by today's jumbo-sized standards.
Nathan's Famous has promoted the hot dog-eating contest as a media event since 1972 and, as always, expects this year to be bigger and better than ever.
READ ALSO: Kobayashi vs Chestnut: The Hot Dog Eating Contest's big fat Controversy
© Copyright IBTimes 2022. All rights reserved.
FOLLOW MORE IBT NEWS ON THE BELOW CHANNELS