Consumers Regaining Confidence In US Economy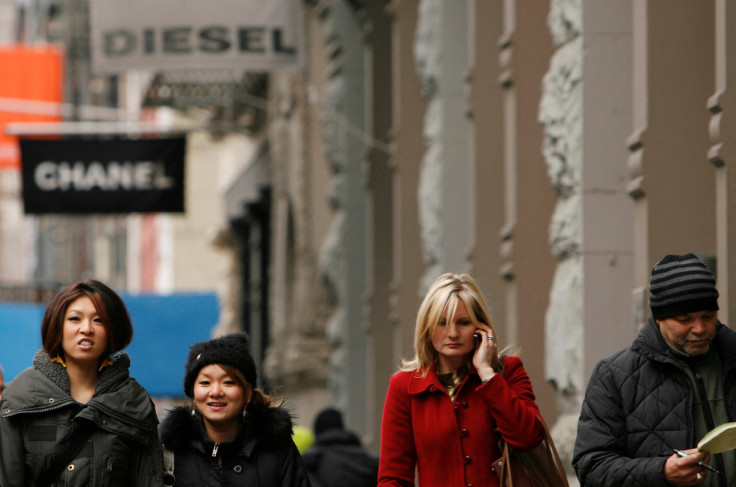 KEY POINTS
Two key readings of consumer confidence say faith in the economy is recovering
Consumer confidence is closely tied to inflation, which is coming under control
Consumer sentiment improved significantly over the last year
Americans are feeling better about their economic situation, according to two key metrics of consumer confidence.
On Friday, the University of Michigan Surveys of Consumers released its July 2023 report indicating consumer sentiment had grown by 39% between July 2022 and July 2023. The same report said consumer sentiment grew by 11.2% between June and July of this year. The reading was the most favorable since October 2021.
This indicator mirrored the results of The Conference Board Inc.'s July Consumer Confidence Index survey. That survey, released Tuesday, showed consumer confidence reached its highest level since July 2021.
In an email to International Business Times, Joanne Hsu, director of the University of Michigan's Survey of Consumers, said the data shows consumers in the U.S. believe the excessively high inflation that defined their experience of 2022 is "largely behind them."
"Relative to last year, consumers are broadly feeling considerably more confident about the trajectory of the economy, but many still believe that recession is a real risk," Hsu told IBT.
In an interview, The Conference Board's Chief Economist Dana Peterson, said consumer confidence is currently healthy.
Conference Board data, Peterson said, indicated almost all Americans making less than $50,000 per year and those making more than $100,000 are more confident in their economic position than they were last month. The middle income bracket of Americans earning between $50,000 to $100,000 per year do not share that confidence and actually saw their confidence drop slightly during the observed period.
Both the University of Michigan and the Conference Board's consumer confidence readings are based on surveys of regular Americans from around the country representing different ages, income levels and geographies. In general, Hsu and Peterson said consumer confidence or sentiment encapsulates the average feeling of Americans about their personal finances, business conditions, ability to buy durable goods and expectations about the near future.
Broadly, when consumers feel good about the economy, they are more willing to spend money. Especially, Hsu said, on high priced goods they typically need to finance like cars and homes.
"If consumers believe their jobs or income streams are at risk, they will be unwilling to commit to such purchases," Hsu said.
A confident consumer, Peterson said, feels jobs are plentiful or at least easy to get, goods and services are becoming more affordable or at least that prices are not rising as quickly as they once were and that a recession is less likely. Recent results, moreover, indicate consumers probably think a recession is unlikely.
In the recent past, both said consumer confidence rose since taking a dive during the coronavirus pandemic year of 2020. The high inflationary environment of 2022 drove confidence downward. Hsu said consumer sentiment hit an all-time low in June 2022 when year-over-year inflation exceeded 9%, according to U.S. Bureau of Labor Statistics records.
Peterson said survey responses indicate consumers are not as bothered by inflation now. Matching up with other economic observations, consumers see the pace of inflation slowing. Particularly, the price of food and energy is no longer rising at a rapid rate and consumers are even experiencing some discounting on durable goods like automobiles.
Inflation in the U.S. is coming under control, especially compared with this time last year. The Federal Reserve is on an on-going mission to achieve a so-called soft landing of bringing inflation back to a normal level of 2% per year without a recession. Fed Chair Jerome Powell said on Wednesday he believed the central bank and the U.S. economy "had a shot" at achieving the soft landing.
Peterson said growing consumer confidence, and shoppers therefore spending more freely, actually goes against the Fed's mission.
"The Fed is trying to get people to spend less because if people spend less then companies start discounting and that brings down inflation. If companies start discounting, they get worried about how much labor they need," Peterson said. "They'll start taking down those job ads and some of them may start letting people go. They may not raise wages as much or at all. Those are all factors that help cool off inflation."
Looking ahead, Peterson said consumers will remain optimistic about the economy as long as inflation continues to fall and the labor market remains robust.
"If prices don't continue to fall and they remain sticky (or if) companies start laying people off en masse confidence could trend in the opposite direction or it could stagnate," Peterson said.
Hsu agreed the inflation rate and labor markets will heavily influence consumer sentiment.
"If inflation continues its current path of slowing down, sentiment will continue to recover, particularly if consumers also continue to expect strong income growth," Hsu said. "But if it turns out that the current slowdown is temporary and inflation rises again, or if labor markets weaken substantially, all bets are off," he added.
© Copyright IBTimes 2023. All rights reserved.