Cooking Disaster: Watch Deep Fried Turkey Cause Massive Fireball In Seconds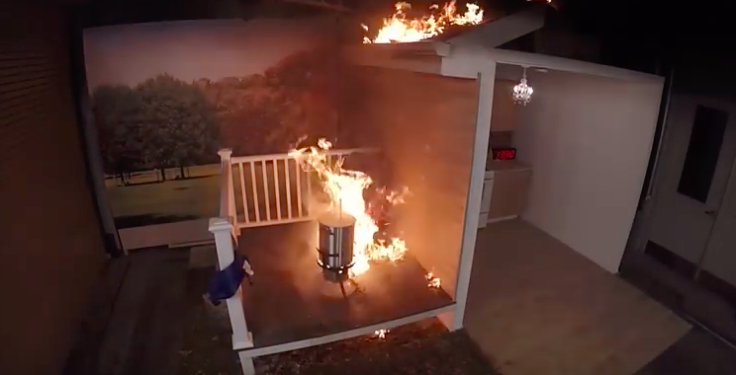 Thanksgiving Day keeps firefighters busy as a deep-fried turkey is one of the leading causes of fire-related accidents during the holiday season. Video released by the National Fire Protection Agency (NFPA) shows just how quickly a turkey fire can ignite.
Fire experts say that turkey fires cause hundreds of deaths a year and that they are four times more likely to occur on Thanksgiving, Fox-affiliate WCCU reported Wednesday. In 2015, there were an estimated 1,760 home cooking fires on Thanksgiving, according to the NFPA.
"There's about five people that die a year as a result of turkey fires," Champaign Fire Chief Gary Ludwig told WCCU. "I believe there's about 600 injuries a year and there's over 900 home fires a year as a result of turkey fryer fires."
Turkey fires can be difficult to extinguish, Ludwig said. Deep-fryers should never be used on a wood deck or in a garage where fires can spread faster. A frozen turkey should be completely thawed as ice can cause oil to boil at an exacerbated rate.
"The one that really comes to mind is one where they had a turkey fryer on their wood deck behind the house," Ludwig added. "And as soon as they dropped the turkey into the heated oil it splashed everywhere, the deck caught fire."
© Copyright IBTimes 2023. All rights reserved.