Coral Polyps Kiss, Fight Turf Wars And More, New Underwater Microscope Reveals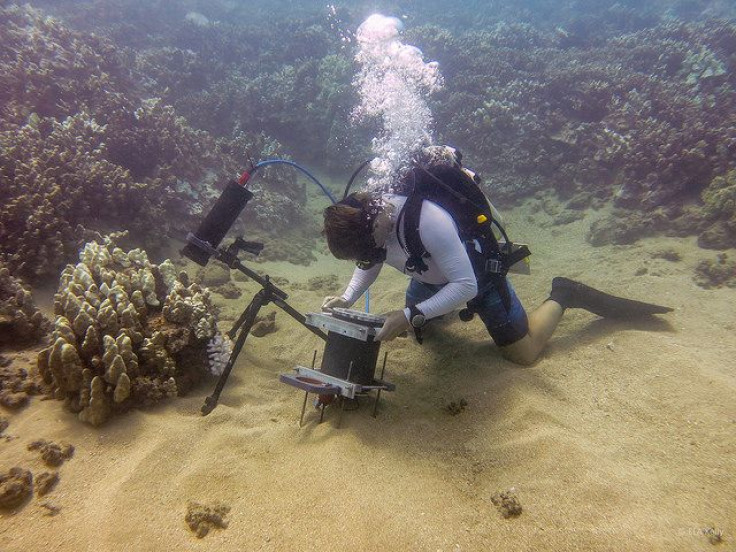 Corals and coral reefs have been in the news a lot recently, mostly as a marker for human-induced climate change that is fast degrading large swathes of the natural heritage along Australia's coastline. Now, a new underwater microscope designed at the Scripps Institution of Oceanography at the University of California San Diego provides "a never-before-seen view of the underwater world" that could help study coral polyps, the "marine microorganisms in their natural settings without disturbing them."
Called the Benthic Underwater Microscope (BUM), it "is a two-part system — an underwater computer with a diver interface tethered to a microscopic imaging unit — to study marine subjects at nearly micron resolution. The instrument has a high magnification lens, a ring of focused LED lights for fast exposures, fluorescence imaging capabilities, and a flexible tunable lens, similar to the human eye, to change focus for viewing structures in 3-D."
In a paper titled "Underwater microscopy for in situ studies of benthic ecosystems" published in the Nature Communications journal on Tuesday, researchers say: "Due to the ocean's complex and dynamic nature, it is most informative to study these processes in the natural environment yet it is inherently difficult. … We overcome the challenges of underwater microscopy through the use of a long working distance microscopic objective, an electrically tunable lens and focused reflectance illumination. The diver-deployed instrument permits studies of both spatial and temporal processes such as the algal colonization and overgrowth of bleaching corals, as well as coral polyp behavior and interspecific competition."
Researchers test the new technology by studying coral polyps — the millimeter-sized living creatures that make corals living organisms — in the Red Sea off the coast of Israel and off Maui, Hawaii. "The images revealed micro-scale processes in which corals emit string-like filaments that secrete enzymes from their stomach cavity to wage a chemical turf battle to destroy the tissue of other species in a competition for seafloor space. Yet, when the researchers placed corals of the same species next to each other, they did not eject these gastric fluids."
Among the footage recorded, researchers also found the previously unknown phenomenon of "individual polyps on a single coral colony taking turns embracing one another," behavior they called polyp kissing.
Andrew Mullen, a PhD student at Scripps and the Jacobs School of Engineering and co-lead author of the study, said of the polyps: "They can recognize friend versus foe."
© Copyright IBTimes 2023. All rights reserved.