Coronavirus And The City: Where Do The Most Populated US Cities Stand?
KEY POINTS
The five most populous cities in the U.S. present varying images of reopening amid ongoing coronavirus concerns
New York City and Chicago were among the furthest along as new cases dropped
Los Angeles continues reopening, despite current case surges while Phoenix and Houston have been forced to step back as developing hotspots
The coronavirus pandemic brought the U.S. to a proverbial halt when much of the country was placed on lockdown in March. Life was essentially put on pause as business, schools and other places were forced to close as the virus rapidly spread along the U.S. East and West coasts.
Three months on, and the U.S. finds itself in, arguably, a stranger situation: Several states are in the process of reopening, despite the surging number of cases in states like Arizona and Texas. However, other states like New York find themselves moving back to some degree of prepandemic normalcy as the number of new cases drop.
Some of the most populous cities, like Los Angeles and New York, became epicenters for the virus to spread thanks to dense populations and near-constant close contact with other people on a regular basis.
New York City
New York City was one of the first major epicenters for the coronavirus, with Mayor Bill de Blasio and New York Gov. Andrew Cuomo commenting on the explosion of cases during the first two months of the pandemic. Since then, New York has been reporting a steady decline in cases, with Cuomo saying Thursday hospitalizations from the virus dropped below 1,000 for the first time since March.
This progress is evident in New York City, which entered Phase 2 of the state's four phase reopening plan on Monday. Outdoor dining and limited indoor shopping was permitted for the first time in nearly three months. Real estate firms, hair salons and barbershops were also allowed to resume business by appointments and at half capacity.
Beachgoers will be allowed to swim on public beaches come Wednesday.
Mayor de Blasio said Thursday, if all goes well, New York City will begin Phase 3 reopening by July 6.
Under Phase 3, restaurants will be able to allow a limited number of customers back inside to eat. Public sport spaces like tennis and basketball courts also will reopen while tattoo and nail salons can start taking customers by appointment.
"There's been a lot of discipline, a lot of strength, because people want to keep moving forward," de Blasio said at his daily briefing Thursday. "So, let's stick to it so we can get to Phase 3, make it work and then keep going from there."
Los Angeles
Despite more than 7,000 people testing positive for coronavirus in California Tuesday, Los Angeles is pushing forward with reopening as planned. It continued Friday as more business were given the green light to reopen, as long as they follow state guidelines on building capacity, social distancing and masks.
Businesses that could reopen on Friday included fitness centers, camping grounds, hotels, museums and aquariums. Film and TV production also won approval to resume production while professional sports can be played without fans present.
However, the reopening hopes were tempered a bit after Mayor Eric Garcetti told reporters Thursday he would be adding 6,000 more daily tests in response to the recent surge, bringing to 19,000 the number of tests performed daily at seven testing sites.
"The test is free, whether or not you have insurance. If you have insurance, the provider may bill your insurance carrier for the cost of the test. By law, the insurance company may not charge you any co-pay, deductible or any out-of-pocket expense for the test," Los Angeles officials said in a press release.
Chicago
Chicago looks to be among the cities farthest along in reopening, entering Phase 4 of its reopening plan on Friday.
Meetings and social events like weddings can resume as planned, so long as the venues hosting them keep capacity at 50% and social distancing is enforced. The same goes for indoor recreational centers, like bowling alleys and skating rinks.
Indoor dining can also resume at restaurants, with seated areas limited to groups of 10 kept 6-feet apart and standing areas limited to 25% capacity. Restaurant owners said they understood coronavirus has not gone away and would take every precaution possible to ensure customer safety.
"The last thing we want is for this reopening to set off any kind of chain reaction, for ourselves, for our neighborhood, for the city as a whole," Marilee Rutherford, co-owner of brewery and restaurant Twisted Hippo, told the Block Club Chicago. "So we're busting our tails to make sure we do it safely."
Others outright said they would not reopen for indoor eating while the threat of coronavirus still loomed.
"It's real and it's deadly and there's no clear way to prevent the spread [of coronavirus] other than not being around each other," Café Marie-Jeanne co-owner Mike Simmons said. "We're not really looking to play into this puppet show of normalcy that seems to be wanted right now."
Other businesses allowed to reopen at 25-50% capacity are museums, movie theaters, zoos, outdoor spectator sports, fitness centers, day camps, and youth and rec-league sports.
Houston
Houston, like the rest of Texas, has hit a sizeable road bump in its reopening thanks to the surging number of coronavirus cases. The city and its surrounding area accounted for 37,173 of the state's more than 135,000 coronavirus cases.
Due to the rapid increase in cases, Gov. Greg Abbott said Thursday he was "hitting the pause button" on the state's reopening.
The state was well along in its reopening, operating under Phase 3 of its plan since June 12. Most major businesses were reopened in some form and restaurants were allowed to operate at 75% capacity. However, many restaurant owners said this presented a problem as they tried to follow social distancing guidelines. This made it impossible for some locations to actually increase available seating.
"Going from 50 to 75%, we've increased our seating capacity by zero," Chef Jon Bonnell of Waters in Fort Worth, Texas, told Fort Worth CBS-affiliate KTVT.
Abbott was ultimately forced to backpedal on reopening, issuing an executive order Friday, reducing restaurant capacity to 50% and closing all bars.
"At this time, it is clear that the rise in cases is largely driven by certain types of activities, including Texans congregating in bars," Abbott said in a public statement. "The actions in this executive order are essential to our mission to swiftly contain this virus and enhance public health. We want this to be as limited in duration as possible."
Abbott's order will also require any planned gathering of 100 people or more must be approved by local officials.
Phoenix
Phoenix, and Arizona in general, is proving to be in just as bad shape from the recent case surges as Texas. As of Friday, the number of confirmed cases in Maricopa County reached 37,135, accounting for well over half of the state's 63,030 confirmed cases.
Thursday was the fourth day in the last week state health officials reported a rise of more than 3,000 new cases.
Phoenix Mayor Kate Gallego expressed her concerns during a press conference earlier this month, taking particular aim at young people, who she said approached the pandemic indifferently.
"We do see very concerning situations where people just went back to normal," Gallego said. "Particularly among some of our younger people, we're not seeing masks, and our youngest residents are where we're seeing the fastest rate of increase."
The number of new cases has forced hospitals put under renewed strain to halt elective surgeries so as to open up more beds for coronavirus patients.
Gov. Doug Ducey has also come under fire for his handling of the outbreak. While he ordered more testing, he faced pushback at a press conference Thursday over President Trump's rally on Tuesday at a Phoenix church. Nearly 3,000 people attended the event, and most reportedly declined to wear masks.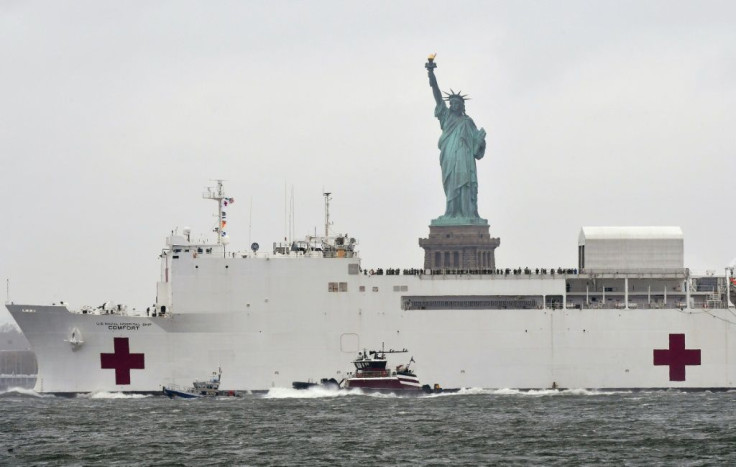 © Copyright IBTimes 2023. All rights reserved.
FOLLOW MORE IBT NEWS ON THE BELOW CHANNELS