Politics Of Coronavirus: New Study Finds Republicans Believe 'Worst Is Behind Us,' Despite Surge Of Cases In Mostly Red States
KEY POINTS
A study by the Pew Research Center indicates a majority of Republicans believe the "worst" of the coronavirus pandemic is past
The study's findings contrast the recent surge in cases, which have been reported in predominently red states
By comparison, most Democratic blue states have reported a steady decrease in coronavirus cases
The coronavirus pandemic continues to surge in the U.S., with more cases being reported daily inthe U.S. West and South, but despite the surge, the divide between Republicans and Democrats on the pandemic's seriousness is growing wider, a Pew Research Center study indicates.
A majority of Republicans told pollsters they believe the U.S. has "turned a corner" in its fight against coronavirus, with 61% of Republicans and those leaning Republican saying they believe the "worst is behind us" while 38% said the "worst is still to come." In contrast, 76% of Democrats or those leaning Democratic said they believe the "worst is still to come" versus 23% who said the "worst is behind us."
As of Friday, the U.S. reported over 2.5 million confirmed cases and 126,000 deaths from coronavirus. This is on the back of 40,401 newly reported cases on Thursday, breaking the single-day record of 36,291 new cases reported on April 21. The head of the Center for Disease Control and Prevention said Thursday the actual number of cases may be much higher than what's been reported.
"Our best estimate right now is that for every case that was reported, there actually were 10 other infections," CDC Director Dr. Robert Redfield told reporters Thursday.
Overall, 59% said the "worst is still to come" and 40% said the "worst is behind us." Both are down from Pew Research Center's April study when 73% said "the worst is still to come" and 26% said the "worst is behind us."
The irony to Pew Research Center's findings is the recent surges of coronavirus cases is occurring in far more red states than blue states. This is the inverse to the first two months of the pandemic when cases were surging in more blue states than red states.
Surges have been reported in 26 states since the beginning of June, but only four are widely considered Democratic states. The remaining 22 are considered either Republican or "purple" states due to recent successes seen by Democrats, despite strong Republican footholds.
The three states reporting the biggest surges are Arizona, Texas and Florida, all of which have Republican leadership and were in the process of reopening.
Florida Gov. Ron DeSantis has echoed President Donald Trump, blaming the recent rise in cases on the increase in testing and was initially hesitant to halt reopening, but was forced to pause it on Thursday. Arizona Gov. Doug Ducey and Texas Gov. Greg Abbott have both acknowledged the increase in cases, with the latter pausing the state's reopening and ordering a postponement in elective surgeries in four counties to open hospital beds for COVID-19 treatment.
"As we experience an increase in both positive COVID-19 cases and hospitalizations, we are focused on strategies that slow the spread of this virus while also allowing Texans to continue earning a paycheck to support their families," Abbott said in a statement Thursday. "The last thing we want to do as a state is go backwards and close down businesses. This temporary pause will help our state corral the spread until we can safely enter the next phase of opening our state for business."
Ducey has has said he has no plans to put a hold on the state's reopening.
In the four Democratic states where cases are surging, a common theme has been pushback by the state's conservative base, which openly opposed lockdowns and safety measures implemented at the outset of the outbreak. This led to a series of protests in state capitals where conservative-leaning groups demanded the states reopen, regardless of case counts.
The most notable of these protests occurred in Lansing, Michigan, where armed protesters posed inside the Capitol. This was met with immediate blowback as an attempt to "intimidate" state officials into reopening Michigan, despite the state's rising caseload.
More recent pushback has been seen in open hearings held by city and county officials trying to impose mask orders. These have been met by residents arguing it violates their civil liberties or the "health risks" wearing masks may present.
By contrast to Republican states, most Democrat-held states have been reporting decreases in coronavirus cases. New York and New Jersey, which were two of the hotspots during the first months of the pandemic, have continued to report fewer positive tests and hospitalizations as reopening moves forward.
New York Gov. Andrew Cuomo said Thursday hospitalizations dropped below 1,000 for the first time since March 18.
"After three months of New Yorkers working hard, doing the right thing and taking this seriously, the state has its lowest COVID-19 hospitalization rate since this started," Cuomo said during his daily coronavirus briefing. "Facts are facts, even in this crazy political environment, and what we're saying in New York is we did the right thing. New Yorkers have been locked up and closed their businesses. We have the virus under control finally. We had to flatten the curve. We don't want to go back."
Cuomo has also been a harsh critic of both President Trump and Republican leadership at the federal and state levels. He accused Republican leaders of "politicizing" the coronavirus which, in turn, led to the recent uptick in coronavirus cases.
To ensure the northeastern U.S. doesn't become a hotspot again, travel advisories were issued in New York, New Jersey and Connecticut. The advisory requires anyone traveling to one of the three states from a hotspot state to self-quarantine for two weeks after arriving.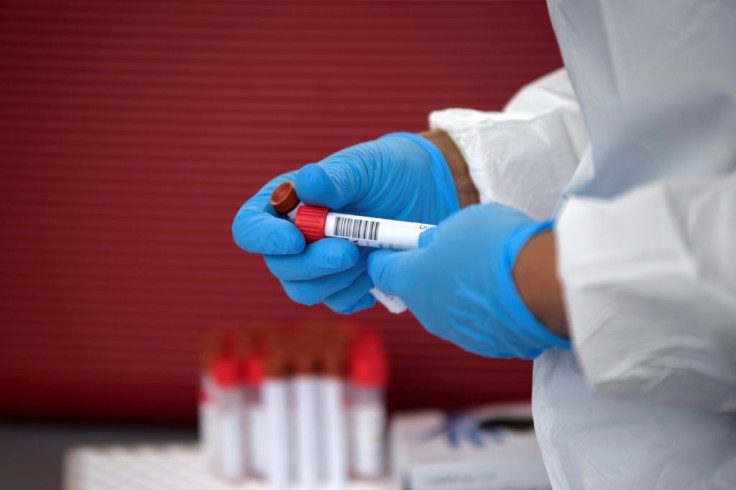 © Copyright IBTimes 2023. All rights reserved.
FOLLOW MORE IBT NEWS ON THE BELOW CHANNELS