Coronavirus Death Toll In Florida, North Carolina And California Set New Single-Day Records
KEY POINTS
California, Florida and North Carolina reported their highest single-day death tolls Wednesday
U.S. surpasses grim milestone of 150,000 COVID-19 deaths in only five months
Reported new cases, however, appear to be leveling off in some of the hardest hit states
California, Florida and North Carolina recorded single-day highs for COVID-19 deaths, accounting for 30% of all deaths in the U.S. on Wednesday.
Florida reported 217 new deaths, California tallied 197, and North Carolina reported 45 -- all one-day records for the hotspot states, based on data from The Washington Post. There were 1,490 total deaths in the U.S. on Wednesday. Texas had the highest number of daily deaths at more than 310.
Wednesday also saw the U.S. COVID-19 total death toll exceed the grim milestone of 150,000, according to Johns Hopkins University (JHU). The U.S. recorded its first COVID-19 death in Washington State on Feb. 29, exactly five months before topping the 150,000 mark.
JHU data shows some 4.4 million confirmed COVID-19 cases in the U.S. along with 150,034 deaths. U.S. deaths topped 100,000 in late May.
The steadily mounting state and national death toll is a result of the Memorial Day spike that saw daily cases exceed 60,000 early into this month compared to 20,000 per day in early June.
Dr. Anthony Fauci, Director of the National Institute of Allergy and Infectious Diseases (NIAID), two weeks ago recommended states in the West and South hardest hit by the resurge consider reimposing stay-at-home lockdowns to quell the spread of the disease.
Fauci directed his shutdown warning at Arizona, California, Florida and Texas, which at the time accounted for more than half of all new cases since Memorial Day. He made this recommendation July 8, when the U.S. first reported 60,000 confirmed new cases in a single day -- a worldwide record it has since broken many times.
Fauci argued strict lockdowns are urgently needed to prevent daily cases from reaching 100,000 per day.
"What we are seeing is exponential growth," said Dr. Fauci. "It went from an average of about 20,000 to 40,000 and 50,000. That's doubling. If you continue doubling, two times 50 is 100. Any state that is having a serious problem, that state should seriously look at shutting down. It's not for me to say because each state is different."
There is, however, some indication that new daily cases appear to be leveling off this week. There were 64,683 average daily new cases as of Tuesday. This represents a 3.2% drop from last week based on a seven-day moving average, said CNBC.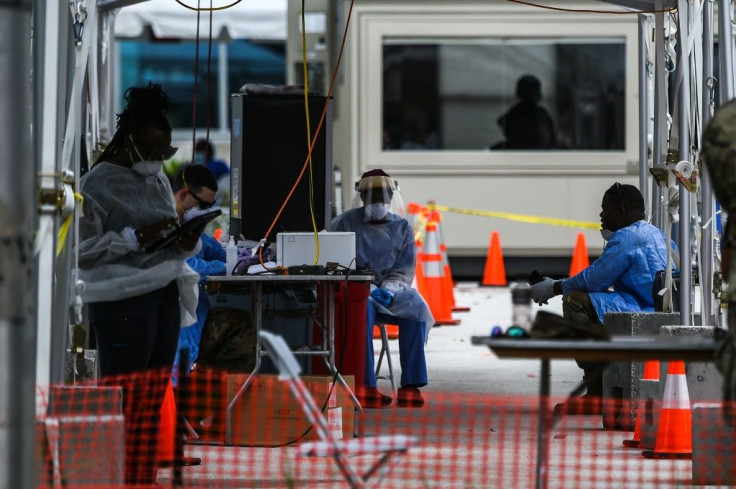 © Copyright IBTimes 2023. All rights reserved.