Coronavirus Ending Soon? Pence Says COVID-19 'Largely' Over By Memorial Day
KEY POINTS
Vice President Mike Pence said the coronavirus pandemic could be over by Memorial Day
Pence is also optimistic about hotspots showing fewer cases
About 13 states will start Phase One of reopening the economy
Vice President Mike Pence is optimistic that the coronavirus pandemic will be over by Memorial Day Weekend.
In an interview with Geraldo Rivera's news program Thursday, Pence, who also heads President Donald Trump's Coronavirus Task Force, said that current U.S. trends indicate that the pandemic is largely past its peak.
"I think by Memorial Day Weekend we will largely have this coronavirus epidemic behind us," Pence said. "State and local officials will begin to reopen activities, you're going to see states ahead here begin to do that."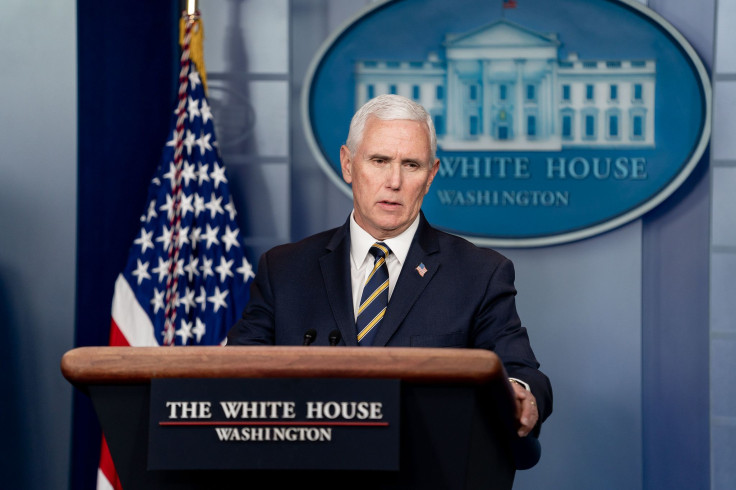 Pence also declared the same projection in an interview with the Wall Street Journal Wednesday. He expressed hope that Americans will be able to enjoy the summer.
"We remain very hopeful that if the current trajectory of the coronavirus epidemic continues that we could be in a much different place in early June than we are today," the vice president said. " We believe that because of what the people have done, because of what the people of those communities have done, we're past the peak."
During the White House Thursday press briefing, Pence enumerated former coronavirus hotspots showing fewer cases such as New York City, New Jersey, Connecticut, Detroit, and New Orleans.
Pence said that 16 states had released plans to reopen, while 13 states are actually moving forward with Phase One of the While House guidelines on reopening the economy in the coming weeks.
The vice president also said that there is sufficient testing done as states enter Phase One. These tests will be doubled in the days ahead as laboratories around the country will be activated.
Florida opened the beaches as of April 17. On April 24, Georgia will allow some retail stores, barbershops, salons, and gyms to resume operations.
Mississippi's stay-at-home order ends April 27, and Gov. Tate Reeves said he plans to reopen businesses by then. Tennessee, on the other hand, will have "the vast majority of businesses" open by May 1.
Some states, however, will continue to enforce its stay-at-home orders, such as Virginia (June 10) and New York (May 15). Those in the East Coast, such as Indiana, Kentucky, Michigan, Minnesota, Ohio, and Wisconsin, will be coordinating its reopening dates similar to West Coast states like California, Oregon, and Washington.
As of April 23, the U.S. has 878,779 cases and 49,751 deaths.
© Copyright IBTimes 2023. All rights reserved.