Coronavirus Update: Fauci Warns States To Be On Alert For 'Little Blips' Of Infections
KEY POINTS
The CDC has released a new road map for places that are trying to reopen
Almost every state is planning to reopen several places and businesses that pose a low risk for coronavirus spread
But Dr. Fauci warned the public to be on the alert for small spikes of COVID-19 outbreaks
Nearly every state in the United States has been planning to reopen certain industries and regions that they see as "low-risk" for COVID-19 spread. Dr. Anthony Fauci, the director of National Institute of Allergy and Infectious Diseases advised the states to be on alert for "little blips" of infections as they were trying to reopen since the lockdown restrictions were lifted across the nation.
"Reopening too soon could trigger a new outbreak and lead to some suffering and death that could be avoided, but could even set you back on the road to trying to get economic recovery," Fauci warned.
The most commonly reported businesses that were reopening across the country included retail stores, offices, manufacturing, constructions, malls, libraries, outdoor and recreation beaches, state parks, gyms, food and drink restaurant dining, bars and breweries, entertainment theatres, museums, zoo, aquarium, houses of worship, stadiums, casinos, bowling alleys, golf courses, outdoor shooting ranges, marinas, campgrounds pet grooming, personal care salons, spas, and tattoo parlors.
The Centers for Disease Control and Prevention (CDC) has issued a new 60-page road map for these places to navigate reopening during the pandemic situation titled "CDC Activities and Initiatives Supporting the COVID-19 Response and the President's Plan for Opening America Up Again."
Fauci opined that once these places reopened, there is a possibility of virus outbreaks.
"That's the reason why you see the reopening, that we tell the cities, the locations, the communities to be on the alert for what I refer to as the little blips that you might see. Because as you open up, even under normal circumstances, in the best of circumstances, you are going to see infections. The critical issue for a successful opening is how effectively you address those blips," said Fauci at a CNN coronavirus Townhall on Thursday.
"Do you have in place the capability, the testing, and the manpower to identify, to isolate, and to contact trace. If you do, you'll be able to prevent those blips from becoming resurgence and you'll be able to progress along with the various phases of reopening," he added.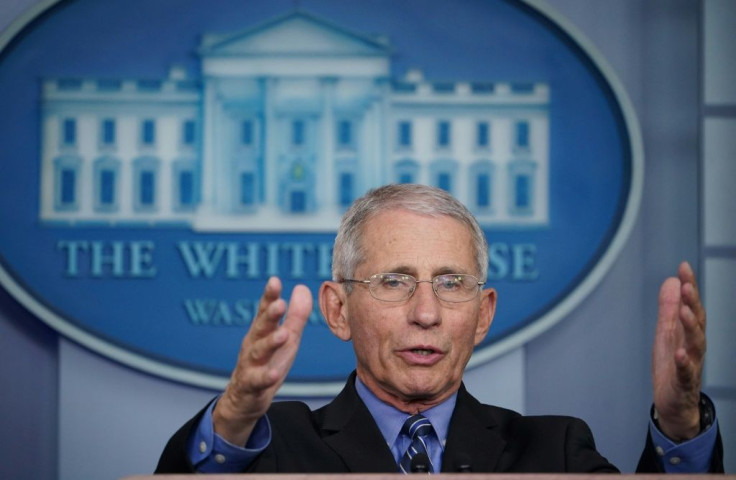 © Copyright IBTimes 2023. All rights reserved.