Coronavirus Update: New York To Use UV Light On Subways To Kill Virus
KEY POINTS
New York's MTA has launched a pilot project that will kill the coronavirus on the surfaces of its subway cars and buses using UV-C light
UV-C light has been used for more than a century to kill bacteria and viruses on surfaces
Using the technology, however, demands extra caution to keep people out of danger
Desperate times call for desperate measures but New York state's proposal to use ultraviolet-C (UV-C) lights to cleanse its subway cars and buses of the COVID-19 coronavirus might also be dangerous to the people doing this job.
On Tuesday, the Metropolitan Transportation Authority (MTA) revealed a pilot program that's testing an ultraviolet technology it claims is proven to kill COVID-19, or more specifically SARS-CoV-2 (severe acute respiratory syndrome coronavirus 2), the virus that causes the disease.
The pilot program employs portable UV-C lamps to "burn-off" SARS-CoV-2 from the surfaces of empty subway cars at their depots. MTA believes UV-C is less harmful than either UV-A or UV-B.
"UV is a proven and effective technology and is 100% safe to humans after it is applied," said MTA Chairman and CEO Pat Foye.
MTA is using 230 miniature portable UV-C lamps provided by PURO Lighting, a start-up based in Lakewood, Colorado. PURO describes itself as "a wellness lighting company" focusing on germicidal UV disinfection. PURO Lighting CEO Brian Stern once said coronaviruses are "the easiest-to-kill pathogen type."
The PURO UV lamps cost MTA $1 million. MTA said if the project to disinfect subway cars with UV-C light is successful, it will use the lamps to disinfect its buses. Next on the list are the rail cars at the Long Island Rail Road and Metro North.
MTA said it will monitor the result of the pilot prior to expanding the UV-C use throughout its vast system serving 12 counties in Downstate New York, and two counties in southwestern Connecticut. It points out the UV technology it's using is the same as that used in hospitals and in some police, fire and ambulances stations.
"It has been known for 100 years that UV light is incredibly efficient in killing bacteria," said Dr. David Brenner at Columbia University Irving Medical Center. "The UV light that's going to be used in the overnight subway cleaning is very efficient at killing the virus responsible for COVID-19."
Foye's assertion UV-C light "is 100% safe to humans after it is applied" is accurate. The question that needs to be answered is if the tech is completely safe to people in the vicinity when it's being applied. The answer to that is, "No."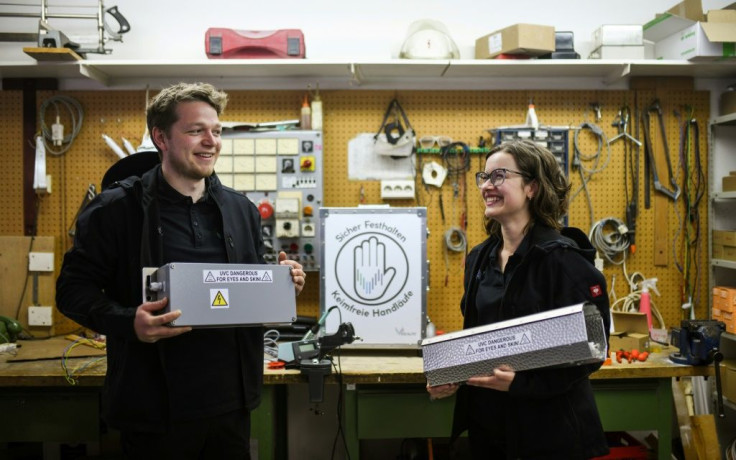 In a report published April 24 on the pros and cons of using UV-C to eliminate SARS-CoV-2 from surfaces, the BBC urged the utmost caution. It began by explaining the difference between UV-A, -B and -C.
The report said UV-C is quite good at destroying genetic material "whether in humans or viral particles." It said it's lucky most people are unlikely to have ever encountered UV-C because this light is filtered out by ozone in the atmosphere long before it reaches our skin.
Admittedly, UV-C is the only type of UV that can reliably inactivate SARS-CoV-2 but it's extremely dangerous.
"You would literally be frying people," claimed Dan Arnold, who works for UV Light Technology in the United Kingdom. This company provides disinfecting equipment to hospitals, drug companies and food manufacturers.
"UV-C is really nasty stuff –- you shouldn't be exposed to it," noted Arnold. "It can take hours to get sunburn from UVB, but with UVC it takes seconds. If your eyes are exposed… you know that gritty feeling you get if you look at the sun? It's like that times 10, just after a few seconds."
Arnold said to use UVC safely, there needs to be specialist equipment and personnel training.
Since 1878, however, artificially produced UV-C has become a staple method of sterilization. It's still used in hospitals, on airplane surfaces and in offices and factories every day. UV-C sterilization is also a key step in sanitizing drinking water.
And, in China today, buses are being disinfected with UV-C, which emits a blue light. Some Chinese banks are using UV-C to disinfect their money.
© Copyright IBTimes 2023. All rights reserved.