Coronavirus USA Update: US Death Toll Hits 106; 6,423 Cases In All 50 States
KEY POINTS
The COVID-19 pandemic raging across the country has now conquered all 50 states
It's inflicting a heavier toll among Americans: the U.S. is now eighth on the list of the world's most infected countries
"We do not want to look like Italy does two weeks from now," said Surgeon General Dr. Jerome Adams
Confirmed COVID-19 cases and deaths from COVID-19 in the United States continue to spike -- tracking the path of the most hard-hit countries such as China and Italy -- in an outbreak that's also seeing a commensurate and massive jump in unemployment insurance claims.
Confirmed COVID-19 cases throughout the United States surged dramatically by more than 2,000 cases on Tuesday, the largest single day spike to date in the ongoing COVID-19 pandemic sweeping the country.
There were 6,423 confirmed cases and 106 deaths in all 50 states, Washington DC, Guam and the Northern Mariana Islands due to COVID-19 as of 8:33 p.m. ET on Tuesday, according to the Center for Systems Science and Engineering (CSSE) at Johns Hopkins University. West Virginia on Tuesday became the last state to report a confirmed coronavirus infection.
On Monday at about the same time, CSSE reported 4,392 confirmed cases and 75 deaths. This means there were 46% more confirmed cases (2.031 cases) on Tuesday compared to Monday and 40% more deaths. Eighteen states have reported deaths due to COVID-19 with Illinois on Tuesday being the latest on this horrific list.
There were 197,185 confirmed cases worldwide as of this time and 7,905 total deaths. China accounted for 81,061 of total world cases, or 46% of the total.
A bleak picture of an America overrun by COVID-19 was painted by Surgeon General Dr. Jerome Adams, who said the U.S. is at a critical point in its fight against the pandemic.
Dr. Adams emphasized the next 15 days will be critical in fighting the pandemic in the U.S. He also warned if Americans don't take federal and state warnings on how to combat the pandemic seriously, the country will face an outbreak similar to that of Italy's, where more than 31,500 people have been infected and where more than 2,500 people have died.
Italy currently has the world's second largest number of confirmed cases and deaths after China. The U.S. is eighth on the list of most infected countries and sixth on the death list.
"We do not want to look like Italy does two weeks from now," Dr. Adams told CBS News. Adams strongly urges Americans to follow guidelines from the U.S. Centers for Disease Control and Prevention.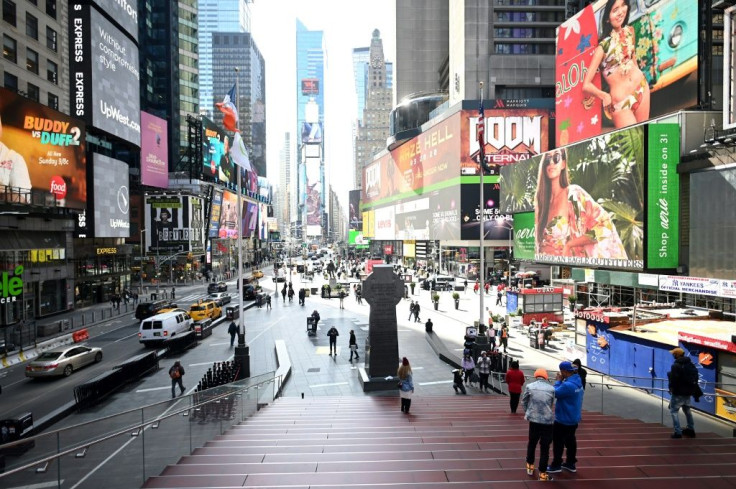 Adding to the grim healthcare woes is the growing consensus among economists an inevitable economic recession will hit the country this year. Not surprisingly, COVID-19-related unemployment claims are ballooning in many states. Tennessee has seen its jobless claims nearly triple in the second week of March compared with the start of the month. Since March 8, Tennessee received 6,092 new unemployment claims compared to the 2,031 new claims from March 1 through March 7.
Rhode Island's COVID-19-related claims for unemployment insurance skyrocketed to 552 on March 14 compared to only 10 a few days earlier. In California, entertainment industry workers that lost their jobs because of the COVID-19 outbreak are now eligible to receive expedited unemployment benefits of up to $450 a week from the state's Employment Development Department.
California said anyone that lost their job because they contracted the virus, or are caregiving for someone who has, could receive as much as $1,300 a week. Thousands of industry workers have been fired in recent days as film and TV productions shut down all across the state.
There little chance the pandemic outbreak in the U.S. will peak this month, noted Dr. Anthony Fauci, director of the National Institutes of Allergy and Infectious Diseases (NIAID).
"It probably would be several weeks or maybe longer before we know whether we had an effect," said Dr. Fauci. "And maybe, at the end of the day, we'll see a curve that would've been way, way up."
Dr. Fauci believes the number of U.S. cases might peak sooner if the public adheres to social distancing. He also said persuading younger people (especially Millennials) to stay out of gathering places such as bars and restaurants is key to the success of social distancing.
© Copyright IBTimes 2023. All rights reserved.