Coronavirus USA Update: US Death Toll Hits 3,126; New York Has 253 Deaths In One Day
KEY POINTS
At least 543 persons died from COVID-19 Monday, the highest national daily death toll in the worsening pandemic
Total U.S. deaths now stand at 3,126
One projection estimates total U.S. deaths due to the disease at 81,114 by August 4
The United States' death toll from COVID-19 hit 3,126 at 23:33 GMT Monday, capping a horrific day when 543 persons died -- the highest national daily death toll thus far into this accelerating pandemic. The data from Worldometer also shows a new record in confirmed cases per day -- 19,174.
New York Gov. Andrew Cuomo on Monday afternoon revealed 253 deaths in his hard-hit state since Sunday, even as the state's beleaguered healthcare system braces for the infection peak that might be only two to three weeks away. He said there are 66,496 confirmed cases in New York and 1,218 deaths. Nearly 10,000 people are hospitalized while more than 4,000 have been discharged. New York accounts for more than a third of all COVID-19 deaths in the U.S.
The grim data from the country as a whole and the state worst-hit by COVID-19 confirms warnings by national health authorities the national suffering will become more intense in April. Modeling by the IHME (the Institute for Health Metrics and Evaluation at the University of Washington), estimates April 14 will be the day that sees the highest number of deaths per day in the U.S. from COVID-19. IHME predicts 2,341 new deaths on April 14. The 15 days from March 30 until April 14 will see a massive rise in the daily death toll.
Deaths might begin to drop from April 18, which is projected to see 2,233 deaths per day. The toll by June 15 is estimated at 77 and 25 by June 30. IHME projects no deaths on July 16. By August 4, IHME projects a total of 81,114 COVID-19 deaths in the U.S.
As of 22:21 GMT Sunday, the U.S. reported 140,960 cases and 2,457 deaths, according to Worldometer.
As of 23:33 GMT Monday, there were 783,181 confirmed coronavirus cases worldwide, an increase of 59,791 from Sunday. There were also 37,743 total global deaths, which was 3,678 more than the toll reported Sunday. The United States still leads the world in number of confirmed cases with 162,665, or 21% of the world total. Next in line are Italy (101,739 cases), Spain (87,956 cases), China (81,470 cases) and Germany (66,885 cases).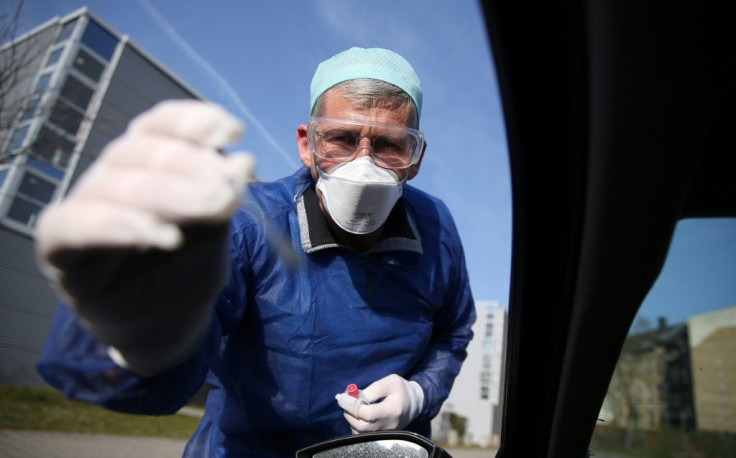 Elsewhere in the COVID-19 front in the U.S. on Monday:
California reports a doubling in hospitalizations while its intensive care unit case load has tripled. Gov. Gavin Newsom (D) said there are 597 ICU patients and 1,432 hospitalized statewide.
The U.S. Food and Drug Administration (FDA) has given emergency approval to the federal government's plan to distribute millions of doses of anti-malaria drugs to U.S. hospitals. It claims this rushed approval is worth the risk of trying unproven treatments to slow COVID-19 in seriously ill patients.
FBI agents arrested Baruch Feldheim from Brooklyn, who was selling N95 respirators to doctors at a 700% markup in a clear case of price gouging. Feldheim was also charged with assault for coughing on the FBI agents and claiming he has COVID-19.
Louisiana governor John Bel Edwards (D) said the number of infections in the state rose by 485 over the past 24 hours to 4,025 as of noon Monday. Deaths increased by 34 to 185. New Orleans remains the state's virus epicenter with 1,480 total cases and 86 deaths. Bel Edwards said ventilators remain the state's "most pressing need."
House Speaker Nancy Pelosi, D-CA, says the upcoming Phase 4 coronavirus bill will focus on infrastructure, Occupational Safety and Health Administration protections for front-line workers and funding for the District of Columbia, among others.
Former vice president Joe Biden urges Trump to do more and quickly to combat COVID-19. He also blasted Trump for suggesting hospitals and doctors are hoarding facemasks and medical supplies. Biden called Trump's insistence hospitals are responsible for equipment shortfall "absolutely bizarre."
© Copyright IBTimes 2023. All rights reserved.