Costa Concordia: Italy Cruise Ship Death Toll Rises to 5, Captain Arrested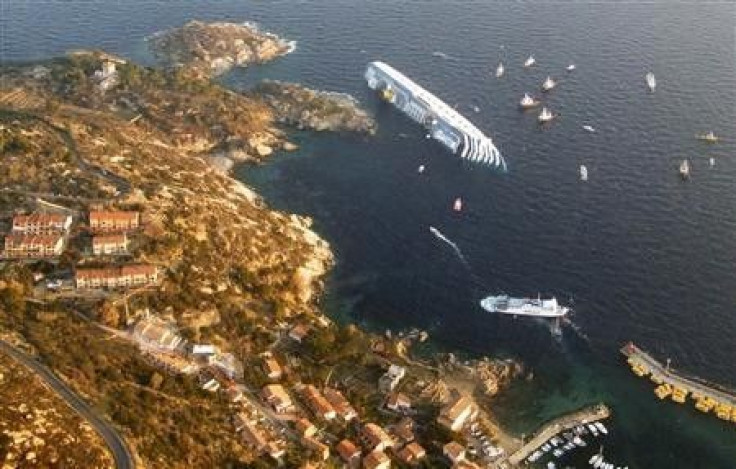 The death toll from the Costa Concordia, the cruise ship that ran aground Friday off the Italian coast, has risen to five after scuba divers found two more bodies on board the luxury liner.
Italian news agency Ansa reported that divers found the bodies in the submerged part of the Costa Concordia. News of the dead bodies came after reports that three people were rescued from the wreckage.
The 114,500-ton Costa Concordia was carrying 4,299 people -- more than 3,000 of them passengers -- on board when it hit a reef and ripped a 70- to 100-meter (230- to 330-foot) hole in its hull, according to Agence France-Presse. It didn't issue a mayday call during the accident.
There were reportedly 989 Italians, 569 Germans, 462 French nationals and 177 Spaniards on board and 126 Americans.
Reports are that the captain, Francesco Schettino, and first officer, Ciro Ambrosio, have both been arrested.
According to Reuters, Schettino was arrested on multiple manslaughter charges. He also faces charges of causing a shipwreck and abandoning ship. Schettino was taken to a jail in the provincial capital Grosseto to await questioning by a magistrate, according to reports.
Grosseto prosecutor Francesco Verusio told reporters that the captain approached Giglio Island in a very awkward way, hit a rock that stuck into its left side, making [the boat] list and take on a huge amount of water in the space of two or three minutes, AFP reported.
ABC News reported that before scuba divers found the bodies, some 17 people remained unaccounted for. That number includes 11 passengers and six crew members, Tuscany's regional president, Enrico Rossi, told reporters. The number of people missing has decreased from the estimated 40 that was reported earlier.
© Copyright IBTimes 2023. All rights reserved.