Court Halts Mandate For Federal Contractors In Another Blow To Biden's Vaccination Strategy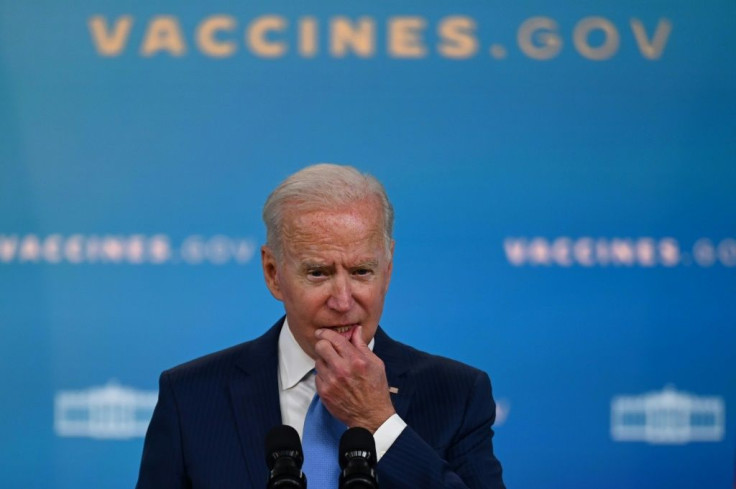 President Joe Biden's campaign to vaccinate a larger number of U.S. workers against COVID-19 was dealt a new setback on Tuesday.
A federal district court in Georgia issued an order that the preside..nt's mandate for government contractors be put on pause temporarily. In his ruling, Judge R. Stan Baker wrote that the original executive order that instated the requirement appears to have been beyond Biden's authority to impose.
"In its practical application, it operates as a regulation of public health," Judge Baker wrote in his ruling. "It will also have a major impact on the economy at large, as it limits contractors' and members of the workforce's ability to perform work on federal contracts. Accordingly, it appears to have vast economic and political significance."
This ruling is the second time in the last week that Biden's mandate for federal contractors has been stymied in court.
On Nov. 30, a federal court in Kentucky ordered that enforcement of the mandate be halted in the state as well as in Ohio and Tennessee. In that case, the judge also argued that Biden was overreaching his authority by requiring these firms to require their workers to be vaccinated lest they miss out on contracts with the federal government.
On Sept. 9, Biden issued his executive order to all employers with over 100 employees to require their workers to get vaccinated or provide weekly testing for those who refused. Several contractors have already taken the lead in implementing their own policies to come into compliance with the administration's directive, including Microsoft and IBM.
However, these efforts were seriously undermined when a federal appeals court in New Orleans halted implementation of the vaccine mandate following a petition from five Republican-led states opposed to it. The Biden administration has appealed the ruling to restore the mandate, or at least components of it that require regular testing.
© Copyright IBTimes 2023. All rights reserved.