'Crysis Remastered' Trailer, Release Date Leak Online
KEY POINTS
Before its actual launch event, a new trailer, screenshots, and release date for "Crysis Remastered" have been leaked online
Released for the PC in 2007, the original "Crysis" got a score of 9.5/10 from a review by GameSpot
Co-developed by Saber Interactive and Crytek, "Crysis Remastered" is a remastered version of the original game with crisper, better graphics
Hours before a big reveal was supposed to show details of "Crysis Remastered," some leaks spoiled the announcement.
A listing on Xbox Live reveals a July 23 release date for "Crysis Remastered" and a few screenshots can also be found there together with a debut trailer. The trailer was spotted by @Wario64 on Twitter, notes GameSpot.
The original "Crysis" was a first-person shooter from German developer Crytek and publisher Electronic Arts. The story revolved around a group of military personnel wearing technologically advanced nanosuits. The suits enhanced their speed, physical strength, defense, and gave them cloaking abilities. It was released in 2007 for PC. At the time of its release, the game was hailed for its impressive graphics.
That was followed in 2008 by "Crysis Warhead," "Crysis 2" in 2011," and 2013 saw "Crysis 3" released. With an extensive hiatus experienced since the last game in the series and with the promise of a remastering of the original game, "Crysis Remastered" has been a title that many gamers have been looking forward to playing.
The description for "Crysis Remastered" states that the game will have "remastered graphics optimized for a new generation of hardware." It will be about 7 GB, according to the listing. The leaked trailer shows that "Crysis Remastered" was co-developed by Saber Interactive and original creator Crytek.
The original "Crysis" that "Crysis Remastered" is based on also received a 9.5/10 score from GameSpot back in 2007. "If you put it all together, 'Crysis' is just remarkable. This is a game that pushes the envelope in terms of both technology and gameplay and does so with aplomb," the review read back then.
"'Crysis' raises the expectations for every shooter to follow when it comes to graphics, interactivity, environments, immersiveness, AI, and gameplay. Quite simply, 'Crysis' represents the first-person shooter at its finest, most evolved form," said the review.
The first two games, "Crysis" and "Crysis Warhead," take place in 2020 on the fictional Lingshan Islands, off the Philippines. The protagonists of both games both belong to the fictitious "Raptor Team," a United States special forces operation that is sent to the island to investigate aggressive behavior by North Korea.
The first gameplay trailer for "Crysis Remastered" is set to be released on July 1 at 12:00 p.m. PT / 9:00 a.m. PT / 6:00 p.m. CEST. "Crysis Remastered" is expected to release on Xbox One, PS4, Nintendo Switch, and PC.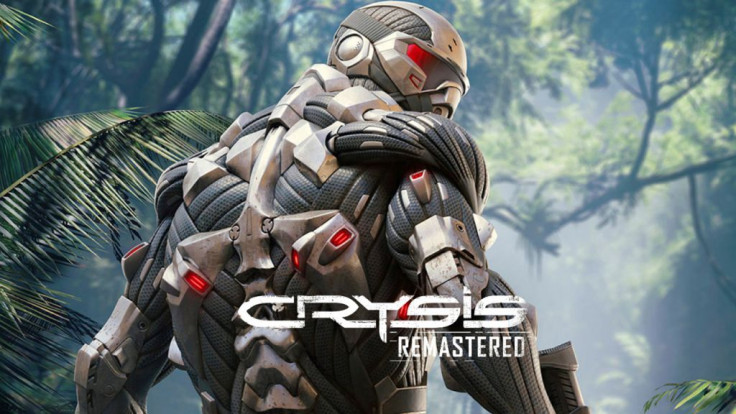 © Copyright IBTimes 2023. All rights reserved.
FOLLOW MORE IBT NEWS ON THE BELOW CHANNELS