Cultured Focus Magazine — A Celebration of Women at Expo 2020
The United Nations state that "Gender equality is not only a fundamental human right but a necessary foundation for a peaceful, prosperous and sustainable world."

The Women's Pavilion, Expo 2020 celebrates women from diverse backgrounds and vocations, providing an international platform to recognize their impact and influence on society.

The expo also celebrates the UAE's 50th anniversary and showcases Emirati women achieving excellence across many disciplines.
Gender inequality is an issue that has plagued our planet since the beginning of time. Women all around the world have fought for freedom in the name of feminism. Global revolutions began as women found their voice, refusing to be silenced by oppression and a patriarchal society. Standing tall, demanding equal rights and to be seen as more than just the weaker sex that belonged in the kitchen.
The world has begun to recognize the social injustices that females face, with the United Nations, placing Gender Equality as a priority on its list of sustainable development goals. The United Nations states that "Gender equality is not only a fundamental human right but a necessary foundation for a peaceful, prosperous and sustainable world. There has been progress over the last decades: More girls are going to school, fewer girls are forced into early marriage, more women are serving in parliament and positions of leadership, and laws are being reformed to advance gender equality. Despite these gains, many challenges remain: discriminatory laws and social norms remain pervasive, women continue to be underrepresented at all levels of political leadership, and 1 in 5 women and girls between the ages of 15 and 49 report experiencing physical or sexual violence by an intimate partner within a 12-month period."
In celebration of the triumphs and progress made by women thus far, the Expo 2020 Dubai showcases the Women's Pavilion in association with Cartier— reiterating a collective commitment to eradicate the gender gap.
A Celebration of Female Achievements
The idea behind the Expo is to shine a spotlight on females who are still making history and stimulating change. Sponsored by the Cartier Foundation, the pavilion takes visitors on an educational journey showcasing both male and female contributors to women's empowerment and gender equality. With an overall aim to highlight important milestones that have been achieved in improving women's rights, as well as the challenges that women are still facing today.
"Gender equality is an essential pillar of all sustainable development – the foundation on which the health and prosperity of communities, and indeed humanity at large, is built," said Her Excellency Reem Al Hashimy, UAE Minister of State for International Cooperation and Director-General of Expo 2020 Dubai Bureau. "The Women's Pavilion highlights the crucial roles that women have long played as linchpins of their communities and drivers of economies, and underscores Expo 2020 Dubai's firm commitment to empowering all women to drive their own development and create a better future for us all."
Gender Inequality and Women Empowerment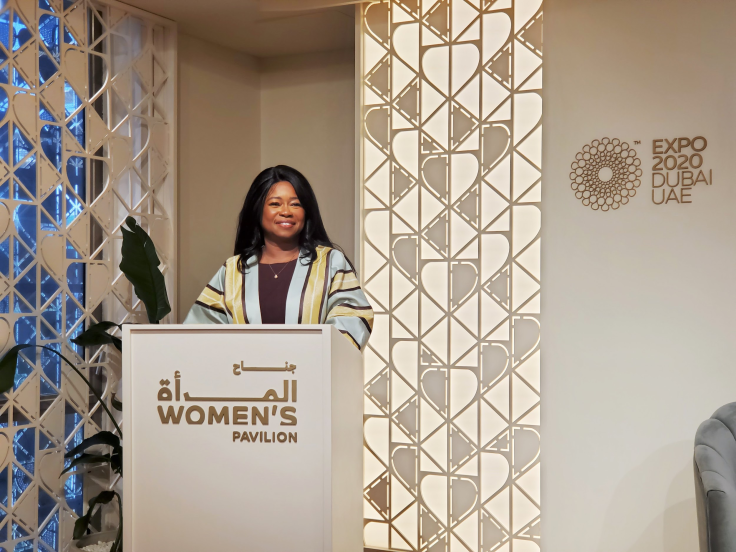 When it comes to the matter of addressing the issues that women face daily, Cultured Focus Magazine has been forging ahead since its inception in 2016. The publication– noted for the diverse group of artists, and female change-makers that have had international exposure on the platform– continues to broaden its global footprint by being among the first Western multi-media enterprises to visit and highlight The Zay Initiative's 'Draped in Heritage Photographic Exhibition'. The exhibition features twenty trailblazing Emirati women draped in historical outfits from The Zay Collection within the setting of their current fields of work to showcase their achievements as well as honor the women that came before them, paving the way.
Editor-in-Chief Taylor Re Lynn met with The Zay Initiative founder Dr. Reem El Mutwalli to discuss the non-profit organization, the initiative's participation in Expo 2020, as well as their ability to empower women by bringing their untold stories to life. When transforming her concept into a creation, Dr. Mutwalli explained that "as collectors of both the tangible and the intangible, it is a constant challenge to put across the stories of the women who owned and worn the dresses in The Zay Collection."
"We decided to choose twenty women from the UAE, representing all walks of life. But they all have to have one thing in common – they should have achieved something significant. Instead of aiming for women in top public positions who already receive recognition, we decided to feature the unsung heroes. It was important to tell the stories of two generations; women who are featured, and the generation that came before them, thus honoring both generations", said Dr. Reem Tariq El Mutwalli.
Final Thoughts on the Celebration of Women at Expo 2020
The expo takes place in Dubai and kicked off on October 1, 2021, and will continue until March 31, 2022. Expo 2020 Dubai is, in fact, the very first World Expo to take place– since the 1900s, with a stand-alone pavilion dedicated exclusively to women. The World Expo is actually one of the oldest and largest global events— taking place every five years.
Reem Al Hashimy, UAE Minister of State for International Co-Operation And Director-General of Expo 2020 Dubai has stated that "We in the UAE have practiced empowering women as integral to national development, and so it has proven in half a century of unprecedented growth. The pace of our development is only going to quicken with what we aim to achieve in the next 50 years."
The current expo has made history as the first World Expo to ever be held in the Middle East, Africa, and South Asia (MEASA) region and is the first ever to be hosted by an Arab nation. With 192 participating countries coming together to collaborate under Expo 2020's theme, "Connecting Minds, Creating the Future," the event is able to facilitate the exchange of new ideas and perspectives. Expo 2020 broadens participants' horizons while incubating solutions to create a better world for everyone, everywhere.
© Copyright IBTimes 2022. All rights reserved.
FOLLOW MORE IBT NEWS ON THE BELOW CHANNELS