Cuomo Rapidly Losing Sheen: Most New Yorkers Say Time To Elect New Governor—Poll
KEY POINTS
The Marist Poll surveyed 953 adults and was published Tuesday
6 in 10 New Yorkers faulted Cuomo' handling of nursing homes during the pandemic
Only 49% of New Yorkers approve of his job performance: Marist College poll
Cuomo's approval rating is back to its pre-pandemic level: Marist poll director
As the outrage grows over New York's COVID-19 nursing home scandal, troubles are also mounting for Gov. Andrew Cuomo, who has come under severe criticism over his administration's response.
Just 36% of New Yorkers now think Cuomo deserves re-election, down from 39% in 2018, according to a new poll. Cuomo is now eyeing his fourth term in office.
The governor came under fire after it was revealed that his administration had undercounted coronavirus-related deaths of residents in state nursing homes.
Six out of 10 New Yorkers believe Cuomo did something wrong in his handling of COVID-19 in nursing homes, according to the poll conducted by Marist College Institute for Public Opinion. About 41% believe his actions in his administration's controversial response to the pandemic in nursing homes were unethical but not illegal; 19% believe Cuomo has done something illegal. Just over 1 in 4 adults say he did nothing wrong at all.
Published on Tuesday, the poll says 49% of New Yorkers approve of Cuomo's job performance, down from 66% in July. Forty-two percent say Cuomo is doing an excellent or good job in the office, down from 60% in July, indicating the governor's ratings have come down to what it was pre-pandemic.
The Marist Poll surveyed 953 adults from Feb. 15 to 17 and has a margin of error of plus or minus 3.8 percentage points.
The findings also noted that 54% of New Yorkers approve of how he is handling the coronavirus pandemic, down from 72% in July.
The current criticism of Cuomo is a far cry from the early days of the pandemic when he was widely praised for his strong handling of the outbreak. He held regular, often reassuring, press briefings to inform New York state residents about guidelines and to present pertinent data as more and more people became severely ill and the death toll rose rapidly.
The Marist Poll director, Lee M. Miringoff, said "Cuomo's approval rating, which was sky high in the summer, has returned to its pre-pandemic level." The results suggest that it would be a challenge for Cuomo if he were to seek a fourth term, Miringoff continued. "That said, his current numbers are comparable to what they were when he faced the voters last time."
Rich Azzopardi, a senior adviser to Cuomo said, the numbers between the various surveys always vary, but the administration "remains focused on fighting this pandemic, administering as many vaccines as possible, and safely and smartly reopening our state for all New Yorkers."
The nursing home scandal has intensified in recent weeks as federal prosecutors launched an investigation and lawmakers moved to strip the governor of unilateral emergency powers that he had held during the pandemic.
Cuomo last week acknowledged a delay in the reporting of some nursing home deaths but stopped short of an apology. He said that by failing to answer questions from state lawmakers, the public, and the news media, New York state created a void that was "filled with skepticism, and cynicism, and conspiracy theories which furthered the confusion."
His top aide, Melissa DeRosa, apologized to state lawmakers for the governor's office withholding requested data that showed the death toll in nursing homes due to COVID-19. DeRosa said Cuomo's office feared the death toll information would be "used against us" by federal prosecutors, the New York Post reported.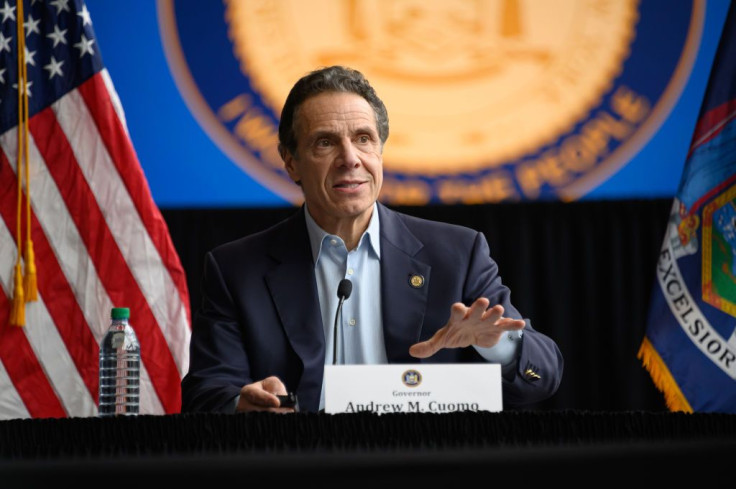 © Copyright IBTimes 2023. All rights reserved.