Curiosity Rover Sends New 'Postcard' Showing Stunning Views Of Martian Morning And Afternoon [Photo]
KEY POINTS
The Curiosity Rover took the photos after its recent software update
It took photos of the landscape in the morning and afternoon
The image shows the deep shadows of the Martian landscape
The Curiosity rover has sent a new "postcard" from Mars. It provides quite a lovely view of Mars in the morning and the afternoon.
The Curiosity rover has been roaming the Gale Crater on Mars for years now. In April, it had to pause for just a little while to make way for a major software update so it could drive faster and reduce the wear and tear on its wheels.
The rover had to stop its operations from April 3 to 7. On April 8, after completing the update, Curiosity used its navigation cameras to capture photos of the Marker Band Valley before leaving.
Combining two images together — one taken in the morning and the other in the afternoon — the result is a rather striking image of a Martian morning and afternoon. Though the panorama images were captured in black and white, the artistic interpretation of it with added colors certainly makes for a perfect Martian postcard.
Yellow was added to the parts taken in the afternoon, while blue was added to the parts taken in the morning.
"Anyone who's been to a national park knows the scene looks different in the morning than it does in the afternoon," Curiosity engineer Doug Ellison, of NASA's Jet Propulsion Laboratory, said in a NASA release. Ellison was the one who processed the images. "Capturing two times of day provides dark shadows because the lighting is coming in from the left and the right, like you might have on a stage – but instead of stage lights, we're relying on the Sun."
One may also notice that the image isn't quite as dusty. It is because they were taken during winter when there was lower airborne dust. This resulted in the deeper shadows that we see across the landscape.
"Mars' shadows get sharper and deeper when there's low dust and softer when there's lots of dust," Ellison explained.
On the NASA website, one could also see a detailed version of the image, labeled with notable features on the Martian landscape (including Curiosity's tracks) and even the parts of the rover that were visible in the image.
With its new updates, perhaps we can expect more of such stunning imagery of Mars from Curiosity. It's not bad at all for a rover that's already more than 10 years old.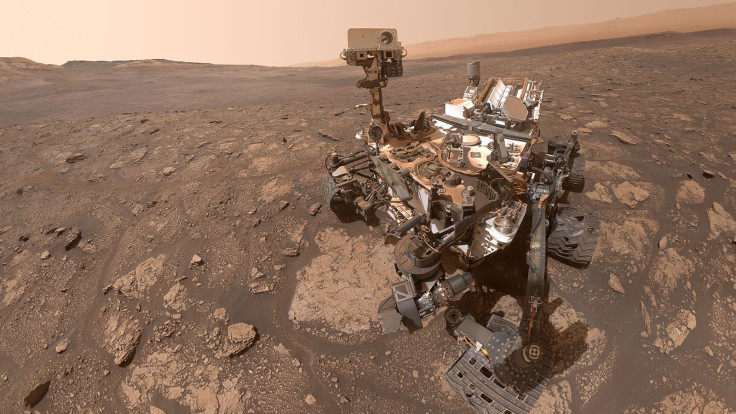 © Copyright IBTimes 2023. All rights reserved.