Cyber Monday 2014 Sales: The Best Deals From Macy's, Best Buy, Staples, eBay, Toys R Us And More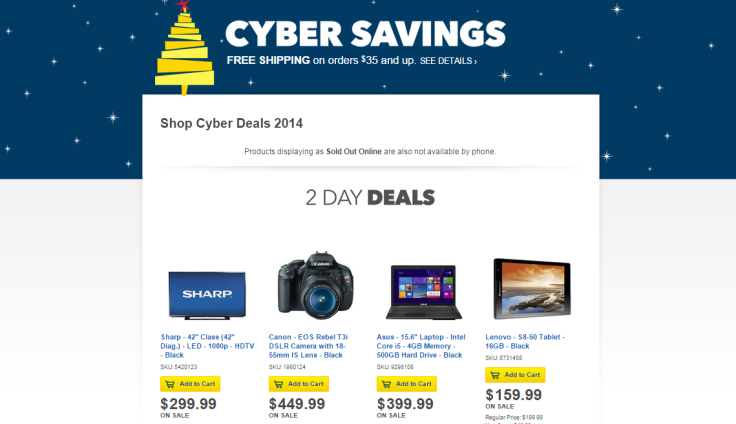 Cyber Monday picks up where Black Friday left off, without the need to deal with other customers, long lines or crowded stores. The popularity of the online shopping day has led to many retailers extending deals throughout the week. Toys "R" Us, Best Buy, GameStop, Sears and Kmart have launched Cyber Week campaigns that offer daily deals.
For Cyber Monday 2014 deals for Amazon, Walmart, Target and Kohl's go here. Guides for the best tech deals, PS4 deals and Nintendo deals are also available.
Toys "R" Us
The Cyber Monday Toys "R" Us deals started on Saturday and continue throughout the week. Barbie, "Frozen," Lego and Skylander brand toys are on sale leading up to a preview event on Sunday night. Tablets, bicycles and dollhouses are also on sale. Toys "R" Us will be offering new deals Sunday night before kicking off its Cyber Monday promotion. Beginning at 9 p.m. EST Sunday, items on sale include Teenage Mutant Ninja Turtles Battroborg Electronic Battle Game ($59.99), Disney "Frozen" Princess & Me 18" Dolls ($34.99) and 20 percent off NERF blasters. Free shipping on purchases of $49 or more.
Macy's
Macy's Cyber Monday sales begin with a preview event on Sunday, which includes free shipping on orders of $50 or more. Select KitchenAid and Cuisinart mixers and food processors will be 30 percent off, with Macy's offering an additional 15 percent off. Women's boots and shoes are 40 percent off with select boots that are buy one, get one free. Comforters from Martha Stewart Collection, Charter Club and other brands are 60 to 70 percent off. Men's fleece and down jackets, select dresses and women's and juniors coats are 60 percent off. Charter Club cashmere sweaters are also 60 percent off.
Best Buy
Best Buy Cyber Monday deals tend to be the best among retailers, with an average discount of 37 percent and more than 600 items on sale, notes BGR, citing statistics from ShopSavvy. Google Play gift cards are already on sale, $22.50 for $25 and $45 for $50. A Panasonic 50" LED 1080p Smart HDTV ($499.99) is among the HDTVs that are on sale. Tablets starting at $49.99, Macbook laptop and desktop deals are also among the advertised sales. For cell phones, consumers can get a LG G3 or a Samsung Galaxy S4 for $1 (with a 2-year contract).
Staples
Staples Cyber Monday starts Sunday and includes deals on laptops, tablets and monitors. Free shipping is included on all orders. Asus X205 laptop ($199), Nobis 7" 8GB tablet ($39.99), Dell 24" Monitor ($99) and $250 off select desktops and laptops are among the advertised deals.
eBay
EBay is offering discounts on iTunes codes, console bundles, electronics and more for Cyber Monday. The Daily Deals page updates with new deals including a "The Last of Us" PlayStation 4 bundle ($379.99), an unlocked iPhone 5S 16GB ($349.99) and Microsoft Surface RT 10.6in HD Tablet 32GB ($149.99). As part of Cyber Monday, eBay is offering 25 percent off iTunes codes and 38 percent off the Nintendo Wii U "Skylander" console bundle and "Super Smash Bros. Wii U."
GameStop
GameStop Cyber Monday deals will run through Dec. 7 and will include console bundles and discounts on games. An Xbox One bundle with "Assassin's Creed Unity" or "Call of Duty: Advanced Warfare" for $329, Xbox 360 500GB with "Call of Duty: Ghosts" and "Call of Duty: Black Ops II" ($199.99) are among the console deals. Pre-owned PlayStation 3 ($199.99), Xbox 360($149.99), Nintendo Wii ($89.99) and Nintendo DS console ($69.99) bundles will also be on sale during Cyber Monday, notes Good Morning America.
Sears
Sears Cyber Monday, running through Dec. 6, includes free shipping on orders of $59 or more. Kenmore Elite 5 qt. 400 Watt Stand Mixers ($169.99) and the Kenmore 25 cu. ft. Side-by-Side Stainless Steel Refrigerator ($819.99) are among the kitchen appliances on sale. Outerwear for men, women and children is up to 50 percent off and consumers can use the promo code "CYBER25" to get an additional 25 percent off. LED TVs, including the Samsung 40" 1080p LED Smart LED HDTV ($449.99), are also on sale.
Kmart
Kmart Cyber Monday deals include RCA 46" 1080p LED HDTV ($349.99) and 50 percent off Hasbro games. Outdoor playsets (up to 35 percent) and swing sets (up to 35 percent off) are on sale. Customers using "CYBER25" will get between 15 to 25 percent off women's, men's and children's clothing, which will be marked between 40 percent and 50 percent down.
Other Deals
Gap, Banana Republic and Old Navy Cyber Monday deals include 40 percent off online purchases with the promo code "Cyber." For electronics, NewEgg and TigerDirect feature extensive deals on computer hardware and accessories.
© Copyright IBTimes 2023. All rights reserved.