'Cyberpunk 2077' Guide: How To Build Character, Make Money And More
KEY POINTS
"Cyberpunk 2077" is now available worldwide
The game was officially launched on Dec. 10
To avoid common beginners' mistakes, some players might want to take note of the following tips
CD Projekt Red finally released the much-awaited ARPG title "Cyberpunk 2077." While many fans are already jumping into the game, some might want to know first a couple of smart tips and tricks to avoid committing common newbie mistakes.
On Character Building
The game features a character builder that allows players to control how V looks. Using this, they can customize facial features, body and cybernetics. However, how players present their character does not have any bearing in the gameplay. What really matters in CDPR's latest ARPG title is the Stat Weights that could drastically alter the way the game progresses.
Players should take note of Attributes, which are the five core stats in the game. These are Body, Intelligence, Cool, Reflexes and Technical Ability. Each Attribute has its own set of skills and every individual skill comes with its own set of Perks. The wide range of new abilities and bonuses that players could get comes from Perks.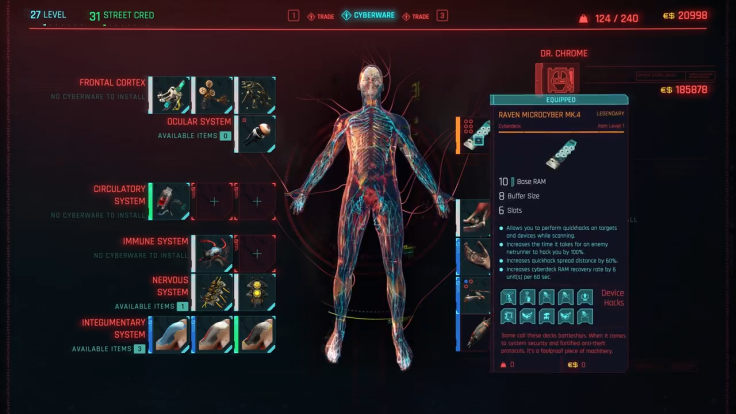 Each time players level up, they gain a Perk Point and an Attribute Point. They could also earn extra Perk Points by finding related skills in the field as items or using them. In building a character, it is recommended that players specialize instead of spreading both Perks and Attributes evenly. Specializing could help players since the most powerful toys in "Cyberpunk 2077" impose high Attribute requirements.
On Money Making
In the game, quests are divided into four major categories, such as side missions, gigs, main missions and untracked ambient missions. At times, these untracked tasks appear in the form of a blue icon as players explore the map. Players can take these tasks as they are local bounties on unsolved crimes offered by the NCPD (Night City Police Department) for mercs to solve. Taking these suspects down while driving could reward players with cash and EXP.
Having gigs also allows players to make money in the game. Gigs are contracts ditched by fixers. These are not hard to come by since fixers approach or call out players while they are exploring the different parts of Night City. Finishing gigs builds players' Street Cred which, in return, gives them more work and thus a steady stream of cash.
On Weapons
Players could only equip their character three weapons at a time. There are several weapon types in "Cyberpunk 2077," which include melee weapons, revolvers, pistols, shotguns, heavy sniper rifles (HSR), light machine gun (LMG) and katanas. The Mantis Blades shown in the official trailer of the game is available from ripper docs when players select the arm upgrades.
© Copyright IBTimes 2023. All rights reserved.
FOLLOW MORE IBT NEWS ON THE BELOW CHANNELS