Daily Mail Acquires Elite Daily In Latest Push To Broaden Online Reach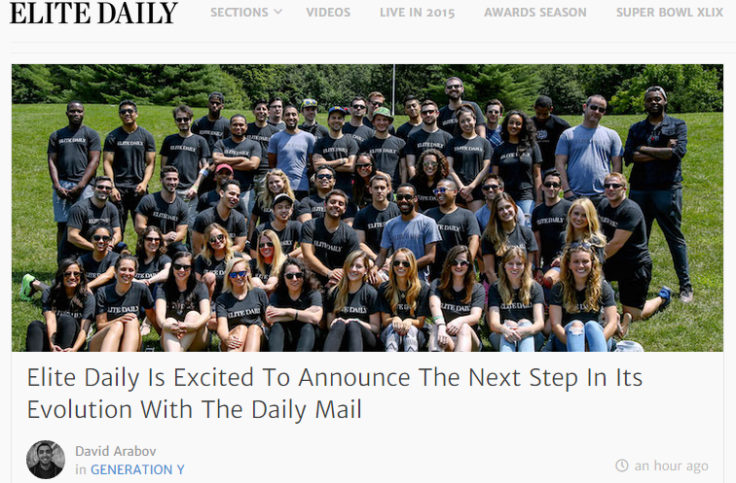 DailyMail.com, meet Elite Daily. The publisher of the UK's Daily Mail picked up Elite Daily, a news site for millennials that's known for socially shareable headlines like "12 Reasons Why Growing Up With 90s Cartoons Made You A Better Person."
Elite Daily, founded by three Pace University students in 2012, boasts 74 million unique visitors a month, fueled by distribution on social platforms like Facebook. The Daily Mail, owned by London-based DMG Media, also has a massive online following at 199.4 million and is one of the most-read English language newspaper websites in the world, according to the Audit Bureau of Circulation.
"'This gives us the opportunity to invest in and grow two different but complementary media brands which together will have a reach that few can match," Jon Steinberg, Daily Mail North America CEO, said of the deal.
With the purchase of Elite Daily, DailyMail.com is taking on juggernaut Buzzfeed, a site known for its traffic-driving listicles as well as its growing presence in journalism. Buzzfeed currently claims over 200 million unique visitors a month, a milestone met last year which will net every staffer of the company an Apple Watch when it releases this April.
While the DMG hasn't officially disclosed the deal's terms, sources speaking to the Wall Street Journal say it was priced at $47 million. Going forward, the editorial team of the Daily Mail and Elite Daily will continue to remain separate. But, the increased audience is expected to provide a boost for the Mail's online advertising offerings.
"This does not represent an end to our journey, but the continuation of our growth as a company to the stature we've always dreamed it would reach," David Arabov, Elite Daily CEO, wrote in a blog post. "Our acquisition by Daily Mail has provided us the perfect opportunity to do just that."
© Copyright IBTimes 2023. All rights reserved.