Dakota Access Pipeline Heads Into Thanksgiving: Timeline Of The Protests Over The Oil Pipeline In North Dakota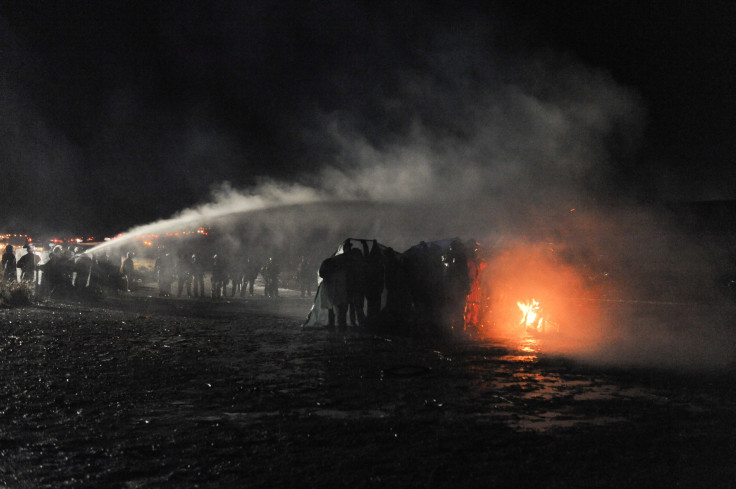 Thanksgiving isn't all about turkey. It's not even all about being thankful.
As millions of Americans celebrate Thanksgiving Thursday, hundreds of protesters in North Dakota plan on continuing to stand strong against big oil company interests and law enforcement keen on clearing the way on sacred native tribal territory for the Dakota Access Pipeline, which communities there worry will scar their land and threaten their water supply. With those protests at Standing Rock as a background, many have noted that Thanksgiving also serves to highlight a bleak history of American exploitation of Native American people.
International Business Times has compiled a timeline of the pipeline and protests below.
December 2014: Texas-based Energy Transfer Partners applied for a permit to build a pipeline from North Dakota's Bakken shale fields down south to Iowa. The proposed pipeline, a $3.7 billion, 1,172-mile endeavor capable of transporting 570,000 barrels a day, begins a year of public hearings.
January 2016: Regulators in North Dakota approved the pipeline unanimously in spite of landowners alleging that representatives of the Dakota Access project had used strong arm tactics (including an Iowa property owner who said the oil company representatives had offered a prostitute to convince him).
April 29, 2016: The U.S. Army Corps of Engineers encountered near unanimous opposition to the pipeline during a meeting for Native Americans.
July 26, 2016: As the Democratic National Convention was being held across the country in Philadelphia, most of the final permits needed to construct the pipeline were approved by the U.S. government. The U.S. Army Corps of Engineers approved 200 water crossings for the pipeline and three easements (as in, the right for someone to use someone else's property) for the pipeline. The easements included crossings at the Mississippi River, Lake Sakakawea and at Lake Oahe, a sacred site for the Standing Rock Sioux tribe. The easements would need to be approved by federal regulators and Congress before work could begin.
July 27, 2016: The Standing Rock Sioux Tribe filed suit against federal regulators saying that a potential spill would threaten tribal drinking water and that the pipeline threatens sacred tribal land in violation of the National Historic Preservation Act and other laws.
Aug. 24, 2016: A federal judge heard arguments from the Standing Rock Sioux Tribe lawyers, federal lawyers and Dakota Access lawyers. Standing Rock Sioux argued that they were not afforded the opportunity to comment on the pipeline route while the federal government said that that opportunity had been afforded to them. Outside of the courthouse in Washington, D.C., a rally featuring celebrities like Susan Sarandon and Shailene Woodley supported the tribe. At least 20 people had been arrested by this point at protests in North Dakota.
Sept. 3, 2016: The protests in North Dakota turned violent when a private security company hired by the pipeline let dogs loose on protesters. North Dakota Gov. Terry Brandstad said he would authorize State Patrol to make arrests at the site where hundreds of people had shown up to camp.
Sept. 9, 2016: The U.S. district judge ruled against the Standing Sioux Tribe in the morning but said that one particular area was barred from construction. Later that day, the federal government makes the surprise announcement that it was voluntarily halting work on the project.
Sept. 10, 2016: An arrest warrant was issued for Amy Goodman, a journalist with Democracy Now who had been covering the protests. The previous week, Goodman and her team had been at the protests and filmed security forces using dogs against protesters and spraying them with pepper spray. That report went viral and was picked up by several major cable news channels.
Sept. 13, 2016: The CEO of Dakota Access assured employees in a letter, also obtained by the media, that they were committed to building the pipeline. The company had reportedly spent over a billion dollars on equipment. Protesters had damaged some of that equipment.
Oct. 9, 2016: The U.S. District Court of Appeals removed an injunction on private lands allowing for the pipeline to continue there. The federal government voluntary halt remains in place for U.S. Army Corps of Engineers Land nearby.
Oct. 11, 2016: Activists disrupted the flow of millions of gallons of oil running between Canada in the U.S. The activists cut padlocks and chains to go into remote oil flow stations. There was no long term damage, activists said they had studied how to shut off the valves safely but the oil industry said that subsequent pressure buildup could have led to environmental damage from the shut offs.
Oct. 17, 2016: A North Dakota judge rejected charges against Goodman.
Nov. 9, 2016: After the surprise presidential victory of Donald Trump, activists and tribal leaders expressed hope that President Barack Obama would kill the pipeline indefinitely. The pipeline developers had noted that they had finished construction up to the land where federal regulators had denied access. Analysts said that the pipeline was more likely than not to be finished eventually.
Nov. 20, 2016: Police blasted nearly 400 protesters with water jets and chemical sprays in freezing cold temperatures and peppered them with rubber bullets.
Nov. 23, 2016 : Protesters and the oil company argued over what exactly happened at the Nov. 20 protests after one protester was hit by an explosion, tearing apart her arm and exposing bone. The protester, a 21-year-old woman from New York, was initially facing amputation but that appeared less and less likely as she retrieved treatment.
© Copyright IBTimes 2023. All rights reserved.