What's In Fracking Fluids? Dakota Access Pipeline Protester Says Issue Is 'Environmental Genocide'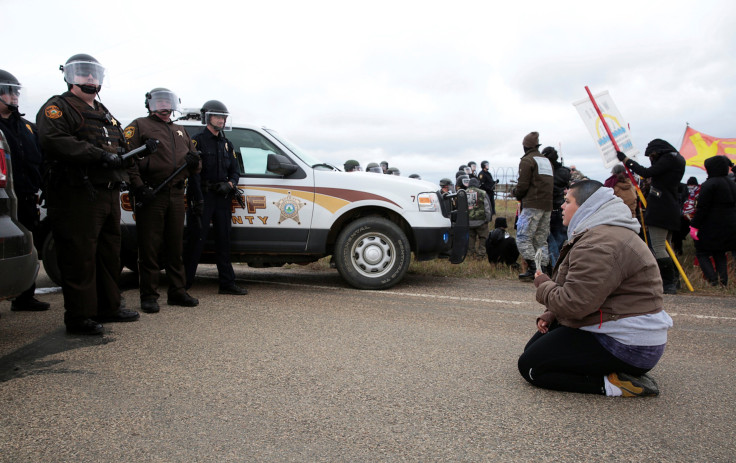 On the Standing Rock Sioux Indian reservation in the Dakotas, a fight between fracking companies and local activists has been making headlines for much of the year. Activists, concerned over a variety of issues from health and environmental dangers to Native American sovereignty, have faced pepper spray and dogs in the struggle to keep a natural gas pipeline from being run through their communities and sacred grounds.
One of those activists, pediatrician Dr. Sara Jumping Eagle, made clear what was at stake during an interview on Tuesday with DemocracyNow.
"I really want to call people to notice that the companies are really trying to commit environmental genocide on our people," Jumping Eagle said.
Jumping Eagle cited changes in the proposed pipeline route, from near Bismark, North Dakota — a city with a 92 percent white population — to just north of the Standing Rock Sioux communities as one indicator of the "environmental genocide." As a healthcare provider, Jumping Eagle also noted several other concerns like the potential for fracking to increase levels of radioactive materials in drinking water and the potential for fracking fluids to leak toxins into the water.
The exact contents of fracking fluid are a "trade secret," but scientists have been trying to understand what is in them and what public health implications those chemicals may have. A 2014 report by the American Chemical Society, a non-profit scientific society, found concern for several of the identified ingredients. Of the 200 or so commonly used compounds in the chemicals, there is very little known about the potential health risks for about one-third of them and there are at least eight that are toxic for mammals.
"I feel that we're part of one of the biggest public health experiments in our lifetime. We really don't know the long-term effects of fracking and of hydrocarbons on our bodies," Jumping Eagle said. "We know that other scientists have identified some of these chemicals that are being put into the water as neuroendocrine receptor—that they interact with our neuroendocrine receptors, that could affect our DNA and our reproductive health. So those are my concerns, is: How is this affecting my daughter right now as she drinks this water?"
The pipeline has been a contentious issue, attracting national attention from the likes of Vermont Sen. Bernie Sanders, a former Democratic presidential contender, who called for a halt to the pipeline this month.
The pipeline has industry connections with some of the largest oil and gas companies, including Phillips 66, Sunoco Logistics and Energy Transfer Partners, according to a report from Common Dreams, a non-profit progressive news organization. The main stakeholder in the pipeline is Enbridge Partners, an energy company based in Canada.
© Copyright IBTimes 2023. All rights reserved.