Dakota Johnson Mocks 'Fifty Shades Of Grey' While Hosting 'SNL'; Watch Video Clips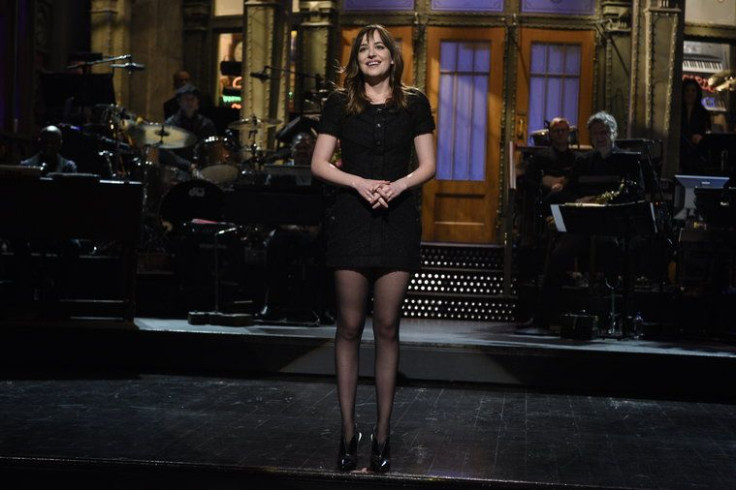 Dakota Johnson hosted "Saturday Night Live" on Feb. 28, and she wasn't afraid to make fun of the film that launched her career. "Fifty Shades of Grey" jokes were made throughout the night, and Johnson seemed to easily mock the movie.
The "Fifty Shades" jokes started in Johnson's opening monologue. "'Fifty Shades of Grey' is based on the bestselling novel that made you never want to touch your mother's kindle again," Johnson said. "Doing this movie has completely changed my life. Like, for instance, my dry cleaner won't look me in the eyes anymore. And my dog walker gives me a little wink every time he takes the leash off the wall. It's so great."
She wasn't afraid to mock the movie's quality either. Despite making a good impression on the red carpet at the 2015 Oscars, Johnson doesn't expect "Fifty Shades" to be the next "Birdman."
"I have a funny feeling that at next year's Oscars … it's going to be not anywhere," she said.
The "SNL" monologue also included a quick cameo from her parents, Melanie Griffith and Don Johnson, who feared that their daughter would be naked during her monologue.
Watch the clip below:
Johnson got to make fun of reporters in a later skit. She played herself in a press junket for "Fifty Shades of Grey," and a middle school student came in to interview Johnson. Peter (Kyle Mooney), despite being way younger than the "Fifty Shades" demographic, had seen the movie several times.
When Johnson says her character Anastasia Steele probably doesn't play video games, Peter replies, "Oh right, she prefers twisted games of sexual pain and domination."
Watch all of Peter's inappropriate questions in the "Saturday Night Live" clip below:
© Copyright IBTimes 2023. All rights reserved.